Best Value: Most Affordable Accredited Master's in Counseling Programs by State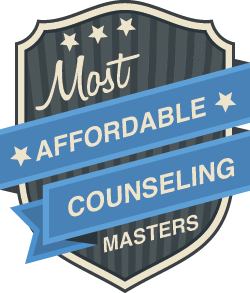 A master's degree in counseling is a must-have on your path to becoming licensed or certified as a counselor in most states. Although the profession is enormously diverse and open to different practitioners, in most cases the doors to professional, independent practice are only open if you hold a master's – and there are many to choose from.
If you're aiming for a career in counseling, you're probably looking at those programs, weighing the benefits of your online options, and wondering how you're going to decide which one is right for you. Whether or not the kind of position you're trying to get into requires a license, a master's offers a big-time brain dump of the most up-to-date tools and techniques in the field.
But you're not made of money, and counseling isn't a field you go into to get rich. You need to find a master's program that isn't going to pile on a mountain of debt that you'll end up spending your entire career working off.
And we're here to help you find it.
<!- mfunc feat_school ->
The Biggest Bang for Your Buck: A Counseling Master's Program Starts with Specialty Accreditation
Just because you need to find an affordable program doesn't mean you want a cheap one, though. The key is to get the best education you can at a price you can afford. This might mean taking a look at more affordable online options at schools based in other states… and it definitely means taking a careful look at academic standards no matter how the program is delivered or where it's located.
It's important to note that we're looking at value here, not just cost. The difference is crucial: the cheapest counseling program in the state may save you a bundle of money, but if you get laughed out of the office everywhere you apply, that won't help much to get your counseling career off the ground.
Value comes with combining real results with a reasonable price.
We calculated that equation for you here; every school on our list is a screaming deal with a big bang for every one of your hard-earned bucks. The schools you'll find here offer fully accredited master's programs at a lower price than any other accredited program in the state.
Specialty Accreditation for Counseling Programs
We didn't even bother to look at schools that weren't fully accredited, and neither should you. Our baseline standard for even giving a program a second look is that it had to be accredited by either CACREP (Council for Accreditation of Counseling and Related Educational Programs) or MPCAC (Master in Psychology and Counseling Accreditation Council), the two most prominent accreditation agencies for master's-level counseling programs in the country.
Naturally, all these schools also hold a baseline accreditation from the relevant regional higher education accreditation agency recognized by the Council on Higher Education Accreditation (CHEA) and the U.S. Department of Education (USDE).
The Highest Academic Standards
But a specialty accreditation goes further. These organization take care of the legwork of determining whether or not a program rises to the basic standards that the modern counseling community expects in a master's education. Factors they look at include:
Incorporation of scientific, evidence-based practices in the curriculum.
Standards for supervised fieldwork experience.
Use of current scholarly and research literature.
Demonstration of student comprehension and competence in legal and ethical standards.
Ongoing Adherence to those Standards
They aren't just taking anyone's word for it, either. Schools have to submit enough paperwork to overload a forklift and submit to on-site visits where all this information is validated. And it's not just a one-and-done process, either; schools have to re-up their accreditation periodically, ensuring they continue to uphold those standards and practices over time.
How we Evaluated Price to Show You the Most Affordable Options
In the end, our list shows only the lowest-priced fully-accredited accounting master's programs in each state. It isn't any more complicated than that.
Still, there are a few things worth knowing about how we made the evaluations and how we organize the information we're giving you.
We made sure to evaluate schools inside their own context—you'll only find us comparing public schools to other public schools, and the same for private institutions.
The reason for this is simple. State schools offer a cut-rate price to state residents that often make them hard for a private school to beat on price alone. On the other hand, state schools often charge such a premium to non-residents that they're sometimes cost prohibitive to international students and students from other states, making private institutions more attractive.
We found the average cost of programs offered at public and private schools separately. This allowed us to clearly show how much lower the best-priced programs are than the state average for each category.
Beyond Academics: The Little Things That Make for Great Value in a Master's Program
So now you've got a list of the best priced fully-accredited counseling programs in every state to review, but we know there's a lot more to consider than accreditation and cost when making your final selection about where you're going to commit your hard-earned money.
A good master's program offers way more than just getting your ticket punched on the licensing ride, after all. It's a resource for building your professional network, beginning your portfolio of pre-professional experience, and gaining the kind of insights that will contribute not only to your skill as a counselor but to your success in life. After all, a master's program will essentially be the next two-to-four years of your life, so you'll want to make it count.
The little things also can have a tremendous impact on your experience as a student and play significantly into what kind of program is going to work for you. That's why you'll find a lot more information here than just the price of the program. We cover all the basics you'll need to filter for the exact kind of program you're looking for…
Whether it's offered online, on-campus, or through a combination of online courses and campus visits
Entrance exam requirements, exemptions and provisions for waivers
Concentration options that align with different specialty areas of practice
Even if these practical elements largely form the basis for the choice you make, it's the things that are more difficult to quantify that will ultimately seal the deal when it comes to making your final selection. That's why we also give plenty of space to things like…
Schools that have rock-star faculty, the kind that win awards and take extra time out to give students individualized attention
Details on how the online program is structured, whether it's an extra-flexible asynchronous delivery model, or a cohort model that more closely mimics the on-campus experience and allows for more interaction with classmates and instructors
Opportunities for international travel
Recent grants to benefit the program (and the students!)
Most Affordable Fully-Accredited Counseling Master's Programs in Each State
Different people will place different values on each of those elements, but you can be sure you are getting the absolute top options at an exceptional value with any of the programs that appear on this list.
---