Most Affordable Bachelor's Degree Programs in Human Services 2023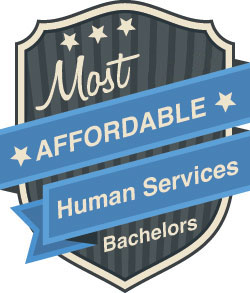 It's often said that the mark of successful for any society is how well it takes care of its neediest citizens. Allocating resources for helping the less advantaged, putting thought into how social and cultural mores affect minorities, developing processes and tools for ensuring that all people have the ability to live happy and meaningful lives… these are the hallmarks of true civilization.
Happily, these are all measures that are improving in the modern world, and the workforce that is helping to expand and perfect them can only do so with a modern science-based education.
That's where a bachelor's degree in human services comes in. As a basic four-year liberal arts degree, these programs offer you a comprehensive education in the humanities, with critical thinking, general knowledge, and logical reasoning skills included as part of the package. That's exactly the kind of skills you need to make it in a career in human services.
They then tack on a wide range of courses in topics like sociology, criminal justice, human behavior, child welfare and advocacy and public administration.
It's a broad spectrum of cultural, sociological and administrative knowledge that will give you a solid basis for progressing in almost any career in human services. It's a solid base for moving on to a master's degree in social work, or a more specialized aspect of human services, criminal justice, or even environmental policy or general human services.
<!- mfunc feat_school ->
You just have to pick the right program to earn that bachelor's degree from; one that is equal parts quality and affordability. This is the list that will help you find the best value for your tuition dollars.
Accreditation and Quality Are The First Steps Toward Value
Value isn't all about cost. Cost is half of the consideration; quality is the second half.
To ensure that each of these programs had a sold baseline of quality, we picked schools that were fully accredited by a regional or national accreditor recognized by CHEA (Council for Higher Education) and the USDE (United States Department of Education).
There are too few programs accredited by the specialty accreditation agency for human services, CSHSE (Council for Standards in Human Service Education), to limit the list to only those programs. However, those few degrees that went the extra mile got extra marks from us, as did schools that are CSHSE members, but not yet accredited.
A general accreditation, however, covers all the basics of academic quality that you should consider in a school:
Curriculum development processes
Faculty qualifications
Administrative and disciplinary standards
Resources and funding requirements
How We Built the List
Only when a school has met all of the hundreds of standards measured by a recognized accreditor did we consider it for the list.
There are nearly 100 bachelor's programs in human services that hit that basic accreditation qualification.
Narrowing it Down to the Best-Priced Programs in Each Region
With only 100 program out there, a bachelor's with a human services major isn't something you're guaranteed to find at the college down the street. This inevitably means that students will be casting their net wider, looking at options on the other side of their state, or even in neighboring states. This is why we made all price comparisons based on the regional average.
The method is as simple as the math: We found the average for all human services bachelor's programs in each region, pin-pointed the best-priced options by region, and then showed how much less than the regional average the tuition rates are for the programs we picked.
We went with the regional lines drawn by the U.S. Census Bureau for delineating the West, Midwest, Northeast and South. Consult the Bureau's map of U.S. regions to find out what states fall within the official borders of your region.
Here's what we found when crunching the numbers to get the average for each region:
Northeast: $97,614
Midwest: $77,538
South: $76,094
West: $35,765
Any program offered at a price lower than what you see here is a good deal. But there are good deals, then there are great deals, and the latter is what you'll find on this list.
Finding a Solid Estimate of Base Cost for Comparison
We looked at the total cost of tuition across the span of the program rather than the more basic cost-per-credit rate published by many of them. Still, since total tuition costs aren't always published, we often had to start with the cost-per-credit and crunch the numbers to find the total estimated cost.
That presented a bit of a challenge too when it came time to making a fair comparison since not every program offers the exact same number of credits. Some programs offer the option to add a minor, and with some, the human services aspect of the program is only available as a minor. We found this often resulted in more or fewer total credits as we conducted our program by program analysis.
We resolved this by simply going with a single number that is universally recognized as the standard for a four-year degree: 120 credits. This allowed us to start with something as basic as the cost-per-credit and extrapolate from that an estimate of the total cost, while at the same time ensuring we made a like to like comparison as we worked through a list of nearly 100 programs, chiseling it down to the most affordable options.
When dealing with state schools, we always looked at the in-state rate when isolating the programs with the best price, but we still included the rate for non-residents to make sure you have all the information you need in the event you need to consider schools in other states, or if you're an international student.
Highlighting Key Features of Each Program
And we did a lot more than just splash a school name, price and website up for you—instead, you'll find a snapshot of all the highlights and bonuses that each unique program has to offer.
Whether it's a unique elective option or a particularly outstanding set of faculty, we bullet-point the extras so you can take them in at a glance. And we let you know if you can find those classes online or as hybrids.
Best Value: Most Affordable Bachelor's in Human Services
In the end, all accredited schools that offer the lowest tuition rates made the list, and we organized the whole thing by region. We're confident you'll find the perfect program for you – offered at the perfect price – right here on this list.
---
---
---