Most Affordable CSWE-Accredited Master's in Social Work Programs for 2023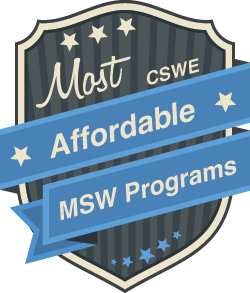 Social work is a calling as much as a profession. It's not a field that attracts people looking to get rich overnight. You really have to love what you do to work in human services, there's no question about it. And if you want to do it as a licensed professional, in most states that means earning a master's degree first. If you aren't quite there yet, and still need to earn a bachelor's; no worries – we've got you covered with out list of the most affordable bachelor's degrees in social work.
A master of social work is one of the most popular routes to qualifying, but master's programs aren't cheap, and you aren't rich. Great value is one of the most important qualities to consider when you are enrolling in an MSW program.
Of course, value doesn't come with finding the cheapest possible program. Instead, it's a comprehensive look at the quality of the education in comparison to the cost. In the field of social work, nobody really needs an overpriced program with a lot of unnecessary extras. But you don't want to compromise too much by going with a bare bones program just because it happens to be dirt cheap, either.
The most bang for the buck is what you should be shooting for, and that's exactly what we looked for when putting this list together.
<!- mfunc feat_school ->
Great Value Has to Include a Great Education
CSWE (Council on Social Work Education) accreditation is the baseline for programs we felt maintained high enough quality standards to be worth looking at when compiling a list that's all about getting the most for your money.
CSWE maintains a Council on Accreditation (COA) and Council on Educational Policy (COEP) that are responsible for establishing policy and accreditation standards recognized by CHEA, the Council on Higher Education Accreditation. Together, they establish the basic competencies programs must teach and the education standards they're expected to maintain to be eligible for accreditation.
CSWE evaluation is an intensive process that ensures accredited programs are providing all the elements necessary to prepare graduate students to become highly skilled, compassionate practitioners when they enter the field. That's why we feel CSWE accreditation is the bare minimum when looking for value in an MSW program.
Our Method for Comparing Tuition Costs
You'd think comparing the cost of CSWE-accredited programs would be pretty straightforward, but there's a few things to consider when it comes to providing a meaningful comparison with useful results.
Different Tuition Rate Structures for Public and Private Universities
We pit the top public schools against one another and do the same with the private schools. Public and private universities each offer a slight variation on the educational experience and each has different cost structures that can make direct comparisons tricky. In-state rates at public schools are often hard to beat, making them attractive to state residents, but less so for non-residents having to pay out-of-state premiums. Private schools are sometimes able to offer a very competitive rate to students looking at out-of-state programs, and for that same reason they're sometimes more attractive to international students too.
Both public and private universities offer excellent programs led by brilliant faculty, so both options are well worth considering. That's why we present you with the lowest cost program from each category for every state that has a qualifying MSW program at both a public and private university.
Comparing Tuition Costs Within the Same State
It only makes sense to do a side-by-side comparison of tuition rates between schools located in the same state. If you live in New England, there's a good chance you're not too concerned with the degree programs being offered in Montana, and you definitely wouldn't expect the cost to be comparable. Like most things, an education on the coasts tends to be more expensive, so trying to compare the cost of a program in New York to one in New Mexico makes about as much sense as comparing the cost of rent in these vastly different markets.
When there's just one school in the state offering a qualifying program, we went ahead and presented it without a price comparison just to make sure you get the full picture of the MSW options and pricing from coast to coast.
Total Program Cost is the Best Point of Comparison
We were also sure to use total program cost instead of the often-gamed cost-per-credit-hour listing. And so you can see how each school stacks up, we've listed that cost in comparison to the state average for public and private schools separately.
Looking only at the total tuition cost of each program made sure we able to avoid tripping over the different methods used to calculate costs per credit hour, and the inconsistencies that arise between schools on the semester system versus those that still use the quarter system.
Looking at our list, you can be sure you're getting an accurate calculation of the total tuition cost of each program we feature, and clearly see how much less they are than the state average.
Best Value: Most Affordable CSWE-Accredited MSW Programs by State for 2023
We're giving you the best-priced CSWE-accredited programs in every state where they're available, but we know price isn't the only thing you're concerned with.
Value is an enormously subjective variable. What you find valuable is going to depend not just on the core cost and education, but also on the little things associated with each program. Do you care if there is an admission exam required? We found out for you. Is a strong online option important to fit your busy schedule? We checked that out and list it for you here. Full-time or part-time? We'll tell you what your options are.
We also spent some time going through all the little things that add up to make a difference in the quality and fabric of your day-to-day school experience. If a school has a particularly strong field placement program, we'll tell you about it; if there are innovative class or extra certification options available, you'll read about it here.
We dove into those quirks and extras so you can make a balanced judgment of each school. We're confident you'll find the right fit for you somewhere on this list!
---