25 Best Fully Online Master's in Social Work Programs for 2023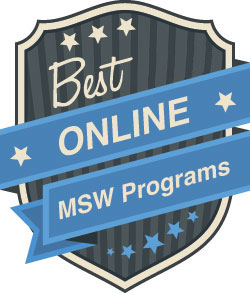 We're 20 years into the 21st century, and there are is still no universal healthcare coverage, let alone universal access to mental and behavioral health services. It's hardly worth mentioning that they missed the prediction on the flying cars we were promised too– none of those last we checked either… And sometimes it feels like the whole flying cars thing is actually more likely to happen before the day we see universal access to health and mental health services.
But despite these failures of policy and modern science, there is one way that technology has more than lived up to its promise of improving life and education: you can get a first-rate master's degree in social work right from your kitchen table.
Despite this miracle of modern technology, though, there are actually relatively few fully accredited MSW programs offered entirely online. As a profession, social work is really all about face-to-face interaction. Many of the top schools of social work have been slow to adopt online education, even as the technologies have improved to reduce the gap in interpersonal interaction.
We're here to help you find the cream of the crop when it comes to programs that are available entirely online. Whether you have a BSW and are looking for an advanced standing option, or need a part-time program to make time for life or work, you'll find plenty of first-rate schools to choose from here.
<!- mfunc feat_school ->
A Focus On Programs Delivered Entirely (or Almost Entirely) Online
You will find quite a few truly 100% online programs here, but these programs are rare so we stayed flexible to make sure we aren't leaving out some real winners for no other reason than because they have some minimal on-campus requirement.
A few of these programs require the occasional on campus visit, typically at either the beginning or end of your studies. But we just couldn't stand to toss out the truly excellent 99.999% online programs just because you have to attend one short in-person orientation. We note the exceptions in the list but the general rule stands: your day-to-day classroom experience for every one of these high-quality master's degree programs will be entirely online.
Baseline for "The Best" in Online Social Work Master's Programs
Naturally, school accreditation was a mandatory point. Not just the basic university accreditation typically offered by either a regional or national accrediting body, but also the special, focused programmatic accreditation that only the Council on Social Work Education (CSWE) can grant to top tier MSW programs.
A CSWE accreditation means that each of these programs has been put through the ringer by professionals who know what they are looking for. The academic standards are measured against real-world demands and techniques used in social work, and critical core competencies that students need to learn are assessed in terms of curriculum, instructor capability, and administrative support.
But CSWE accreditation was just the beginning of what we looked for…
Class Format Is Critical
Schools often mix and match synchronous (where you attend a virtual classroom in real time with fellow students and your professor) and asynchronous classes (where course content is uploaded by the instructor and you tackle it when you have the time). That's often a good thing. It offers flexibility for you to shift class work to times of day that are convenient for you, while still forcing you to sit down and focus and interact with instructors and fellow students from time to time.
We picked programs that have online learning management systems that are modern and fully capable of the engagement that an advanced education in social work requires… while being intuitive and clean enough to stay out of your way as you're trying to digest the information that's being presented to you.
Field Placements Are A Challenge
Field placements are a big deal for social work master's programs. You will spend hundreds of hours in hands-on practicum, so it's pretty important you get hooked up with an agency where you fit in and where the work aligns with your long-term career goals.
That's a big challenge when you are half a country away from your university, so we looked for schools that have a proven track record of helping distance learners get set up in the best possible field placements. Innovative approaches or big networks of providers were a good way to catch our attention here.
Value is Always a Consideration
We also looked hard at costs and value. Value is about more than just getting the cheapest tuition rate—it's about what that money buys you. We found some very affordable programs and included them here, but we also selected more than a few that are relatively expensive. But despite the additional cost, those programs offer a whole lot of bang for your buck; the cost is worth it for all the extras.
A Little Something Extra Helps Make The Grade
Beyond the bare minimums of having a CSWE accreditation and meeting cost and course delivery standards, the programs on this list all had to show us a little something extra, too. You can't say it's the best if it's just another cookie cutter program. You want something special, even if you're looking at online options.
It's not always just one thing, or one way of doing things… for example, we picked out programs that do a great job of offering you multiple concentration options because having choices like that can make a big difference if you hope to make a career out of any of those specialty areas. But we also picked programs that deliver a laser-focused curriculum based on a single area of expertise, recognizing that if you are going down that particular path, you want to walk it with someone who really knows the way.
The 25 Best Fully-Accredited Online MSW Programs in the Nation
There was more than one way for any given school to end up on this select list, but you'll find something for here no matter what you're looking for in an online MSW program.
This list features programs that our editorial staff hand selected to present as top recommendations. We believe the many aspects of a program that come together to create an exceptional student experience can't be reduced to numbers alone, so no formula was used to attempt to score or rank these programs. Instead, they represent our top picks based on a thoughtful review of the things we know mean the most to students. Each one of these programs offers something unique, and all come equally highly recommended. We stand behind the principal of editorial integrity and make these recommendations independently and without compensation.