Licensed Clinical Social Worker | LCSW
June 30, 2021 | By Scott Wilson
Licensed Clinical Social Workers (LCSW) have a Master of Social Work degree and training in communication, organizing, psychology, sociology, and clinical diagnosis and treatment techniques. They have passed advanced licensing tests to qualify for a state-level license to offer psychotherapy and other counseling services as a part of their social work practice in every kind of hands-on human services work.
<!- mfunc feat_school ->
Featured Programs:
Sponsored School(s)
<!- /mfunc feat_school ->
What Makes Licensed Clinical Social Workers Different From Other Social Workers?
A Day on the Job With a Licensed Clinical Social Worker
The Education Requirements to Become a Licensed Clinical Social Worker
Earning a Master of Social Work Degree To Become a Licensed Clinical Social Worker
Earning Supervised Field Experience To Become a Licensed Clinical Social Worker
Passing the Tests To Become a Licensed Clinical Social Worker
How Much Do Licensed Clinical Social Workers Make?
---
Licensed clinical social workers, or LCSWs, are just one kind of specialized social worker in a big field. The LCSW is a state-issued license that allows these workers to deliver clinical psychotherapy and other mental health diagnosis and treatments as a part of their job.
In order to earn that license, every potential LCSW has to:
Graduate from a rigorous and accredited Master of Social Work (MSW) degree program
Go through several thousand hours of supervised post-graduate field experience
Pass an industry-standard test on clinical social work knowledge and practices
Pass a criminal background check and meet other state-specific requirements
Once they get that credential, licensed clinical social workers get the best of both worlds. They have the counseling and therapy skills to work directly with clients with depression, anxiety, addiction, and other mental health issues. But they also have all the traditional social work tools for patient advocacy and community organizing, and for referring clients to the services they need. All of this allows them to address the root causes of those mental issues.
Licensed clinical social workers bring both heart and science to the work of supporting social justice and the most at-risk populations in our society.
What Makes Licensed Clinical Social Workers Different From Other Social Workers?
Learning how to become a social worker doesn't necessarily mean becoming an LCSW specifically. The difference comes down to one word: clinical.
Many states license social workers to handle different human services tasks. Licensed social workers can work as case managers, reviewing claims and making referrals for services; they might get a job in healthcare, going over discharge and home care instructions and lining up resources for clients who can't manage on their own. Or they might organize and lead after-school activities for at-risk kids, putting together sports programs or clubs to guide teenagers into healthy life paths.
The big difference for licensed clinical social workers is that, in addition to any or all of those tasks, they also have the training and the authority under their state license to directly treat mental health issues. In other words, they have skills that overlap with psychologists, licensed professional counselors, or therapists. They have proven skills in psychotherapy, diagnosis, and other traditional clinical techniques.
A Licensed Clinical Social Worker By Any Other Name Still Qualifies
Although Licensed Clinical Social Worker is the most common term for this job, it's not the only one.
The term comes from state licensing regulations, but not all states write the rules the same way. In fact, in some states, LCSW actually stands for Licensed Certified Social Worker, which isn't the same role at all. In those states, the equivalent position would be an LCSW-C, or Licensed Certified Social Worker – Clinical.
There are a lot of different titles that pop up that are more or less equivalent to LCSW, although slight differences in practice authority may exist. Those include:
LGSW – Licensed Graduate Social Worker
LICSW – Licensed Independent Clinical Social Worker
LMSW – Licensed Master Social Worker
LISW – Licensed Independent Social Worker
LSCSW – Licensed Specialist Clinical Social Worker
Each state has different rules, qualifications, and scopes of authority for their licensed clinical social workers, even when the name is exactly the same. You'll need to check with your state licensing board for all the specifics.
A Day on the Job With a Licensed Clinical Social Worker
If you are like most people who choose to become licensed clinical social workers, the good news is that no two days are alike.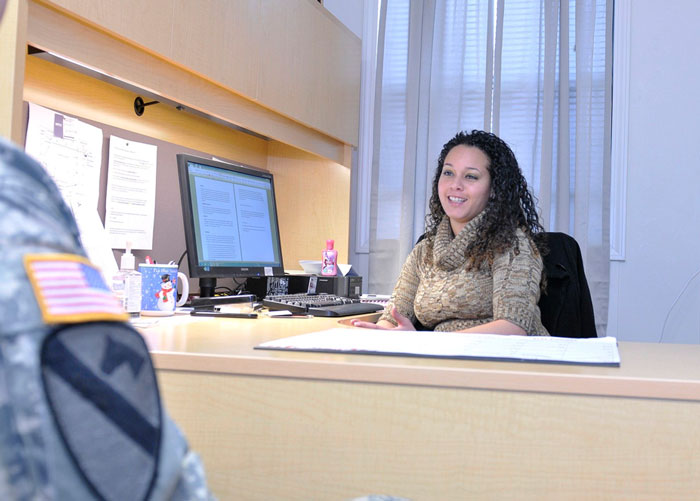 U.S. Army photo by Sgt. Brandon Banzhaf, 3rd BCT PAO, 1st Cavalry Division
A licensed clinical social worker specializing in military social work, for example, might spend the morning screening recent combat vets for symptoms and risks of post-traumatic stress disorder. Lunch might happen with colleagues from local social services providers, catching up on case coordination and staying up-to-date on the availability of referral services for children's programs, food benefits, or other services that military families might need when their primary provider is deployed.
In the afternoon, a group counseling session for troops experiencing re-adjustment or anger management issues after returning State-side. A call interrupts the session—someone from the unit has been taken to the hospital after an overdose. The licensed clinical social worker hustles over to support the family and arrange for the soldier to get into a treatment program.
If they are lucky, there won't be any phone calls after hours, but you never know!
On top of those daily ups and downs, you'll also find very different experiences based on your specialization in clinical social work. The National Association of Social Workers (NASW) recognizes sixteen different types of practice that social workers might specialize in. Not all of them require LCSW licensure, but you can find work as a licensed clinical social worker in any of these categories:
Aging – An LCSW specialized in aging social work may spend their day on home visits to check in on older residents who need additional community supports. The meetings might turn up a resident who needs some direct counseling for depression, another who needs a referral for Alzheimer's screening, and yet another who might need help enrolling in a home food delivery program.
Child Welfare – Child welfare clinical social work could mean meeting with a family that has been having disciplinary problems and engaging in therapy with both parents and children to resolve the issues. It could also mean screening a child who is heading into the foster care system, or working on a juvenile diversion program for youth offenders.
Development Disabilities – People of all ages with developmental disabilities can live happy and productive lives… with the right assistance. An LCSW in this specialty could use behavioral therapies to help a patient with Autism Spectrum Disorder fit better into a group home environment. They might counsel parents and families of other disabled individuals through rough spots in their own support efforts. And they have the ties to social services systems to get equipment or services needed for healthier, more independent living situations for disabled people.
Health Care – There is a lot of meaty therapy work needed in health care social work that only LCSWs can provide. Many social workers help in case management and lining up services or funding for patients experiencing health problems. Only licensed clinical social workers are also equipped to help with the mental health adjustments that often come with recovery from, or adjustment to, debilitating health problems.
Justice and Corrections – The United States has one of the highest rates of incarceration in the world. According to the Prison Policy Initiative, around 1 percent of the adult population of the country is behind bars at any given time. Every single one of those individuals could use counseling, both to guide them out of the cycle of recidivism, and to help them with the issues that landed them there in the first place. LCSWs offer therapy and assistance in getting adjusted back to society after a stint in prison or jail.
Mental Health and Clinical Social Work – Licensed clinical social workers without a different specialty may work in private practice, taking on their own clients according to their own preferences. They can also work in social service agencies as counselors, or in community mental health services either independently or connected to other healthcare organizations.
Mental Health and Substance Abuse Social Work – Substance abuse and addiction takes licensed clinical social workers into the middle of one of the most pressing crises in American society today. The National Center for Drug Abuse Statistics shows that just over 19 percent of Americans have engaged in drug abuse over the past year, and over 70,000 overdose deaths occur annually. Moreover, users are far more likely to experience depression and other mental health issues. And that's before accounting for alcohol and tobacco use. Social workers treat both addictions and the consequences, through therapy, treatment programs, and advocacy efforts.
Occupational and Employee Assistance Program Social Work – It's hard to overestimate the effects of work on mental health. Any place a person spends eight or more hours a day and relies on for health insurance and income is going to be a place that has huge importance to their well-being. Licensed clinical social workers in this practice area might consult with companies to create better working environments. They might counsel employees both individually and in groups. They also work with the unemployed, getting them social assistance and helping them get their mindset right for job searches.
School Social Work – LCSWs who work in schools handle many of the same types of jobs that child welfare workers do. They are more likely to be involved in initial screening for abuse or developmental disability cases. They are also often involved in averting bullying and working with both bullies and victims to treat the issues leading to those abuses.
With a diverse set of tools available to them, licensed clinical social workers get a lot of calls for cases no one else can handle.
Like other social workers, LCSWs spend a lot of time greasing the wheels of the social services system. The average day will include plenty of phone calls, a few meetings, some internet research.
Occasionally, LCSWs might step into the limelight as advocates or community organizers fighting for solutions to systemic problems that they deal with in their practice area. That could be everything from speaking up for new safe injection sites for drug addicts to lobbying for the reunification of immigrant parents and children separated by deportation.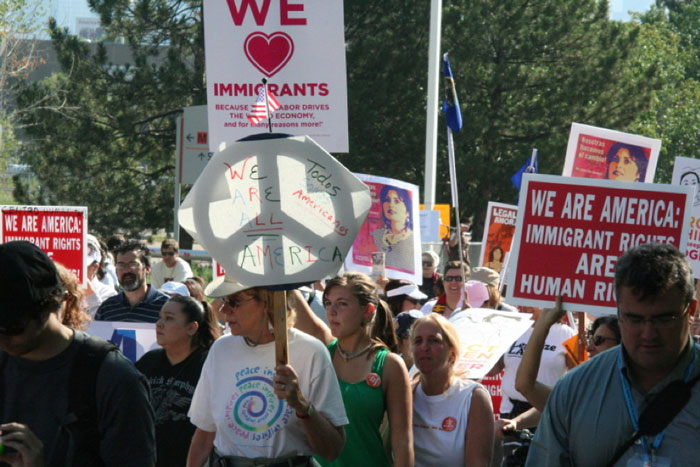 Photo by Trevor Stone from Lakewood, CO, USA, CC BY-SA 2.0, via Wikimedia Commons
The Clinical Social Work Association is the national group that speaks up for clinical social workers and their interests. While every social worker may take on advocacy roles, something you learn fast in this business is the power of crowds. The more people pulling for something to happen, the better the chances it will get done.
For 2021, one of the major advocacy priorities for CSWA is working with government and community groups to reunite the children still separated from their parents by U.S. Customs. The group is also strongly pushing for permanent citizenship for individuals covered by DACA, the Deferred Action for Childhood Arrivals exemption, which allows kids to stay in the country who were brough to the U.S. and raised here their whole lives.
It's one of only ten major advocacy priorities, but it's one of the major issues in social work today and an issue that all licensed clinical social workers can get behind together.
The bread-and-butter daily activities of licensed clinical social workers come down to direct client engagement with patients in need. Talk therapy in an office setting, impromptu counseling sessions at job sites, or even a quick consultation with a home-bound client over the phone are common ways for LCSWs to spend their days.
Those days also sometimes stretch into nights. Providing social services and particularly clinical therapy isn't always a 9 to 5 for licensed clinical social workers. After hours work isn't usually a requirement in these jobs. But for the kind of person who chooses to become a licensed clinical social worker, not picking up the phone when someone is in need just isn't in the cards. Crises don't occur on the clock. A midnight panic attack or two A.M. overdose mean someone needs help. And you don't get into this business unless you have a burning desire to help when it's needed.
The Education Requirements to Become a Licensed Clinical Social Worker
Those kinds of skills don't just come out of nowhere. The path to becoming a licensed clinical social worker starts with a rock-solid education in not just the principles of clinical treatment, but also the more general knowledge and skills used by all social workers.
That all means getting at least a master's degree, namely a two-year Master of Social Work degree.
Of course, to even enroll in a graduate-level program you have to first earn a bachelor's degree. Happily, for licensed clinical social workers, you have a lot of options for majors that can give you the right kind of preparation to get into an MSW program. Of course, a Bachelor of Social Work (BSW) degree is never a bad approach, but it's not required. Since the kind of skillsets a licensed clinical social worker needs bridge both social and psychological studies, you can also find favor with admissions committees with degrees in:
Psychology
Sociology
Behavioral studies
Human services
Counseling
Therapy
Really any sort of liberal studies degree that gives you a grounding in human behavior and social systems is going to work just fine.
Earning a Master of Social Work Degree To Become a Licensed Clinical Social Worker
The real training you need to become a licensed clinical social worker comes through the MSW program you enroll in. The MSW is a key ingredient in every state's licensing process. The two-year program is broken down into a foundation year and a concentration year.
Foundation Year Studies for Licensed Clinical Social Workers
The first year, or foundation year, hits all the basics you need as a social worker and clinical counselor. The core theory comes in classes like:
Behavioral psychology
Research methods and quantitative analysis
The history of social policy and social services
Macro social work practices
Clinical diagnosis and treatment
That coursework puts a strong base of theoretical knowledge and practice down for you to build on in the second year, also known as the concentration year.
Although it's called a concentration year, you don't necessarily have to pick a concentration. Most MSWs allow you to follow a general course of study. Some offer only two options, a clinical concentration in direct practice, or a more general course in administration and community services. But you can specialize your degree as well, focusing on practice areas such as:
Child and family services – Clinical work with kids and families is some of the most challenging mental health counseling there is. Concentrating in this area will give you more classes in childhood development, juvenile justice, adolescent social issues, and early childhood education. You'll learn how to spot signs of abuse and neglect and how to engage with parents and teachers as well as kids.
Behavioral health – Behavioral health focuses on the kind of practical therapies that come out of behavior analysis and related psychological theories. These tools give licensed clinical social workers the ability to work with scientifically proven therapies for handling developmental disabilities, addiction issues, and anxiety or depression. There are a wide range of applications for behaviorally-trained LCSWs across all clinical practice areas.
Addiction and chemical dependency – This degree concentration will bring together the science of addiction and tie it to the psychology of substance abuse disorders. Students look at ethics and diversity issues in American addiction treatment and anti-drug programs for a broader understanding of the cultural trends fueling the drug epidemic. Both legal and therapeutic policy approaches are taken apart so you understand all your options and treatment techniques.
Geriatric services – According to the U.S. Census Bureau, the population of people 65 and older in the U.S. grew by more than 34 percent between 2009 and 2019, with more increases to come. That's making geriatric services a top demand in social work circles. These concentrations prep you with biological, neurological, and sociological studies of older adults. The demographic trends and social contract are front and center in your studies, as you learn about the unique nature of interdisciplinary care required for vulnerable geriatric patients. You'll be prepped to take care of both mental and physical challenges in the elderly population.
On top of coursework that is specifically built around these topics, you'll also find that your field placements will reflect your concentration. That means hitting all the relevant marks in your practicum experience, whether it's working in a methadone clinic for substance abuse concentrations, or spending time in nursing homes for a geriatric concentration.
Many MSW programs have other concentrations in macro areas like social change and innovation, community development, or leadership and management. Those options are not usually the right choice for anyone pursuing a job as a licensed clinical social worker, though, since they devote less time to clinical studies.
Meeting the Capstone or Thesis Requirement For MSW Graduation
One of the things that makes a master's degree a master's degree is the hefty challenge that comes with your final graduation requirement: completing a capstone project or a thesis paper.
For most master's programs, the thesis has always been the traditional culmination of study. A 40 to 80 page scholarly work, grounded in your own original thinking and research, the thesis topic should reflect your core interests in your concentration. You determine the subject together with a faculty advisor and then defend the completed paper against a committee of practitioners and professors until they are satisfied with the quality and conclusion.
That kind of deep research and academic approach is being replaced in MSW programs with the capstone project, however. A capstone project aims to wrap up and demonstrate all your learning and thinking over the course of your studies, just like a thesis, but it does so in a more hands-on, practical effort. You might work with a local social services agency to implement some of your ideas, or participate in an interdisciplinary team building new approaches to clinical treatment.
Either way, it's an important part of your education, and part of what makes the MSW a solid preparation for becoming a licensed clinical social worker.
The Importance of Specialty Accreditation for Licensed Clinical Social Workers
All of these common elements of the MSW degree didn't just spring up out of nowhere. They are found in every worthwhile MSW program because those programs are complying with the standards developed by the Council on Social Work Accreditation (CSWE).
CSWE is the only recognized specialty accreditor for social work education in the country. Their membership includes both schools and individual social workers in active practice. They understand what skills and knowledge is needed in the field, and they set program requirements to meet those needs.
There are only 261 Master of Social Work degree programs in the country that meet the high standards set by CSWE.
All states that license clinical social workers only accept MSWs with CSWE accreditation.
The Educational Costs of Becoming a Licensed Clinical Social Worker
Becoming a licensed clinical social worker comes with a hefty price tag.
This starts with your education. To get a bachelor's degree before entering your MSW program, you or your family is likely to have to shell out $100,000 or more according to 2020 data from the National Center for Education Statistics.
When it comes to paying for the MSW itself, that same data shows an average cost of almost $39,000 for the full two-year degree.
Since most people don't have $140,000 laying around, that means most licensed clinical social workers end up taking out student loans and applying for scholarships to help pay for the costs of college. A CSWE survey from 2013 showed that more than 80 percent of social work graduates had outstanding loan debt of between $31,000 and $42,000.
Fortunately for many LCSWs, there are both state and federal loan forgiveness programs that may apply depending on where you end up working.
Federal Public Service Loan Forgiveness Program – Working for any federal, state, local, or tribal government, or an eligible non-profit, can get you on track to have any of your federal student loans forgiven. After making at least 120 qualifying payments and remaining in good standing on your loans, you can have the remainder of your outstanding balance written off.
National Health Service Corps Loan Repayment Program – The Health Resources and Services Administration also has a loan repayment incentive program. It's designed to get more professional health services workers into critical areas and communities. Licensed clinical social workers will find plenty of openings in rural areas with critical worker shortages, or in the substance use disorder workforce.
As important and intensive as an MSW is, it's not the only advanced degree in the field of social work. It's also possible to earn doctorates in the field:
Doctor of Philosophy in Social Work (PhD) – This is the academic degree in the field, aimed toward preparing graduates for teaching and research positions. It emphasizes the theory and research aspects of social services work.
Doctor of Social Work (DSW) – The DSW is a professional doctorate, which means that it is practice-oriented. Although students still receive a lot of instruction in theoretical approaches to social work, the education is aimed at improving skills in advanced practice and leadership in the field.
Either option can take up to 5 years go complete. You are still considered eligible for licensure in most states, even if you did not earn an MSW along the way.
Should Licensed Clinical Social Workers Also Earn a Doctoral Degree?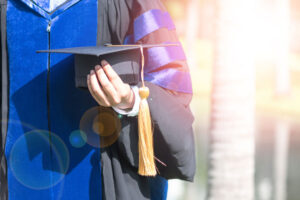 After you earn your master's degree, you are facing a choice.
The MSW is considered the terminal degree in social work since it meets all the requirements for professional practice as a licensed clinical social worker (LCSW).
But there are reasons that doctoral programs in social work exist. Although it is a lot more money and many more years in a classroom instead of working in a field position, the education in a doctoral program is unique. It's very strongly recommended for anyone pursuing a teaching degree, since you need that advanced knowledge in order to give it to others.
What about clinical practitioners, though? A DSW degree is aimed at licensed clinical social workers who need the additional skills to climb to a leadership position in the field, or who want to get to the highest level of expertise in clinical therapy. The years of research and practical experience build your abilities far above the average MSW-prepared licensed clinical social worker. If you want to become a nationally-recognized expert, a leader in the field, or just a supremely competent therapist, then a doctoral degree in social work could help you get there.
Earning Supervised Field Experience To Become a Licensed Clinical Social Worker
An MSW gives you the educational grounding to get licensed as a clinical social worker. But it doesn't give you anywhere near enough practical experience for the job.
You'll have practicum placements and internship hours as you earn your master's degree. Those will give you a sense of what it's like working out there in the real world. But there's a kind of expertise that only comes with thousands of hours of actual time on the job and that's what you need before you can get a license and practice independently.
That's why every state also requires a healthy helping of supervised, post-graduate field experience in order to license clinical social workers.
The exact number of hours varies from state to state. In Colorado, you need a minimum of 3,360 hours, half of which have to include a professional treatment and diagnostic relationship through direct patient contact. A minimum of 96 hours must occur under direct supervision. Florida, on the other hand, requires less than half that total number of hours, only 1,500, but all 1,500 must have direct client contact and 100 hours under direct supervision.
In general, you can usually expect to spend about 3,000 hours, or two years, working at least in part under another LCSW to meet the requirements.
In some states, you have to get a provisional license to practice during the supervision period. The requirements for those licenses are, of course, less stringent and usually aimed at exactly the phase of preparation you are in for the full LCSW.
The work is all identical to the work you will perform once licensed, however, giving you some training wheels and some great resources to fall back on while you're developing your skills and instincts.
Passing the Tests To Become a Licensed Clinical Social Worker
On top of proven experience, you'll need proven knowledge to become a licensed clinical social worker. Every state also has intensive testing requirements in order to earn a license, all of them based around the Clinical exam offered by the Association of Social Work Boards (ASWB).
The examination is conducted online and costs $260. The exam is multiple choice, consisting of 170 questions that must be completed within a four-hour timeframe. The questions focus on the practice of clinical social work and test your clinical knowledge and advanced skills in the field. The national testing platform is Pearson VUE
ASWB offers an online practice test for $85 and an exam guide for $20 to help you prepare.
You'll only be allowed to register for and take the exam after you've started the application process through your state social work licensing board. That means filing paperwork, paying filing fees, and often passing a criminal background check.
Some state boards have other testing requirements as well. Most common is a short, state-specific exam on ethics, regulations, and jurisprudence that apply to clinical social work there.
How Much Do Licensed Clinical Social Workers Make?
Licensed clinical social workers get another benefit from all that training and the demanding licensing path: they are some of the most highly paid social workers in the field.
The Bureau of Labor Statistics tracks all types of social worker salaries and then breaks them down into smaller specialty groups. Licensed clinical social workers fall into the All Other category of social workers. The median salary for that group is $64,210, or a bit over $31 per hour.
Because the All Other group can also include some workers that are not LCSWs, it's fair to assume that a licensed clinical social worker might actually do a little bit better than that top-line number.
The highest-paying industries for licensed clinical social workers are:
Federal Executive Branch – $2,490
Hospitals – $75,270
Local Government – $69,520
Educational Support Services – $68,520
Insurance Carriers – $68,140
Those with the largest numbers of LCSWs on the payroll, however, are:
Federal Executive Branch
Local Government
State Government
Individual and Family Services
Community Food and Housing, and Emergency and Other Relief Services
LCSWs are also probably the most likely type of social worker to work in truly independent practice. That means you have the option of working as an individual counselor, setting your own hours, picking your own patients, and focusing on your preferred specialization. Although it can be demanding to run your own show, it can also be more fulfilling and more flexible than any job you might find with an agency.
A fulfilling career is a big part of the reason that anyone chooses to become a licensed clinical social worker in the first place.
While all social work, and any human services, job offers the opportunity to do right and do good, taking the extra steps to become a licensed clinical social worker gives you a whole different set of tools you can use to help people. The deeply depressed homeless person, the woman who has just escaped from an abusive relationship, the child who was abandoned by their parents… you can go from being the person who can only sympathize and refer them elsewhere to being the person on the other end of that referral. You can be the one that helps them resolve their issues and puts them on the path to a more fulfilling life of their own.
May 2020 Bureau of Labor Statistics salary and job growth figures for Social Workers represents national data, not school-specific information. Conditions in your area may vary.
Tuition data provided by the National Center for Education Statistics, services of the U.S. Department of Education, using data collected for the 2019 school year. NCES loan and scholarship data comes from an April 2017 report published by the Department of Education.
Data Accessed June 2021.
<!- mfunc feat_school ->
Featured Programs:
Sponsored School(s)
<!- /mfunc feat_school ->