LCSW vs. LPC or LMHC
June 2, 2021 | By Scott Wilson
A Licensed Clinical Social Worker (LCSW) holds a master's degree in psychology and works to help individuals through both direct clinical counseling and more traditional human services work like social justice advocacy. A Licensed Professional Counselor (LPC) or Licensed Mental Health Counselor (LMHC) would hold a master's in counseling or psychology and concentrate on using psychotherapy and individual interventions to help patients through mental wellness issues.
<!- mfunc feat_school ->
Featured Programs:
Sponsored School(s)
<!- /mfunc feat_school ->
You want to get the differences between Licensed Clinical Social Worker (LCSW) roles and jobs for Licensed Professional Counselors (LPC) or Licensed Mental Health Counselors (LMHC) figured out early. It's a lot of credentials to have to sort out and understand before figuring out the path to a career in human services that's right for you, but it's the right place to start.
You're definitely not alone in asking these questions, either. Even professionals working in the field find clients often asking, "what is a LPC?" And you can be sure that just about everyone considering a career in human services starts by trying to figure out exactly what the difference is between an LPC vs LCSW…and the difference between an LCSW vs LMHC.
There can be significant differences between licensed counselors and clinical social workers, even though both routinely provide counseling services. The scope and specialty of the counseling and other services they provide can be really different, making one more appropriate than the other for certain clients in certain situations.
Licensed Professional Counselors (LPC) and Licensed Mental Health Counselors (LMHC) – Work strictly in the domain of group and one-on-one counseling
Licensed Clinical Social Workers (LCSW) – Work in the domain of group and one-on-one counseling, while also taking on a more traditional social work role through client advocacy and helping people find the social services they need
Both kinds of jobs require master's degrees and state-issued professional licenses, but there are two very different educational paths to follow.
Even though there are differences, LCSWs, LPCs, and LMHCs all have the skills and the desire to help people through some of the hardest moments of their lives.
---
---
What is an LPC?
First off, you may be wondering what does LPC stand for? An LPC is a Licensed Professional Counselor. That's a state term, usually defined by law. Anyone calling themselves an LPC has to meet certain rigorous standards. To earn LPC credentials, you have to:
Earn an LPC degree, almost always a master's degree in counseling, although master's in psychology may also be acceptable
Complete around 3,000 hours of post-master's supervised clinical experience
Pass the National Counsel Examination or a state-based equivalent test
Accept a rigid code of ethics and pass a test on state laws and rules for counseling
Meeting these qualifications earns you the legal authority to deliver psychotherapeutic and other counseling services to a wide variety of clients.
Many different types of professional therapists can offer counseling, however. The specific state laws creating the credential define what exactly the capabilities are of the LPC, meaning what range of services can be provided and what the obligations of the LPC are. Those services are:
Mental health counsel and psychotherapy for issues including:

Mental disorders
Emotional issues
Behavioral problems
Addiction disorders

Offered to:

Individuals
Groups
Organizations
And the obligations that go with them include:
Maintaining knowledge and skills adequate to offer the services
Conducting ethical treatment practices
Maintaining a professional and confidential client-counselor relationship
When you look up "therapist" in your local area, probably most of the results you find will be people who hold an LPC or LMHC.
What is a LMHC?
In our comparison here, we are putting LPC and LMHC up against the LCSW. But what is LMHC, anyway? Well, LMHC stands for Licensed Mental Health Counselor, it's simply the term that some states use to describe their counselor license.
So an LMHC vs LCSW is basically the same question as LPC vs LCSW.
Similarly, you will find that some states use other alternate terms for similar jobs, such as:
LCPC – Licensed Clinical Professional Counselor
LPCC – Licensed Professional Clinical Counselor
LCMHC – Licensed Clinical Mental Health Counselor
LPC-MH – Licensed Professional Counselor – Mental Health
So the question about the difference between an LCPC vs LCSW is the same as asking about the difference between an LCSW vs LCPC or LPC vs LCSW. Although the training and terminology is very similar, the use of the world clinical in those titles is both intentional and important. That usually signifies specific training in, and lawful abilities to, treat mental illness.
In contrast, an LPC may also have that training and those rights, but could also work in more general categories like career counseling or rehabilitation counseling.
It always pays to look at the scope of practice and licensing laws specific to the state you are considering earning counseling credentials in.
There are no states that offer both an LPC and LMHC license. In states with an LMHC, however, some of the job duties that might typically be restricted to LPCs may not require any kind of license at all. In other words, non-clinical counseling may be performed without a license requirement in some of those states.

There's no separate LMHC degree as such. LMHCs rely on the same kinds of master's degrees in counseling or psychology as LPCs. However, actual clinical training and experience may be a more important part of the licensing requirements for LMHCs.
To keep things simple, for the rest of the article we're going to refer to all similarly qualified counselors as LPCs, even if some states use a different title.
What is an LCSW?
Finally, what are we comparing the LPC and LMHC against? That would be the LCSW, Licensed Clinical Social Worker credential.
An LCSW also requires a master's degree, almost always in social work.
The word clinical does a lot of heavy lifting in this category of license. There are many, many different kinds of social work and many individuals licensed to perform it. Licensed Clinical Social Workers, however, have not only the training and background to perform general social work tasks, but also the additional psychology and therapy education to offer psychotherapy for mental health and behavioral issues their clients might suffer from.
Just as with LPCs, LCSWs have a wide range of specializations they can choose. Those include:
Substance abuse issues
Public health
Behavioral and criminal justice problems
School and juvenile counseling
Medical counseling
Similar to the LPC/LMHC divide, some states use different labels for clinical social work licenses. Depending on the state, you can find a state-equivalent to a counseling social work license going by any one of these names:
LGSW – Licensed Graduate Social Worker
LICSW – Licensed Independent Clinical Social Worker
LMSW – Licensed Master Social Worker
LISW – Licensed Independent Social Worker
LSCSW – Licensed Specialist Clinical Social Worker
Complicating things even more, several states license both LMSWs and LCSWs. In those states, the LMSW is not usually authorized to perform clinical services, although in some it's also considered a stepping-stone to the LCSW. And in some states, LCSW actually stands for Licensed Certified Social Worker, so an LCSW there may not be allowed to practice clinical therapy… unless they go on to earn an LCSW-C, which means Licensed Certified Social Worker-Clinical.
As you can tell, it's very important in the social work field to look at and get familiar with the laws specific to the state where you plan to practice clinical social work.
For our purposes here, we're just going to refer to all clinically-licensed social workers as LCSWs as we are comparing it to the LPC.
LPC vs LCSW: What is The Big Difference?
For social workers, counseling is only a part of the job. In some social work roles, counseling might not even be a part of the work at all. An LCSW will have the legal authority and the training to engage in clinical counseling, but it may not be the primary focus of their job.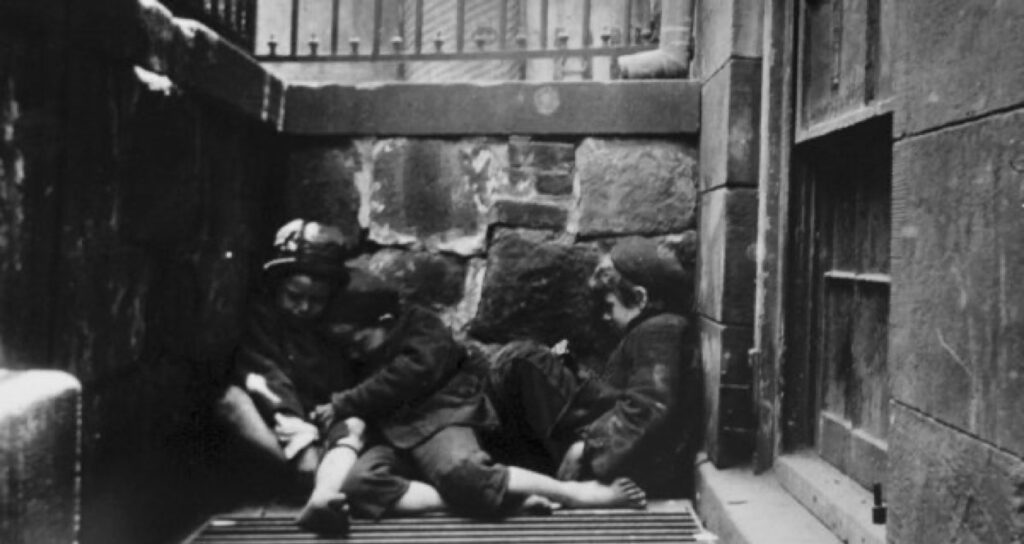 The hard lives of turn-of-the-century immigrants and factory workers gave rise to the modern profession of social work.
That's because social workers are usually focused on systemic problem solving. Their goal is to cure the issue that is facing the client through whatever tools are available. If that can happen through direct counseling, they may take that role themselves. But they may also decide it's a better solution to refer the client to an outside counselor. Or they might resolve the problem without directly involving the client at all, by addressing external factors including:
Economic challenges
Social issues
Problems in the home
Career issues
LPC therapists, on the other hand, revolve around their counseling capabilities. Working with individuals and groups to correct specific issues within their own control is the counseling approach. The LPC is also about problem-solving, but they are the specialists who are expected to use their clinical toolbox to get that job done. They may also refer clients out, but only when the problem is beyond their level of treatment capability, or if the problem cannot be resolved through therapy.
An example would be a client who comes in with severe depression and anxiety issues. Through their evaluation, if the LPC finds that the root of those issues is a more complex mental health issue, like schizophrenia, they will probably refer the patient out to a psychologist with more expertise in that field. Or if the depression and anxiety is coming from a life situation like homelessness, they might refer the patient to a social worker, who is better equipped to line up housing and basic services.
Different Histories in LPC vs LCSW Lead to Different Roles

You can also understand some of these differences by looking at the histories of both professions.

Social workers have been licensed and regulated for longer than LPCs and the history of the LCSW goes back further.

Trained social workers have existed in the United States since the late 1800s. By 1930, with the Great Depression bearing down, the role had become so widespread that the U.S. Census Bureau started tracking it.

Counselors, on the other hand, have a lineage that goes back just as far, but have not had a distinct role or license until relatively recently. Mental health counseling came of age with the science of psychology, a profession that became broadly accepted in the mid to late 1800s. At the same time, as the Industrial Revolution was underway, the first counselors were coming into the picture to provide vocational guidance to displaced or injured workers.

The Industrial Revolution created massive displacement in traditional communities that lead to both an expanded interest in social welfare and some of the earliest efforts at individual counseling.

The combination of social work and counseling didn't really emerge until the late 1940s. Faced with a wave of returning soldiers who both had little or no skills or experience in regular jobs, and who were experiencing the kind of post-war mental issues we would now recognize as PTSD, counseling as we know it today began to shift into gear.

As the country was entering the Cold War with educational and industrial demands at the highest levels ever and a large population of veterans without the training necessary to fill those roles, the federal government decided to do something about both problems. So in 1958, the National Defense Education Act was born.

The $183 million in annual appropriations from the bill not only provided a ton of new funding for education and retraining, but served as a major reform for the training and education system in the United States overall. Through Title V of the act, that included provisions for the training of counselors.

Although guidance counselors for secondary schools were the intended recipients, the practical effect of the program was to offer a tremendous boost to counseling programs in general at universities nationwide.

Today's mental health, addiction, and psychological counseling professions grew from the graduates of those early programs. The position of LPC would probably not exist today if not for the NDEA.
If you understand the motives behind how and why these professions were created, you can better understand the differences between them.
Social Work – Came about as a movement to improve the lives of individuals through efforts that included large-scale reform and social justice, involving macro-level lobbying and systemic efforts as well as individual assistance.
Counseling – Emerged as a practical response to individual needs to solve specific problems people have and help them lead happier, more productive lives.
The licensing movement for social workers also came a little earlier. The Association of Social Work Boards was created in 1979 and gave its first licensing exam in 1983 for workers in New York, Virginia, and Oklahoma. Most states adopted some sort of professional social work license by the end of the 1980s.
By the early 1990s, the American Counseling Association had created the National Board for Certified Counselors to establish common national standards for professionals.
The LPC, or Licensed Professional Counselor, didn't become a regulated profession until the early 2000s as states like California and Minnesota started passing laws to require licensure.
Even though LPC and LCSW often handle the same types of mental health issues, and may even treat the same individuals, their approaches to treatment can vary based on the perspectives that come from their history and professional training.
Comparing LCSW vs LPC Training
The source of those different perspectives in the professional fields of counseling and clinical social work is baked into the educational requirements.
Both positions require a master's degree for licensure. The most common master's program leading to counseling is a master's in mental health counseling or master's in clinical counseling, but master's degrees in psychology are also common. All have similar coursework and an emphasis on patient diagnosis and treatment.
Accreditation Impacts The Content of an LPC Degree or LCSW Degree
For both counseling and social work, there are dedicated accrediting bodies that set academic standard and evaluate programs to make sure those standards are met. This kind of specialty accreditation is different from the general institution-level accreditation that schools are required to have to be eligible for federal student loan money.
Specialty accreditors keep a finger on the pulse of a specific field and monitor degree programs to make sure they deliver that specific level and type of education.
Counseling Degree Accreditation – Many state licensing boards require specialty accreditation for degrees that they will accept for LPC credentials. There are two specialty accreditors, and some states may recognize either one or the other or both. So, depending on your state, an LPC degree or an LMHC degree should have accreditation from CACREP, the Council for Accreditation of Counseling and Related Educational Programs or the MPCAC, Masters in Psychology and Counseling Accreditation Council.
Social Work Degree Accreditation – For LCSWs, a master's degree in social work is the standard. LCSW degrees must be accredited by CSWE, the Council on Social Work Education in order to be accepted for licensure in all 50 states.
The standards set by each of those accreditors, usually in the form of curriculum requirements and practical matters like internship placement conditions and practicum hours, shape the training that leads to differences in LCSW vs LPC programs.
What Is LPC Training Like?
Master's-level training to become an LPC is largely focused on all the elements of therapy you need to treat groups or individuals for mental health issues. It's a psychology-heavy course of study that both lays the theoretical groundwork and delivers practical skills for therapists.
Classes include subjects like:
Counseling and Psychological Theory – The theory of mind and thought behind the profession are explored, including some of the history of the field of psychology and the development of counseling therapy.
Human Lifespan Development – Different ages come with different states of mind and psychological states. Training in this area explains differences and how human psychology develops from child to adult.
Psychopathology and Diagnosis – Classes covering the common types of mental health problems also teach students how to evaluate patients and develop and test a diagnosis of psychological issues.
Clinical Practice – Students are training in common therapeutic techniques for both individual and group treatment.
Practicum – Hands-on clinical practice under the supervision of trained and experience counselors offers an opportunity to develop real-world experience and cement theoretical knowledge with practical work.
Professional Ethics and Legal Obligations – Counselors have strong ethical standards and a set of legal obligations they need to understand and comply with. A lot of training at the master's level ensures a strong basis in those professional standards.
Counseling master's programs also frequently offer both elective training and the option of taking concentrations in any of the specific kinds of counseling that are widely offered in the field. Those can include courses in:
Couples and family counseling
Child and school counseling
Multicultural counseling perspectives
Psychopharmacology
Crisis, trauma, and emergency response counseling
Sexuality and sex therapy
Chemical dependency and addiction issues
Research skills
You can use those options to either expand your skills across fields, or dive into a particular specialization that interests you.
What is LCSW Training Like?
In general, advanced degrees in social work will have a heavier emphasis on policy and sociological issues. The foundational coursework will incorporate some of the same aspects of psychology you might find in an LPC degree, but a lot of it will be incorporated on a broader scale. You'll study more about how human behaviors are shaped by society and vice versa.
The type of courses MSW students take include:
Social Justice – Social work students receive a lot of coursework in social justice issues, including the roots and mechanisms of racism, the basis of class, income inequality, and other drivers of societal problems.
History of Social Welfare – Social work has a rich history and students learn about how it started and how it has evolved over the years to become the profession it is today.
Social and Community Organizing – One of the tools in the social work toolbox is bringing the weight of entire communities together to help address social problems. MSW programs examine the role of community organizing and leading social change movements.
Advocacy and Empowerment – Together with organizing work, social workers are expected to act as advocates for groups and individuals who do not have a voice, and to act to empower those people. Classes that teach how to advocate for people and causes are a part of most MSW programs.
Leadership Skills – All of this involves leadership skills, and classes in what leadership is and how to fill that role are part of the training.
Clinical Practice – Actual clinical practice, just as with counseling degrees, is a part of the MSW curriculum. The amount of time spent and the emphasis and kinds of therapies taught can vary considerably from program to program.
Field Placement – Also like counseling degrees, actual hands-on experience in the field is considered a critical part of the training of a social worker. Practicum and internship placements involve a considerable amount of time during the typical MSW program.
Social work degrees also offer concentration areas. Some of the more common options include:
Aging
Children and Families
Healthcare
Mental Health and Substance Abuse
Military Social Work
Many MSWs have non-clinical specializations on tap as well, but for an LCSW, you will be better prepared through a clinically-focused specialty area.
Something that many social workers and professional counselors alike will tell you is that the degree itself will matter far less than the program where you earn it. There can be significant differences in quality and knowledge offered by different master's programs. Those can outweigh the difference between an LPC degree and a master's in social work.
Because social work has such a broad base and such a wide range of non-clinical specializations, it's particularly true that you need to verify the number and quality of clinical classes and placements you will get in a given MSW program. Because an MSW can be used for many different positions other than just clinical counseling, some programs tend to focus more on those other types of roles.
Job Similarities and Differences in LPC vs LCSW Roles
Although there are plenty of differences in LCSW vs LPC jobs, where the rubber meets the road you will also find many similarities.
After all, both these jobs are all about helping people. And even with the differences in training and focus, no one in any human services profession will hesitate when it comes to doing whatever it takes to get their clients the assistance they need.
What is an LCSW's Job Duties?
Since social work has a broader scope of responsibilities that fall under the license and more opportunities to specialize, the National Association of Social Workers offers 10 different specialty certification options:
Leadership
Addiction
Case Management
Clinical
Education
Gerontology
Health Care
Hospice & Palliative
Youth & Family
Military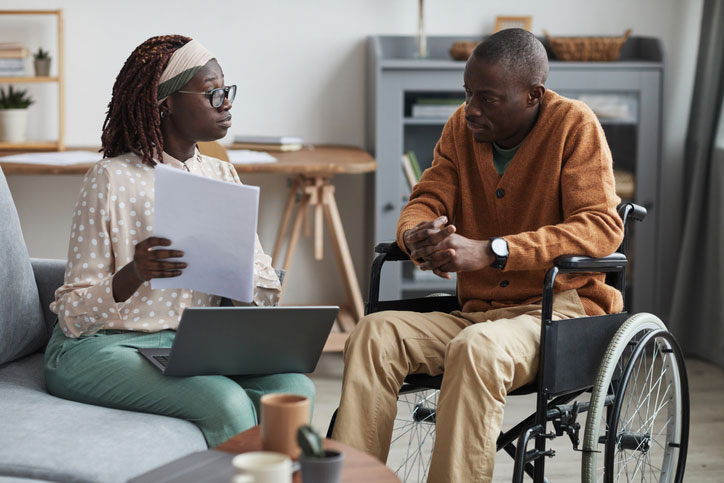 Health care counseling for LCSWs can involve not just patient therapy but assistance in arranging for other services, a more holistic care approach than an LPC could offer.
You might think that the clinical specialization is the only one that applies to the LCSW vs LPC discussion, but in fact, LCSWs may practice in all of those different specialties.
Although LCSWs are allowed to practice psychotherapy just as LPCs and LMHCs are, the day to day duties of a social worker may make them less inclined to reach for that tool first.
LCSWs will treat individual issues with clients, but their training and inclination is to see those issues through a social perspective.
That makes LCSW work very much a team sport. LCSWs spend a great deal of time coordinating with other human services workers and agencies. That means plenty of phone calls and a lot of meetings. Documentation is also a big part of social work, both because it makes coordination easier and because it may be a legal requirement for the agencies that employ social workers.
One-to-one counseling and therapy with clients is still a big part of the LCSW role, but it has a scope that goes well beyond that service, too.
What is an LPC's Job Duties?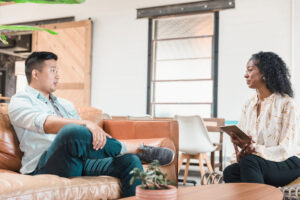 LPCs are just as hands-on in client therapy as LCSWs, but they are more likely to view each situation as unique. Although LPCs are well-aware of societal effects on individuals, their treatment efforts are all about resolving specific problems individual clients are dealing with.
LPC job duties revolve around traditional therapy:
Establishing trust and a relationship with clients
Evaluating and diagnosing mental health issues
Designing treatment plans for individual clients and groups
Monitoring client progress and documenting treatment
LPCs also have an opportunity to specialize. Their specialties are usually more closely related to categories of mental issues and treatment. For example, you'll find LPCs who specialize in:
Addiction and rehabilitation therapy
Marriage and family counseling
Grief issues
Anxiety and depression treatment
Anger management
Gender therapy
Most of the day for an average LPC will consist of actually treating clients one-on-one. The job can involve a lot more solo work than is the case with LCSW positions. There may be less paperwork and less interaction with coworkers or other human services professionals. This can vary by agency and industry, however.
How LCSW vs LPC Employers Change The Nature of the Job
One major difference between LPCs vs LCSWs is related to who they work for. Although that has implications in terms of the kinds of jobs and salary they might be qualified for, it can also mean something important for client relationships.
LPCs are usually paid directly by their clients, while LCSWs are typically paid through government or non-profit funding.
That's because LPCs often work either independently or for counseling services or agencies that are at least in part funded through direct fees to clients. You will often charge by the hour as an LPC. That will change your client base, because only people who can afford to see you will do so. It also can constrain the amount of time and energy you put into a particular client.
LCSWs, on the other hand, are far more likely to work for government agencies or non-profits without outside funding services.
Their clients are more likely to receive services free of charge. Again, that affects the type of clients as well as the kind of engagement an LCSW has with them.
LPC vs LCSW Salary and Job Prospects
One thing many people are curious about is the long-term potential and career path for an LPC vs LCSW or LCSW vs LMHC.
There are real and substantial differences in the career track you will be able to follow with an LPC vs LCSW. Just as importantly, there are differences in the salary level and employment prospects for the two careers.
Both kinds of jobs are growing in the United States right now. According to the U.S. Bureau of Labor Statistics (BLS), counseling jobs are growing at a much faster than average rate of more than 25 percent over the ten-year period leading up to 2029, while social work positions are increasing rapidly too, with a 13 percent projected growth rate over the same period.
But those trends can eclipse some very real differences in career prospects for an LCSW vs LPC.
One of your big considerations in choosing between LCSW vs LPC, or any job, will probably be salary and benefits. You are also going to wonder about how easy it is to get a job in the field.
The BLS keeps up with employment and salary data on both social workers and counselors. The information, most recently updated in May of 2020, is not perfect, though. It lumps LPCs and LCSWs in with some different kinds of therapists and social workers.
For LCSWs, the closest fit is the BLS category for social workers, all other. That happens to be the highest paid type of social worker, which aligns with the actual salary hierarchy out in the job market. Earning a median annual salary of $64,210, that's equivalent to just over $31 per hour. The top industries employing those social workers were:
Federal Executive Branch
Local Government
State Government
Individual and Family Services
Community Food and Housing, and Emergency and Other Relief Services
LPCs are grouped in with substance abuse, behavioral disorder, and mental health counselors, which skews the figures lower than what you are likely to find when you start working in the field. The median salary was $47,660, or $22.91 per hour in 2020, but that does not account for the fact that many counselors work independently and charge an hourly rate that just about anybody would be glad to earn. Even on the payroll with a traditional employer, though, salaries for LPCs are likely to be on the higher end of the salary scale, closer to the top ten percent where the salary is $78,700 or more.
The top employment industries for counselors are:
Outpatient Care Centers
Individual and Family Services
Residential Intellectual and Development Disability, Mental Health, and Substance Abuse Facilities
Office of Other Health Practitioners
Local Government
In this broad category, substance abuse counselors are more likely to be the ones working in outpatient and other facilities, while LPCs are most likely to work in individual and family services.
They are also far more likely to be self-employed. LCSWs can operate independently, but even then, they are largely employed directly by government and social service agencies. Although there are many jobs in health care and other services for licensed professional counselors, there's also a strong trend toward operating as a solo practitioner.
That gives you a lot of flexibility as an LPC, which wouldn't be as easy to achieve as an LCSW. With relatively little experience, early in your career, you can become a business owner, with all the risks and responsibilities that come along with that. And even in the private sector, you will have a bigger range of employment options. For example, the number of counselors employed in individual and family services is estimated to be more than 52,580 nationwide. In the same sector, for social workers, there are only 5,750 positions.
2020 US Bureau of Labor Statistics salary and job market data for Social Workers and Substance Abuse, Behavioral Disorder, and Mental Health Counselors. Information reflects national data not school specific information. Conditions in your area may vary. Data accessed June 2021.
Looking Beyond Salary and Job Growth in LCSW vs LPC Positions
On the other hand, your goals may not include small business ownership. You could be focused on goals that go beyond just salary and job openings in your industry.
For example, many social workers go on to leadership roles and into the world of politics. The close association of social work as a profession with social justice movements make it a natural stepping-off point to careers pursuing that goal. An LPC gives you a great deal of expertise in one-on-one and group counseling, but it's not likely to involve rubbing shoulders with community leaders or heads of powerful social service agencies.
Some of the Differences Between Counselors and Social Workers is a Matter of Perspective

While the therapeutic and treatment skills between LPC therapists and LCSW aren't all that different, the differences in perspective can mean that people who get into each of those types of roles may have very different objectives for their career. In particular, the close association of social work and big social justice and equity movements takes a lot of social workers off the streets and into state houses and capitol buildings.

Many social workers engage in activism and lobbying, but the job has also been a consistent path into politics for some.

It's an old tradition, going back to at least 1916, when social worker Jeanette Rankin became the first woman ever elected to Congress. She also became the only congressperson to have voted against entering both world wars, putting her conviction in peace front and center while many others caved.

Like Rankin, many other social workers who enter politics are trailblazers. Senator Debbie Stabenow of Michigan was the first woman from that state elected to the Senate; Arizona's Kyrsten Sinema holds the same honor. Both were master's-qualified social workers prior to their election (Sinema has a PhD and taught in the field as well), as were at least four other currently serving members of Congress. In fact, there are even enough social workers elected today that there is a Congressional Social Work Caucus, with 42 members from both sides of the aisle.

The work they do in Congress is a far cry from the daily activities of LPCs or LCSWs, but it allows them to help millions rather than handfuls of individuals. If that's your jam, then an LCSW may be the way to go.
If your ultimate goal is to become a psychologist, on the other hand, an LPC degree or an LMHC degree is both good preparation and a pretty common step toward that larger goal. With an LPC, you're accumulating a lot of great one-on-one therapy practice that will transition naturally toward the more advanced psychotherapy practiced by licensed psychologists. And your experience will also make it easier for you to be accepted to a psychology doctoral program.
So looking at the big picture and figuring out how an LPC vs LCSW license can meet your personal long-term goals is an important part of figuring out the differences for you.
All three of these careers allow you to focus on helping individuals, but understanding the differences between a Licensed Clinical Social Worker, Licensed Professional Counselor, and Licensed Mental Health Counselor is the first step in figuring out where your passion lies.
The next step is to earn a degree that will enable you to pursue your chosen career. If you're wanting to become an LCSW, find the best Master of Social Work program for you. On the other hand, if you feel that a career as an LPC or LMHC is a better fit, find the best Master's in Counseling program to help you achieve your goal.