The Best Online Counseling Master's Programs for 2023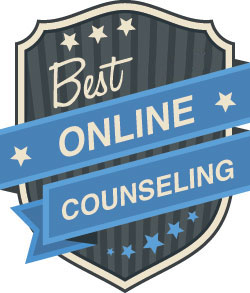 If you're hoping to make a career out of counseling, getting a master's degree is going to be a requirement no matter how busy or complicated your life might be. And that's exactly why you're looking at online programs.
With flexible options for taking in course content when it fits your schedule and the freedom to work towards earning your degree wherever you might need to be on a given day – not sitting in a lecture hall – it's the first choice for any prospective grad student who is still out punching a clock in the real world. Increasingly, it's also the first choice for anyone who wants a first-rate education but who may not be located in the same neighborhood as the school of their dreams.
But it's not as easy as it sounds. Counseling is one of the last great bastions of on-site education. There are relatively few reputable counseling graduate programs that offer primarily online instruction in the first place. Almost all of them require at least some on-campus attendance, even if it's just a couple of weekend sessions at the beginning and end of the program.
We've gone through the list of those programs and identified the top 20 in the country that have the highest proportion of online courses and the finest academic quality. We then put them together here to give you a leg up in your search for the best fully-accredited online master's degrees in counseling for the 2020-21 school year.
<!- mfunc feat_school ->
How Accreditation Plays A Role in Defining The Best
When we say fully accredited, we're not kidding! Every major American institution of higher learning will have a national or regional accreditation from a general accreditor recognized by the Council on Higher Education Accreditation (CHEA) or the U.S. Department of Education (USDE) as a matter of course.
But for counseling graduate programs, you should do one step better. CACREP, the Council for Accreditation of Counseling and Related Educational Programs, is the most widely recognized specialized programmatic accrediting agency for counseling graduate programs. They are also recognized by CHEA, but their sole focus is on validating the quality and expertise of counseling programs.
Because of that focus, they can tell you a lot about a counseling degree program that a general university accreditor can't. They understand the basis of the counseling profession and the current demands out in the field and they can evaluate a degree on the basis of factors like:
Fieldwork supervision standards
Evidence-based curriculum development
Currency of course materials and instruction techniques
Legal and ethical education standards
Faculty qualifications and education
All this attention to detail shows.
Research shows that graduates from CACREP programs routinely perform better on the National Counselor Examination for Licensure and Certification (NCE).
That's exactly the kind of edge you should demand in any master's in counseling program, and it's one we insisted on when considering what online programs to include on this list.
What Makes a Counseling Program Special
Of course, accreditation is just where we started, not where we ended up. Academic standards are a big deal, there's no question about it. But you have a lot of other factors to consider before you make that final choice. We looked at an array of other qualities and qualifications before we included the programs you see here.
Value
Cost was a big consideration, but value was an even bigger one. Counseling education is offered by both public and private schools, but one thing they have in common is that neither of them are cheap.
Nobody wants to hold a degree from a program with a reputation for being cheap, though. So one thing we did was to look at the program cost and compare it to the quality of the education in search of the best value. Extra electives, highly respected instructors, excellent support services, and other bonus features can make even an expensive program a great deal when you put it all together.
Options for Specialty Tracks
Different schools and faculty also have different therapeutic philosophies and specializations, and one key to picking the right program for you is identifying schools where those approaches align with your own predilections and interests.
We make that easy by telling you a little bit about what makes each of these programs tick, both philosophically and in terms of the tracks and electives offered.
Reputation Matters… Especially if You're Going for a Doctorate
Reputation is also important so we looked at how schools stacked up in the court of public opinion. If you're vying for a competitive position, hiring managers can't help but notice if the school you attended had the kind of reputation they'd be glad to brag about when posting your bio on their website. And if your plans involve going for a PhD or PsyD and becoming a licensed psychologist, you better believe the admissions boards heading up the more competitive terminal degree programs are going to pay attention to where you earned your undergrad and master's.
The More Online the Curriculum the Better
Because we're looking exclusively at online programs, we also made an effort to find the most online programs available. In counseling, you will always have field experience that has to happen in person, but apart from that, many schools still require you to physically show up on campus from time to time, even if only for an orientation or intensive with your cohort. That's true of most of the programs on our list, too, but we made an effort to find the ones that give you the most flexibility and require you to be on campus the least.
Top 20 Online – and Fully Accredited – Counseling Master's Programs
When you put it all together, what you'll find here are what we consider to be the twenty best online master's degrees in counseling in the country. We're confident one of them will be exactly what you've been looking for.
This list features programs that our editorial staff hand selected to present as top recommendations. We believe the many aspects of a program that come together to create an exceptional student experience can't be reduced to numbers alone, so no formula was used to attempt to score or rank these programs. Instead, they represent our top picks based on a thoughtful review of the things we know mean the most to students. Each one of these programs offers something unique, and all come equally highly recommended. We stand behind the principal of editorial integrity and make these recommendations independently and without compensation.