Top Picks: Best CSWE-Accredited MSW Programs by State for 2023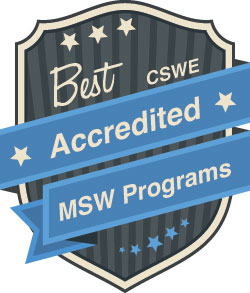 America is imperfect.
A recent national survey on homelessness found that across the country more than half a million people are without shelter on any given night, a nearly one percent increase over the previous year.
On the same day, in many of the same places, 115 people die from opioid drug overdoses—only a few of the more than 21 million people in the country struggling with drug addiction.
Some of those drug abusers are parents to the estimated 6 million children referred to child protective agencies every year.
All of those people, their families, and the communities they call home, need help. They need social workers; strong, compassionate, caring, knowledgeable people who can wipe the tears away and give them the help they need.
So it's no surprise that the U.S. Department of Labor expects to see a 16% rise in the number of jobs for social workers opening up over the next decade, a much faster rate than what is seen in most occupations. And it's no surprise that a person with a big heart and a lot of conviction who is aiming to fill one of those positions is looking for the best master of social work (MSW) program available.
A master's degree is the standard requirement for becoming a licensed social worker, and for good reason. This is a job that takes scientific knowledge and experience in understanding the human condition, and one that puts you to task in high-pressure situations where careful decision-making can save lives. You need that master's degree if you're going to be the shoulder people lean on in their most desperate hours.
We're here to help you find that MSW program.
We rolled up our sleeves and went to work to find the very best options in each state. We want to help you prepare to make a difference, and we know it all starts with getting the best education available.
<!- mfunc feat_school ->
Why We Only Include CSWE-Accredited Programs
The answer is pretty simple: the Council on Social Work Education (CSWE) is the only body that is recognized by the Council on Higher Education Accreditation (CHEA) to provide specialized accreditation of social work graduate programs.
There are standards and practices the human services professional community and state licensing boards recognize as being necessary for social workers to provide services in a way that is safe and effective. These are the very things that the CSWE Council on Accreditation looks for when reviewing MSW programs. Among them are an emphasis on ethics and professionalism… research- and evidence-based practice… skills for assessing the psychological, service and material needs of individuals and groups in the community.
And while CSWE doesn't accredit doctorates specifically, you can be sure any Doctor of Social Work (DSW) you might earn from a school with an accredited MSW will meet comparable standards.
All told, there are nine core competencies of social work practice outlined by CSWE's Council on Accreditation. By choosing a CSWE-accredited MSW program, you know you will learn every one of them.
To Be The Best Requires Going Beyond The Basics
CSWE accreditation was just a baseline, though. We looked at a host of other factors before deciding on what we feel is the best program in each state.
Seamless Transition from Undergrad to MSW
Almost all of these programs offer an advanced standing option that allows you to fast-forward directly into more advanced second year studies if you already have a bachelor's degree in social work. We looked for schools that offered both bachelor's and master's degrees so you have the convenient option of completing all your studies with the same department.
It's just an option, and options are good. If your bachelor's degree is from another school or in a different major, you're still a candidate for earning an MSW.
The Convenience and Flexibility Working Students Need
A lot of these programs have either some or all courses available online. Although it's not a requirement, we favored programs that offer the kind of flexibility graduate students expect these days. If you're already working in social services and want to improve your skills, you shouldn't have to take a year or two off just to go back and get your master's degree. Evening and online courses let you study when you have time for it.
For the same reason, we favored schools that have an option to stretch the program out over more than a year or two. In general, any sort of extra flexibility in how and where you can complete your classes or field training was a plus.
Opportunities for Experiential Learning and Networking
Speaking of field training, we liked to see programs that had a lot of partners in the community. Arranging practicum hours isn't always a lot of fun, particularly if you are coming into the field without any connections, so active and well-connected field placement programs got a big thumbs-up.
Quality + Affordability = Value
We looked at costs, but most importantly, we looked at value. Some of these programs, particularly those at private schools, cost quite a lot of money per credit… particularly for someone going into social work! But if we recommend them anyway, you can be sure it's because they offer you a big bang for those big bucks.
Diversity in Student Experience and Degree Emphases
Since social work is a diverse and multicultural field, we picked a lot of programs that offer some sort of overseas experience or that have particularly diverse student bodies.
And since diversity is already a theme, we went ahead and looked for programs with diverse course options and a lot of specializations. They had to have a good core education, to be sure, but after that we wanted to make sure you had options to drill down into whatever specialized aspect of social work that motivates you. So, veteran's affairs, gerontology, substance abuse… we found programs that offered those types of concentrations and more.
Top Picks: State-by-State Guide to the Best MSW Programs for 2023
A master's degree in social work is one of those degrees where you will get back out what you put in. It's a path to a calling as much as a career. We're confident that if you pick one of these schools you'll be heading down the right path to answer that call.
This list features programs that our editorial staff hand selected to present as top recommendations. We believe the many aspects of a program that come together to create an exceptional student experience can't be reduced to numbers alone, so no formula was used to attempt to score or rank these programs. Instead, they represent our top picks based on a thoughtful review of the things we know mean the most to students. Each one of these programs offers something unique, and all come equally highly recommended. We stand behind the principal of editorial integrity and make these recommendations independently and without compensation.