101 Most Affordable BSW (Bachelor's in Social Work) Programs in America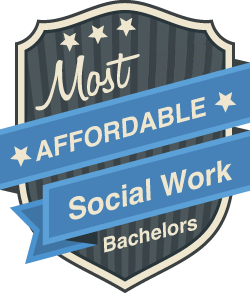 If you're a soon-to-be undergrad and you've already made up your mind that you're going to be a professional social worker, then you're clearly someone with a lot of heart– and a lot of focus on your career goals. And if you've already got your stuff together enough to be planning your career in social work, then you probably already know that you're ultimately going to need a master's degree to get there.
A bachelor's degree in social work is the single smartest step you can take toward earning the coveted MSW (Master of Social Work) degree that will unlock your career in professional social work. Not only is it going to give you the liberal arts education that will prepare you with the kind of critical thinking, communication and writing skills it takes to make your way in the professional world, it also provides the focused field-specific knowledge it takes to begin really wrapping your head around professional practice in the field of social work – all while ensuring you'll have advanced standing in the master's program you eventually enroll in, saving you as much as a year's worth of time and tuition. This makes a BSW the only option for anyone looking for the most efficient and cost effective path to a career as a licensed clinical social worker.
All this makes it a pretty popular degree in American colleges today, and as you well know, the cost of a four-year education isn't exactly peanuts these days. That means you're going to be looking hard to find a program that not only gives you excellent preparation in the principles and essential elements of social work, but one that also has a price tag you can afford.
<!- mfunc feat_school ->
Which is why we put together this list of the best-priced CSWE-accredited BSW programs in every state – featuring one public and one private institution per state where both options are available.
How We Analyzed Tuition Costs When Building This List
So, you're probably wondering how we decided what the best value was, and why we chose one public and one private school program for each state. Great questions!
Looking at Public and Private Institutions Separately
We decided not to pit public and private schools up against each other when looking at cost.
Private schools sometimes have more resources and bigger name recognition on a national level, both factors that can mean more of a draw for the top names in the faculty market. But this can also mean higher tuition rates than state residents would pay at a state school.
State schools, on the other hand, can off-set the tuition they charge in-state residents by charging a premium to non-residents. This often makes them hard to beat on price for students living in the state who can pretty much count on getting the best deal available.
However, the private university down the street with tuition rates higher than what a resident would pay at a state school might actually be the more affordable option for international students and students coming in from other states.
Two Schools Per State… Give or Take
To give you the full picture of the entire BSW pricing landscape with both residents and non-residents in mind, we made the decision to feature both the best-priced public school and the best-priced private school in each state.
If there was only one CSWE-accredited BSW program – or only one from either category (public or private) – we went ahead and included them in the spirit of showing you the full picture.
And if there were additional programs that were really close to tying with the least expensive, with a tuition rate within about $1,000, we went ahead and included them as well.
So though as a rule you'll find two programs per state on this list – one public and one private – you'll also find states where there is only one, and a few where there is more than two.
Total Tuition Cost
Often you'll find pricing information from schools and third-party websites presented on a cost-per-year, cost-per-semester or cost-per-credit basis. But since you're the type of person who's already looking years ahead to plan for your career and the education you need to get there, we know you'd prefer to see exactly what the next four years of your five-year plan are going to cost.
Since schools sometimes only give their cost-per-credit, this often meant a little number crunching to arrive at the totals, a small extra step that we felt was well worth it to come up with a single, accurate and complete point of comparison.
That's why we didn't mess around with anything other than the total program cost when making our analysis, and that's also what we present to you here.
Finding the Average Cost in Each State Provides the Best Point of Comparison
Price comparisons are only meaningful when comparing like to like. If you live near Omaha, you don't likely have any reason to care about what a degree in Manhattan costs, but you might care a lot about how the price compares to other similar programs in Lincoln and Kearney.
That's why we figured the average cost of the accredited BSW programs by state. And for all the obvious reasons, this meant finding a state average for the programs offered at public schools, and a separate average for the ones offered at private schools.
This allows us to show you how much less the programs on this list cost than the average going rate in the state, so there's no question about what a great deal you'll be getting by going with one of these programs.
We Know Cost Isn't Everything, So You Can Be Sure These Programs Are Also Top Quality
As someone preparing for a career that involves saving lives, you're not interested in saving dollars if it means compromising anything important in your education. First and foremost, you want a top quality education, and if you can get it at a good price, then that's even better.
Accreditation
Naturally, every school on the list is accredited by either a regional or national accrediting body recognized by CHEA (Council for Higher Education)and the USDE (United States Department of Education). That's an absolute baseline quality measure for any school, no matter what kind of degrees they offer, but it actually tells you very little about their social work programs specifically.
For an assurance of quality in the social work sphere, you need to look at BSW programs accredited by the Council on Social Work Education's (CSWE) Commission on Accreditation.
CSWE accreditation is similar to the general accreditations from regional and national accreditors, except that it focuses exclusively on elements of the program related to social work; things like:
How the curriculum is built and kept current
How faculty are vetted and evaluated
Testing and grading standards
Resources and administrative support systems
The CSWE Commission on Accreditation ploughs through mountains of paperwork to make these assessments, makes on-site visits as a matter of course, and, as if that weren't enough, they go back and do it all over again every few years to make sure the standards haven't slipped.
Value Is A Personal Matter
You can be confident in the quality of every single one of the degrees we list here, and you can also be sure that every single one of them offers the lowest tuition rate for its category – public or private.
But, value is often subjective. So we did more than just build you a list of schools with tuition rates; we gave you a profile of each of the programs that made the list.
Here, you'll not only find the cost, but also a ton of other valuable information about each school. We looked hard at the elements that make a program unique. Every BSW will have elements of a general liberal arts education; the communication, history, logic, and critical thinking components that make a 4-year degree so valuable.
But we also made a point to identify the things we know will make for a great student experience, and an exceptional social work education. Does the school go out of their way to bring in rock star faculty or guest lecturers? Is there a specialization or series of electives that you can't find anywhere else? Partnerships with outside agencies that give you the opportunity to get out on the streets and learn from experts who are out there doing the job every day?
We note all of those little extras that we know will mean something to you, the student, and give you a thumbnail sketch of the program to better inform your decision.
State by State Guide to the Most Affordable BSW Programs in America
So here you have it – the best-priced CSWE-accredited BSW programs in every state, along with all the other information you'll need to make your decision. You'll get the whole picture here. We're confident you'll find the perfect BSW program somewhere on this list.
---