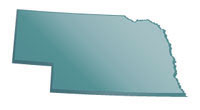 Nebraska Psychology Education Overview
Psychology Licensure in Nebraska
Nebraska is a state that has a tremendous diversity of occupational niches for human services professionals who have become licensed Psychologists. Whether you want to work hospital in Omaha, or at a school in Lincoln you will find that there are a wide variety of professional niches you can operate in as a licensed psychologist. Nebraska has a population over 1.8 million people. A population of this size creates numerous setting where a licensed Psychologist is needed. In the state of Nebraska a Psychologist can anticipate a mean yearly wage of $67,280 according to the Bureau of Labor and Statistics1. For those who have a degree in child psychology or would otherwise like to work with children, you may wish to consider finding employment in one of Nebraska's 264+ School districts2. If the idea of working in a hospital with fellow professionals sounds exhilarating, then you may wish to find a job at one of Nebraska's 16+ major hospitals3. The tremendous diversity of option available for those with licenses to practice Psychology in Nebraska allows you to have freedom in choice of your career environment. We have worked to create a handy step-by-step guide to the process of becoming licensed as a Psychologist in Nebraska, you will find it below.
<!- mfunc feat_school ->
Featured Programs:
Sponsored School(s)
<!- /mfunc feat_school ->
<!- mfunc search_btn -> <!- /mfunc search_btn ->
Required Educational Background
You will find that being a licensed Psychologist in Nebraska is a financially rewarding and fulfilling career. In Nebraska, a Doctorate in Psychology is required for licensure. You will need to have completed your schooling and have earned your Bachelor, Master and eventually your Ph.D. in Psychology.
A Bachelor of Psychology is an extremely useful degree to have. Whether you continue your schooling and go on to earn your Master and/or Doctorate of Psychology, your Bachelor of Psychology will be very useful. With your degree you can always choose to pursue one of the many human services positions that look for candidates with a Bachelor of Psychology.
Nebraska requires that you must have already earned your Doctorate in Psychology in order to apply for licensure. So while you cannot gain a psychology license with just a Master's degree, it is a necessary step to take on your journey to full licensure. You will find that even if you don't want to continue your education to get your Ph.D., a Master's in Psychology is valuable in pursuing employment in a wide variety of human services positions.
To start on your journey to licensure you will need your doctorate in psychology from a board approved school. Once you have your doctorate you will need to earn your field experience.
Field Experience

To begin accumulating your required field experience for licensure, you will need to do the following:
You will need to complete a one year internship.
After your internship is completed you will need to earn an additional one year of supervised professional experience after completing your internship
You will need to apply for licensure, get approval and take your examinations as explained below.
You will want to familiarize yourself with Nebraska's specific laws and regulations regarding licensure. These laws change so it is good to make sure you have current information, which you can find here:
Examination
Once you have completed your field experience you can apply to take the Examination for Professional Practice in Psychology (EPPP).
Pass the EPPP with a score meeting the Nebraska minimum
Pass the Nebraska Board-developed Jurisprudence examination