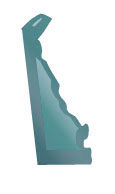 Delaware Psychology Education Overview
Psychology Licensure in Delaware
Delaware offers many different career routes for those seeking a human services career as a licensed psychologist. There is a tremendous diversity of institutions and agencies both private and public that have positions for licensed Psychologists. You can take many different routes to start your career as a licensed Psychologist. From working at a school in Wilmington to being employed at a hospital in Dover, there are many career paths to choose from for licensed Psychologists. Delaware has a population of over 907,000 people. Being geographically small, Delaware has a dense population providing many opportunities to find. A quick visit to the BLS website will show you that Psychologists in Delaware can expect to earn a mean yearly wage of $66,8901. If you enjoy a fast paced and stimulating environment or are drawn to work in the medical industry, you may wish to consider employment in one of Delaware's 20+ Major hospitals2. If you enjoy working with children or have a degree concentration in child Psychology you may wish to seek employment in one of Delaware's 53+ public school districts3. There are myriad potential career routes you can take as a licensed psychologist in Delaware. To help you find your way, we have created a step-by-step guide to understanding the licensure process in the state of Delaware that you will find below.
<!- mfunc feat_school ->
Featured Programs:
Sponsored School(s)
<!- /mfunc feat_school ->
<!- mfunc search_btn -> <!- /mfunc search_btn ->
Psychology Licensure in Delaware
Required educational background

Delaware is a great state to become a licensed Psychologist in. To get your license in Delaware you will first need to earn you Ph.D. in Psychology. This in turn, presupposes you have already been awarded both your Bachelor and Master of Psychology.
You will gain valuable insight about your career potential in psychology while you earn your Bachelor's. Fortunately, if you find you don't like the idea of being a licensed Psychologist, your degree will still be extremely useful in the human services sector where it is seen as a very desirable degree for potential employees.
You will not be allowed to apply for a Psychology license in Delaware without your doctorate in Psychology. Once you have earned your Master's, even if you don't want to continue on to your doctorate, you will find that with a Master's in Psychology are considered a desirable candidate for many different jobs in unrelated human services. So even if you don't become a licensed Psychologist, your Master of Psychology degree will be very useful in today's job market.
Once your doctorate in psychology from a board approved school you will need to start accumulating your required hours of field experience.
Field Experience
To begin gaining your required field experience for licensure, you will need to do the following:
You are required to accumulate 1500 hours of field experience in one year. You will need to be supervised by a psychologist who holds a current active Delaware license. Your experience is required to be within the specialty you wish to practice. e.g. cognitive therapy
You will need to apply for licensure, including the supervisor's form, get approval and take your examinations as explained below.
You will want to familiarize yourself with the Delaware specific rules and regulations for licensure. These laws change so it is good to make sure you have current information, which you can find here:
Examination

Once you have completed your field experience you can apply to take the Examination for Professional Practice in Psychology (EPPP).
Pass the EPPP with a score meeting the Delaware minimum
You can find some helpful information about your EPPP here