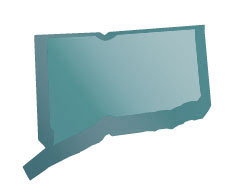 Connecticut Psychology Education Overview
Connecticut is a state with a tremendous amount of career options in human services for those who are licensed to practice Psychology. Many different organizations and institutions both public and private have need of licensed Psychologists. From setting up a private practice in Hartford to working in a school in Bridgeport, you will find a multitude of agencies that are looking to hire licensed Psychologists. Connecticut is home to over 3.5 million people. With such a dense population, there are plenty of opportunities to find employment in the geographically small state of Connecticut. By visiting the wealth of information on the BLS website you will find that a Psychologist employed in Connecticut can expect to earn a mean yearly wage of $79,5201. If working with fellow professionals in a medical environment sounds stimulating and enriching, you may wish to seek employment in one of Connecticut's 45+ Major hospitals2. Some people have an innate desire to work with and help children to heal emotionally, if this resonates with you, then you might consider seeking employment in one of Connecticut's 150+ public school districts3. With so many potential career paths you should be able to find an excellent fit for you given your unique skill set and personal temperament. Below you will find a step-by-step guide to help you move along the process towards becoming a licensed Psychologist in the state of Connecticut.
<!- mfunc feat_school ->
Featured Programs:
Sponsored School(s)
<!- /mfunc feat_school ->
<!- mfunc search_btn -> <!- /mfunc search_btn ->
Psychology Licensure in Connecticut
Required educational background

Becoming a licensed Psychologist in Connecticut is a fantastic career choice. To begin on your journey you will have to earn your doctorate. This in turn will require that you have already earned your Bachelor and Masters of Psychology.
Studying for and earning your Bachelor of Psychology will give you valuable insight about what your career in psychology might be like. You will also find that your Bachelor's degree will make you eligible for a wide variety of employment in other human services jobs.
Connecticut does not allow one to have a Psychology license if you have not earned your Doctorate in Psychology. Even if you don't want to continue your schooling to get a doctorate you will find that with a Master's in Psychology you can find a large amount of jobs in unrelated human services careers. Its nice to know that even if you don't go on to get your doctorate that a Masters of Psychology is a very employable degree in and of itself.
To begin your path to licensure you will need your doctorate in psychology from a board approved school. Once you have your doctorate you will need to earn your field experience.
Field Experience

To begin accumulating your required field experience for licensure, you will need to do the following:
You will need at least 1 full year of supervised experience. You will need either a full 35 hours per week of supervised experience for 46 weeks, or you can earn you experience part time earning 2000 total hours within a 2 year time period. (Supervision must be in your specialization of practice e.g. Child Psychology, and must be supervised by a psychologist licensed in Connecticut, for every 40 hours of work experience you will need at least 3 hours of supervision of which, not less than 1 hour shall be direct one-on-one, face-to-face supervision. )
You will need to apply for licensure, get approval and take your examinations as explained below.
You will want to familiarize yourself with Connecticut's specific laws and regulations regarding licensure. These laws change so it is good to make sure you have current information, which you can find here:
Examination

Once you have completed your field experience you can apply to take the Examination for Professional Practice in Psychology (EPPP).
Pass the EPPP with a score meeting the Connecticut minimum, the passing score is 500
Pass the Connecticut Jurisprudence examination
You can find some helpful information about your EPPP here: