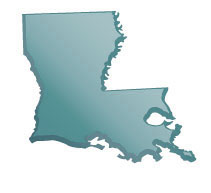 MSW in LA | Master of Social Work in Louisiana
Louisiana is a state with a rich and varied history and is home to some unique cultures created over centuries. It is also a state that has real opportunity for the well-trained social worker. In the past ten years we have seen a tremendous change in the marketplace. Over the last five years, many workers have responded to the economic downturn that started in 2007/08, by returning to schools like Southeastern Louisiana University and earning advanced degrees like the Master of Social Work (MSW). Today more than ever it is critical that you make your resume stand out to prospective employers by earning an advanced degree from an excellent school.
If you are considering becoming a social worker in Louisiana, you will definitely want to evaluate the advantages of getting your Master of Social Work (MSW) degree. A MSW is a degree that makes you eligible to join the workforce in a variety of potential careers in human services generally and social work specifically. Increasingly social work positions that once went to those holding Bachelor of Social Work degrees even at organizations such as the Department of Children and Family Services are now going almost exclusively to MSW holders due to competition for scarce jobs. This is why it is more important than ever to earn an advanced degree in your field.

<!- mfunc feat_school ->
Featured Programs:
Sponsored School(s)
<!- /mfunc feat_school ->
Louisiana is a state that not only has a rich and unique cultural composition, but also a state with a diversity of needs from its Human Services professionals. There are so many ways you can give back to your community through Social Work and your options and potential environments to work in will increase dramatically once you have your Master of Social Work degree (MSW). For example, someone with their Master of Social Work (MSW) degree who enjoys working with children can consider a job enriching the lives of children by helping them find a new home in which to live by working as a Social Services Permanency Worker in a city like Baton Rouge. If you feel called to join a leadership team in a Human Services agency you may wish to consider looking into becoming a Social Services Administrator at the Department of Human Services in New Orleans. Some Social Workers find deep satisfaction from working with their elders and for them, finding a career as a Geriatric Social Worker in a city such as Shreveport can be a truly fulfilling and uplifting occupation. Regardless of what kind of work you may wish to do as a Social Worker in Louisiana, your surest route to finding employment and earning an excellent wage is to attain your Master of Social Work degree (MSW).
Finding the Right School for MSW in Louisiana

Once you see how important earning your MSW is if you are planning on a career in human services, the next step is to find the right school for you. One way to bring clarity to your decision making process is to start from the end and work your way backwards. That is, you will want to take the time to research and determine what career in human services is the best fit for you. If you find an occupation that resonates strongly with you such as working with children as a MSW Medical Social Worker working at the Children's Hospital of New Orleans in New Orleans, it will also be easier to see what kind of MSW program you need to meet your personal career goals.
There are certain elements of MSW programs that are universal. However, the specific curriculum and skill set that is taught in various MSW programs can differ greatly in some cases. For example, the Gerontological Social Work degree concentration at the LSU college of Human Services is a very specialized focus that is ideal for some and not as helpful for others. Having a clear idea of your career goals is extremely helpful as you research all of your potential educational routes.
Career Options with a MSW in LA

There are a tremendous variety of careers in human services you will be eligible to hold once you have earned your MSW. Taking the time to research and find a career that you think you will really enjoy and excel at will help you make the best possible educational decision. For example, you might be interested in working at Fresenius Medical Care in Monroe as a Regional Treatment Options Program Specialist II helping rural people who are dealing with medical issues in the renal treatment sphere. Here at humanservicesedu.org we have built a resource that can help you research this exact question. Below you will find a fairly short list of some of the many positions you will qualified for with an MSW. For more in-depth research consult our section on job descriptions:
Eligibility Worker
Social Service Screener
Child Welfare Case Manager
Social and Community Service Manager
Aging and Disability Services Case manager
Licensed Clinical Social Work
Marriage and Family Therapist
School Social Worker
Social Work Administrator
Social Service Permanency Worker
MSW Programs in Louisiana

Finding the Right Program for You

There are many aspects of the programs you will want to compare and contrast as you search for the ideal MSW program. One of the simplest decisions you can make to help narrow down the list of potential candidates is whether you prefer a traditional physical campus such as the Southeastern Louisiana University campus at Hammond (Pop. 20,000) or an online program (more info below). If you find that you want to have a traditional college campus experience you will be able to focus on programs in areas you want to live in as there is a significant contrast between as the Southeastern Louisiana University campus at Hammond (Pop. 20,000) and LSU's Baton Rouge campus (Pop. 229,000). Once you have made a decision on whether you prefer an online or traditional campus, you can start evaluating some of the aspects of schools and programs you are considering:
Program accreditation (CSWE etc.)
Program prestige
The curriculum
Admissions requirements
The financial costs of the program
By having your future career in mind, you will be able to best evaluate the curriculum of the programs you are considering in order to choose one that closely matches your desired career. Remember, you will want to consider the fact that while most MSW programs have aspects of their curriculum that are universal to all, you will find that some programs have degree concentrations that have been designed to teach specific skillsets required for certain specialties. You may wish to avoid a specialized concentration and instead go for an Advanced Generalist concentration such as is offered at Southeastern Louisiana University or another similar school to keep your career options open.
If becoming a licensed clinical social worker in Louisiana is your career goal (More info on licensure in Louisiana here:, then you will want to find a school and program that has been accredited by the Council on Social Work Education (CSWE). Deciding on a program that has been CSWE accredited is a wise decision as it will meet the educational requirement for licensure in Louisiana. Another advantage to choosing a CSWE accredited school is that a program with this accreditation will meet the requirements for most other states as well.
You will need to make sure that you meet the admission requirements of any program you are hoping to enter. So, it is important to understand the application process of any program you are considering applying for. It is also important to make sure that you are able to afford the financial costs of any program you are considering. For example, Louisiana State University has a tuition cost of $3,785 for 9 credit hours (considered full time) for residents and $11,481 for 9 credit hours for non-residents. This does not include costs associated with books, fees or room and board. This is one example of costs and to get a good sense of what kinds of options there are you will thoroughly want to research academic costs for several schools and programs so you can be knowledgeable in your decision making process. A final consideration you may wish to research is the relative prestige of the program within the social work community. This may be helpful when you have narrowed your list down to a couple of potential candidates.
Online MSW Programs in Louisiana

There are several advantages to online programs that you will want to keep in mind as you decide between a traditional program and an online program in Louisiana. Many online programs will have significantly lower financial costs than their traditional campus counterparts. Another advantage is that online programs will often feature greater flexibility in regards to class schedules as well as program completion rates. Some schools offer slower completion rates for students who need more time due to having a busy life, there are also accelerated programs for those who want to enter the workforce as soon as possible. This can be a key consideration for many for whom flexibility is at a premium. In addition, you are able to take classes for online programs from the comfort of your home or office which can be a great fit for certain learning styles. There are pros and cons to both traditional campuses and online programs you will have to discover for yourself which method of education is better for you.
Prerequisites
Most graduate programs in Social Work will require a bachelor's degree in a closely related discipline. Some of examples of degrees that will be seen as closely related are: Human Services, Counseling, Psychology, Sociology and Social Work. In many cases, MSW programs will see applicants who hold a Bachelor of Social Work degree as ideal candidates. This is due to having a baseline of social work knowledge that one gains from earning a BSW. Some ways to make your application to graduate school stand out from other applicants are: volunteering or gaining paid work experience in a social work institution. Both types of experience are seen as very desirable background traits by many MSW programs.
Salary Increase with a MSW
Per the National Study of Licensed Social Workers conducted by Workforce on behalf of the National Association of Social Workers you will see a marked increase in earning potential with a MSW vs. a BSW.1
With just 15% of BSW holder earning more than $39,000 vs. a full 50% of those who hold MSW the difference is clear. You are 3 times more likely to earn $40,000+ if you have your MSW vs. only having your BSW. The vast majority (83%) of BSW holders earns $39,000 or less while only 49% of MSW holders earn that amount. It is clear that your odds of having a higher salary improve dramatically with a MSW.2