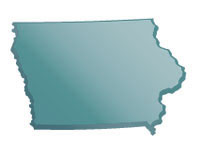 MSW in IA | Master of Social Work Degree, Iowa
Located in the American Heartland Iowa is a state with many an opportunity for a social worker who has an excellent educational background. There is a great need for social workers who have advanced degrees in Iowa in both the cities and rural areas. In the last ten years the economy has changed in many significant ways. One of those changes is that the American workforce is far more educated than it was 10 years ago. As a result, to remain competitive it is critical that one work to receive the education they need to be able to secure the career of their dreams. For someone who wants to be a social worker in Iowa, the best route to ensuring a diversity of career options is earning your Master of Social Work (MSW) degree. With a MSW you will have a wide variety of careers open up to you such as working at the Iowa Department of Human Services. Whether you want to work as a licensed social worker in cities like Des Moines or a school social worker in a city such as Iowa City, you will want to earn your MSW in order to secure your future. Whatever employment option you choose in human services, a MSW will make you a highly competitive candidate for jobs in human services.

<!- mfunc feat_school ->
Featured Programs:
Sponsored School(s)
<!- /mfunc feat_school ->
Once you have your MSW, new positions as a licensed social worker in Iowa will become available to you such as the Licensed Social Worker (LSW), Licensed Master Social Worker (LMSW) and the Licensed Independent Social Worker (LISW). You will want to understand exactly what each level of licensure will require from you in terms of additional experience and testing by reading our article on
Iowa Social Work License
. In addition, it is always wise to take the time to explore the state website on licensing which you can access
Iowa Department of Public Health
.
Iowa is a state that offers opportunities for social workers in radically different environments due to the huge cultural differences one finds in rural Iowa compared to the major cities. This gives you a chance to experience very different lifestyles and speeds. For those who are attracted to a slower and simpler pace of life, looking at becoming an Eligibility Worker helping poor families in Fairfield might be an excellent fit. Some people prefer an urban setting and want to work with senior citizens, for them a career as an Aging and Disability Services Case Manager helping the elderly in a city like Des Moines gain access to government benefit programs is a viable option. Those who feel drawn towards pursuing a leadership position as a Non-Profit Director might want to look for a Non-profit in city such as Iowa City that matches their personal causes for social justice. Those who are interested in helping children who have unsafe living situations might want to consider becoming a Child Welfare Case Manager in Cedar Rapids. Regardless of what kind of Human Services profession you might be considering in Iowa, having your Master of Social Work degree (MSW) will give you a great diversity of options that provide job security and competitive pay.
Finding the Right School for MSW in Iowa

Once you have determined that earning your MSW in Iowa is the step you want to take next in your education, you can then begin the process of finding a school and program the perfectly matches your situation. One of the best ways to bring clarity to this process it to determine what career you wish to have after you have graduated. This will require that you research a number of careers until you find one that resonates with you such as a career being a Hospice Social Worker working for Iowa City Hospice in Davenport which could be an ideal match for you personally. By examining schools and programs through the lens of your desired career you will be able to bring discernment to your selection process. You will also want to thoroughly compare and contrast several schools and programs in Iowa as part of your research. This will help you to see what is out there in terms of curriculum and programs. By knowing what your options are you will also further refine your search for the ideal school for you.
Career Options with a MSW

When you have attained your Master of Social Work degree you may be surprised by how many jobs become available to you. In order to make an informed decision that will maximize your educational outcomes, you will want to take the time to research a number of careers until you find one that is appealing to you and fits your skillset and natural talents. For example, if you enjoy working with families going through grief you might want to become a MSW spiritual Counselor working for Mercy Medical Center in Mason City or a similar profession. Here at humanservicesedu.org we have built a resource that can help you research this exact question. Below you will find a fairly short list of some of the many positions you will qualified for with an MSW. For more in-depth research consult our section on job descriptions:
Child Welfare Case Manager
Licensed Clinical Social Work
Eligibility Worker
Social Service Screener
Social and Community Service Manager
Aging and Disability Services Case manager
Marriage and Family Therapist
School Social Worker
Social Work Administrator
Social Service Permanency Worker
MSW Programs in Iowa

Finding the Right Program for You

You will want to review and evaluate a variety of different elements of each program you are researching. One decision you can make early in the process that will help to zero in on the perfect school for you is whether you prefer a traditional physical campus such as the University of Northern Iowa in Cedar Falls (Pop. 39,387), or if an online program (more on this below) is better suited to your particular learning style, financial situation and desired living situation. When you have decided on your campus type preference, you can shift your focus to evaluating the key elements of the schools and programs you are considering:
The curriculum
Admissions requirements
Program prestige
The financial costs of the program
Program accreditation (CSWE etc.)
Of all the aspects of the various programs you will consider, none are more important that finding a curriculum that will prepare you for your career. This is why it is so helpful to have a career goal in mind when you are researching MSW programs. While most MSW programs will have aspects of the curriculum that are universal amongst all programs, there are some schools that have chosen to make tailor made programs for certain employment outcomes. For example, there are programs that feature an emphasis on preparing the student for a career as Licensed Clinical Social Worker (more info on licensure in Iowa here) might wish to look into programs similar to the University of Iowa's Family Centered Practice degree concentration. There are unique skillsets required by various different social work careers and it is important to find a program whose curriculum matches the career you wish to have. If you have not yet decided on a career, but know you want to earn your MSW in Iowa, you would do well to find an excellent generalized program.
Taking your personal finances into account and comparing them with costs of each program will of course be a very important part of your decision making process. For example, the University of Iowa has a yearly tuition of $9,313 for residents of Iowa and a yearly tuition of $25,477 for non-residents neither of which includes books, fees or room and board. As a large financial investment it is important to compare and contrast the costs of a few schools and programs to make an informed decision.
Online MSW Degree Programs in Iowa

Online schools and traditional campuses have several key differences and these elements are worth comparing and contrasting to find out which is a better fit. In many cases, online programs offer students significant financial advantages over traditional "brick and mortar" campuses. Another key feature of many online programs is how modular the program is. The flexibility that is offered in terms of class schedule and program completion rates can be particularly compelling for many students. Often programs can be completed at either a much faster rate, or at a more measured pace when compared to their traditional counterparts. For some students the ability to take classes at home or from the comfort of their office is a huge consideration due to decreased commute times among other reasons. You will have to carefully weigh and evaluate both online and traditional campuses to find which one is a better fit for you.
Iowa Colleges with MSW Prerequisite and Preparation Degree Programs
Ashford University
400 North Bluff Blvd
Clinton, IA 52733-2967
(563) 242-4023
Briar Cliff University
3303 Rebecca St
Sioux City, IA 51104
(712) 279-5321
www.briarcliff.edu
Buena Vista University
610 W 4th St
Storm Lake, IA 50588
www.bvu.edu/
Central College
812 University
Pella, IA 50219
(641) 628-5286
www.central.edu
Clarke College
1550 Clarke Dr
Dubuque, IA 52001-3198
www.clarke.edu/
Cornell College
600 First St. SW
Mount Vernon, IA 52314-1098
(319) 895-4000
www.cornellcollege.edu
Dordt College
498 4th Ave NE
Sioux Center, IA 51250-1697
(712) 722-6000
www.dordt.edu
Drake University
2507 University Avenue
Des Moines, IA 50311-4505
(515) 271-2011
www.drake.edu
Emmaus Bible College
2570 Asbury Rd
Dubuque, IA 52001-3096
(563) 588-8000
Faith Baptist Bible College and Theological Seminary
1900 NW 4th St
Ankeny, IA 50023-2152
(515) 964-0601
Graceland University-Lamoni
1 University Place
Lamoni, IA 50140
(641) 784-5000
Grand View University
1200 Grandview Ave
Des Moines, Iowa 50316
(515) 263-2800
www.grandview.edu/admissions
Iowa State University (Ames, IA)
Ames, IA 50011-2030
(515) 294-5836
www.admissions.iastate.edu/
Iowa Wesleyan College
601 N Main Street
Mount Pleasant, IA 52641
(319) 385-8021
Loras College
1450 Alta Vista
Dubuque, IA 52004-0178
(563) 588-7100
www.loras.edu
Morningside College
1501 Morningside Ave
Sioux City, IA 51106-1751
(712) 274-5000
www.morningside.edu
Mount Mercy College
1330 Elmhurst Dr NE
Cedar Rapids, IA 52402-4797
(319) 363-8213
Northwestern College-Orange City
101 Seventh St SW
Orange City, IA 51041
(712) 707-7000
www.nwciowa.edu
Saint Ambrose University
518 W Locust St
Davenport, IA 52803-2898
(563) 333-6000
www.sau.edu
Simpson College
701 North C St
Indianola, IA 50125
(515) 961-6251
www.simpson.edu
University of Dubuque
2000 University Ave
Dubuque, IA 52001
(563) 589-3000
University of Iowa
101 Jessup Hall
Iowa City, IA 52242-1316
(319) 335-3500
www.uiowa.edu/
University of Northern Iowa
1222 W 27th St
Cedar Falls, IA 50614
(319) 273-2311
www.uni.edu
Wartburg College
100 Wartburg Blvd.
Waverly, IA 50677-0903
(319) 352-8200
www.wartburg.edu/
Western Iowa Tech Community College
4647 Stone Ave
Sioux City, IA 51102-5199
(712) 274-6400
www.witcc.edu