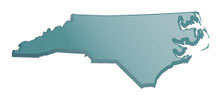 MSW in NC | Master of Social Work in North Carolina
Located in the Southeast of the US, North Carolina is a great state to live in and a wonderful state to become a social worker in. If you are interested in becoming a social worker in North Carolina it is highly advisable to earn your Master of Social Work (MSW) degree. Few degrees offer such latitude in terms of career choice within the human services sector.
With the substantial changes to the economy and workforce in the past decade it is wise to attain an advanced degree in your field if you wish to be competitive in the labor market. After the economic down turn of 2008 many workers who were laid off or fired chose to return to schools such as the University of North Carolina to retool their careers and earn advanced degrees. An MSW will really give you an edge in this challenging job market in addition to preparing you for the most challenging careers and giving you a skillset to thrive in any human services position. If you have a MSW there are many careers that will be available to you, such as: setting up a private practice as a licensed clinical social worker in Charlotte, becoming a child welfare case manager with the North Carolina Department of Health and Human Services in Raleigh or working in an exciting non-profit job in Chapel Hill. Regardless of what career sounds most intriguing to you, a MSW will prepare you for the job and also give you access to the most jobs in the sector.

<!- mfunc feat_school ->
Featured Programs:
Sponsored School(s)
<!- /mfunc feat_school ->
Once you have been awarded a Master of Social Work (MSW) degree, you will have fulfilled the academic requirement for all three of North Carolina's levels of social work licensure. These include the: Certified Social Worker (CSW), Certified Master Social Worker (CMSW) and the Licensed Clinical Social Worker (LCSW). You can find out the exact pre-requisites you will need for each level of licensure by reading our article here. You may also wish to review the
NC Social Work Certification Board
.
North Carolina is an excellent state to practice Social Work in and you will have many opportunities once you have earned your Master of Social Work (MSW) degree. The first step on that process is to carefully weigh and examine a variety of MSW schools in the North Carolina area until you find a school and program that resonates with you and your career goals. Once you have your Master of Social Work (MSW) degree, you will be able to choose from a diverse group of jobs that fall under the umbrella of Social Work. Some people will feel the call to use their organizational, leadership and motivational skills to help people perform at an optimal level, for those who feel this way they may wish to look for a position as a Social Services Administrator at the Department of Human Services in a city such as Greensboro. If you are looking to help people get new job training in order to help them recover from the recession you might be interested in becoming a Rehabilitation Case Worker in Durham or a similar city. Regardless of what career niche is most appealing to you, the option will be there for you once you have earned your Master of Social Work (MSW) degree in North Carolina.
Finding the Right School for MSW in North Carolina
Earning your MSW greatly helps you to broaden your employment options and helps you to stay competitive in the currently challenging North Carolina job market. It is very helpful to determine the career you want to have after graduation as it can really help you clarify your educational needs. Evaluating the curriculum of the school is crucial as some MSW programs are custom made for students who want to have a specific career specialization. For example, if you want to enjoy a career as an ESRD Clinical Social Worker working for Vidant Medical Center in Greenville, you will want to look for a program similar to the University of North Carolina degree concentration in Direct Practice. By comparing and contrasting several schools and programs to make an informed decision you will greatly increase the odds of an optimal outcome. If you are uncertain as to your career goals, then you will want to find either a generalized program in North Carolina such as the Advanced Generalist degree concentration offered by schools such as NC State University.
Career Options with a MSW

Once you have attained your MSW you will find that a wide variety of occupational paths are available to you. An example occupation to get your imagination flowing is becoming a Renal Social Worker employed by DaVita in Rockingham or another job comparable to it in another North Carolina city or town. By taking the time to do some in-depth research you will understand what careers are available that sound enticing and this will in turn bring clarity to the kind of education you need. Here at humanservicesedu.org we have built a resource that can help you research this decision. Below you will find a fairly short list of some of the many positions you will qualified for with an MSW. For more in-depth research consult our section on job descriptions:
Social and Community Service Manager
Licensed Clinical Social Work
Social Work Administrator
Social Service Permanency Worker
Social Service Screener
Marriage and Family Therapist
School Social Worker
Child Welfare Case Manager
MSW Programs in North Carolina
Finding the Right Program for You
You will want to carefully evaluate several elements of each MSW program in order to make the best decision possible. One of the first decisions you will want to make is on whether you find that a physical campus or an online program (more on this below) is the best fit for your personal learning style and desired living situation. Both have their advantages and disadvantages so this choice comes down to your personal preferences in regards to matters such as: preferred living situation, finance, learning style and your need for flexibility. If you decide that a traditional campus, such as the North Carolina Central University campus in Durham (Pop. 233,000) is the better fit for you, then you will be able to quickly narrow down your search for schools located in areas you desire to live in in North Carolina. For example, you might prefer the ambiance of the University of North Carolina campus in Chapel Hill (Pop. 57,233). Once you've decided on a physical vs. online campus, you will want to turn your attention to the following aspects of any program you might be considering:
The financial costs of the program
Program accreditation (CSWE etc.)
Admissions requirements
Program prestige
The curriculum
You will always want to keep your final goals in terms of employment as the lens through which you analyze different MSW programs. It is crucial that the curriculum closely match your desired career. Some programs have been tailored made to teach a skillset required for a specific career such as training future Licensed Clinical Social Workers with programs that are akin to the University of North Carolina degree concentration in Direct Practice. For more information on licensure in North Carolina you can examine our article on licensure here: For some, a specialized program is a perfect fit. However, this would not give the result other students want from their education and an Advanced Generalist Program as is offered at NC State University and other similar programs would be a better choice. A careful analysis of the curriculum is highly recommended before you make a final decision.
Of course it is very important to weigh your budget needs against the tuition and other financial costs of programs you are reviewing. An example of tuition for MSW programs is that of NC State University which has a tuition rate of $3,441.50 for 9 or more credit hours for residents and a rate of $9,465.50 for 9 or more credit hours per term for non-residents. There also will be many assorted fees, the cost of text books and room and board to consider in your financial evaluation of potential schools. The more research you do the better information you will have to make a final decision on this very important life choice.
Online MSW Degree Programs in North Carolina
With the 100% online Master of Social Work at the University of Kentucky, you can earn a CSWE-accredited MSW that meets all the requirements for licensure in North Carolina through a school that's been preparing social workers for more than 80 years.
There are advantages to online programs as well as difference that are not optimal for certain students. It is well worth one's time to carefully analyze the potential benefits of both online programs and traditional campuses. Online programs often have lower tuitions than their traditional counterparts which can be extremely important to students on a budget. Another important difference of many online programs is that they often will offer the student considerably greater flexibility in terms class schedules and the rate at which one completes the MSW program. Both accelerated programs and also programs for busier students are available through some online programs. This is an important consideration for adults who are returning to education after a break, busy parents or others for whom flexibility is at a premium. Being able to take classes from the office or at one's home is another compelling reason to consider online programs. There are pros and cons to both traditional campuses and online programs you will have to discover for yourself which style of education is a better fit for you personally.