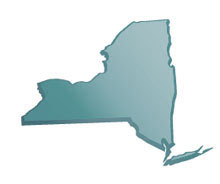 MSW in NY | Master of Social Work in New York
Some people call New York the center of the world. There is no question that few cities on earth are as vibrantly alive twenty-four hours a day as New York, New York. The state of New York is so much more than just Manhattan Island. It also has beautiful upstate New York and the many boroughs around Manhattan. Just as New York hosts so many unique and amazing cultures it also has almost limitless opportunities for social workers who have spent the time to get a top shelf education.
The economy of the US has shifted tremendously and continues to do so. One of the biggest trends of the past decade is the return to schools like New York University by workers looking to earn advanced degrees in their fields. Also, students are now staying in school until they attain an advanced degree. This has all lead to an increasingly well-educated and mobile workforce. In order to stay apace with these trends it is imperative to make sure you have an excellent education that will give you the maximum number of opportunities and also make you highly competitive for any position you apply for. If you want to have a career as a social worker in New York and also want your application to stand out to a prospective employer, the best educational option is to attain a Master of Social Work (MSW) degree.

<!- mfunc feat_school ->
Featured Programs:
Sponsored School(s)
<!- /mfunc feat_school ->
The great state of New York requires a Master of Social Work (MSW) degree for all of its levels of licensure in social work. With your MSW in hand you will be eligible to apply to become a Licensed Master Social Worker (LMSW) or a Licensed Clinical Social Worker (LCSW). You can get all the details on each level of
NY Social Work licensure requirements
. It is also worth your while to review the
NYSED
website.
The best way to tap into the endless opportunities for Social Work in New York is to first choose an excellent fit for you from the various MSW schools in the state. Once you have finished you degree with any emphasis that appeals e.g. Child Welfare, you can begin to find work in a variety of different agencies and organizations. If you feel drawn to help protect children and ensure that they are able to grow up in a safe environment, you might want to consider a career as a Child Welfare Case Manager in a city like Buffalo. For those who prefer to work with people suffering from a variety of mental and emotional issues, you may want to earn your degree from an MSW school in the area and then begin the steps towards licensure to become a Licensed Clinical Social Worker before opening up a private practice in an area like Brooklyn. If you have a strong pull towards helping those who are disabled you might want to consider a career as an Aging and Disabilities Case Worker in Ithaca or a similar city. The choices for a Social Worker who holds their Master of Social Work (MSW) degree are many and varied in the state of New York and they are yours to choose from.
Finding the Right School for MSW in New York
Having a Master of Social Work degree will open up many career options such as becoming a Medical Social Worker as an employee of Beth Abraham hospital in Brooklyn or a similar type of career in another city or borough. It also allows you to be highly competitive at almost any job title in social work. With this is mind, it is a great idea to take the time to research careers and find one that really resonates with you. By concentrating on your end goal you can start to bring clarity to exactly the kind of education that will help you prepare for the career of your dreams. Curriculums for various MSW programs will have a lot of cross-over, however some programs are tailored for specific outcomes such as becoming an administrator in a Human Services agency making use of the toolset you learn at a program like the Organization Management and Leadership concentration offered at Hunter College. For example, if want become a licensed clinical social worker you will want to look for a program that emphasizes clinical social work in its curriculum as is the case with the Clinical Practice concentration offered at New York University. Comparing and contrasting several schools and programs is a very wise idea as you make this extremely important life decision.
Career Options with a MSW in NY

There are many options available to NY social workers who have earned their MSW. For example you could become an Elder Abuse Specialist – MSW working for the Hebrew Home long term care facility in Riverdale or an analogous job at another long term care facility elsewhere in New York. Not only will you have occupations like licensed clinical social worker open up, you will also be able to have a competitive edge in jobs that don't have as high an academic requirement. Here at humanservicesedu.org we have built a resource that can help you research this exact question. Below you will find a fairly short list of some of the many positions you will qualified for with an MSW. For more in-depth research consult our section on job descriptions:
Licensed Clinical Social Work
Eligibility Worker
Social Service Screener
Child Welfare Case Manager
Social and Community Service Manager
Aging and Disability Services Case manager
Marriage and Family Therapist
School Social Worker
Social Work Administrator
Social Service Permanency Worker
MSW Programs in NY

Finding the Right Program for You

You will want to thoroughly research several schools and programs in New York until you find one that meets all of your needs and prepares you for the career you envision for yourself. The first decision to make is whether you want to attend school at a traditional campus or an online university. Some aspects to consider as you make this decision are: learning style, flexibility, living situation and finances. If you find that a traditional campus is more to your liking, then you will be able to quickly determine schools that are appealing based on the area you wish to live. Once you have decided between a "brick and mortar" traditional campus such as the Touro College campus in New York, NY (Pop. 8.2 million), or an online program in New York, you can change your focus to evaluating the key elements of the schools and programs you are considering:
The curriculum
Admissions requirements
Program prestige
Program accreditation (CSWE etc.)
The financial costs of the program
The most important thing to focus on during this evaluation process, is finding a program that closely matches your end goals in terms of employment. Finding a program that will prepare you for your chosen career is critical to having an excellent educational outcome. You will want to recall that most MSW programs will have similar aspects of their curriculums in New York. However, some MSW programs have been created to prepare the student for certain specialties in the field as is the case with for example the Clinical Practice with Individuals, Families and Group Work concentration at Hunter College which helps prepare one for a Licensed Clinical Social Work career (more information on licensure in NY found here: This is why you will want to closely inspect the curriculum to find a program that matches your career goals.
You will of course need to take your financial situation into account as you make the decision on which school is the best fit for you. One school we can look at is Touro College which has tuition of $595.00 per credit regardless of residency. This is fairly rare to not make a residency distinction and something to consider if you are a non-resident looking at schools in New York. There are always many various fees, text costs and room and board related expenses that will need to be taken into account as your analyze various schools and your own budget to find a good fit.
A final point to consider is to see if the school you are evaluation is considered to be exceptional by the social work community.
Online MSW Degree Programs in NY
Online programs offer a variety of differences and advantages compared to traditional campuses. Many online programs will offer considerably lower tuitions than standard campuses for a number of reasons. Quite often an online program will offer tremendous financial advantages over their more traditional peers. One of the most appealing features of online schools is the tremendous increase in flexibility. The much greater flexibility is seen in terms of class times and the rate at which you complete the program. Often both class times and completion rate is something that the student can tailor to their own needs. This can be very engaging to certain non-traditional students which can include: adults who are returning to education after an extended break, busy parents, students who are working full time for financial reasons or others for whom flexibility is critical. Being able to attend class from the comfort of their own home is another reason some will greatly prefer online programs. There are pros and cons to both traditional campuses and online programs you will have to discover for yourself which method of education is better for you.