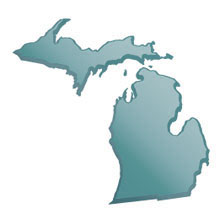 MSW in MI | Master of Social Work in Michigan
Located in the Great Lakes region and having a long and storied history, Michigan is a state with lots of opportunity for a social worker who has an excellent education and has worked to make their resume stand out from the crowd. The economy has changed dramatically in the last decade and one of its hallmarks has been that the American workforce is far more educated and well trained than it was 10 years ago. As a result, to remain competitive it is imperative that one work to receive the training and education they need to be able to secure the career of your dreams. In the case of the social worker, the best route to ensuring a multitude of career options is to earn your Master of Social Work (MSW).
With an MSW you will have a variety of careers available to you. For instance, you would be able to choose a career as a child welfare case manager keeping children safe and helping families manage healthier outcomes as part of the Michigan Department of Health and Human Services. Some may choose to go through the steps required to become a licensed clinical social worker and open their own mental health practice. Whatever employment option you choose in human services, a MSW will make you a highly competitive candidate for jobs in human services.

<!- mfunc feat_school ->
Featured Programs:
Sponsored School(s)
<!- /mfunc feat_school ->
The state of Michigan lists among its requirements for advanced social work licensure, that the applicant possess a Master of Social Work degree. With an MSW degree in hand you will be able to meet the academic requirements for the titles: Licensed Bachelor of Social Work (LBSW) and Licensed Master Social Worker (LMSW). You will want to review the specific requirements of each level of licensure by visiting our
Michigan state licensure page
here. You may also wish to review the laws on the
LARA – Social Work
.
Michigan has seen many changes over the past few decades that have led to all manner of new challenges that are being met and overcome by its Human Services professionals, particularly those who have the knowledge and skill set provided by having earned their Master of Social Work degree (MSW). If you are interested in helping those who once worked in the automobile industry in Detroit or any of the old manufacturing districts you can consider becoming a Rehabilitation Case Worker helping your clients to assess their skills and gain job training in a new career. For those Social Workers who feel drawn to protecting children and ensuring their safety, a career as a Child Welfare Case Manager in a city like Flint is an excellent fit to fulfill this desire to help vulnerable youth. If you enjoy working with and learning from the population of elder's in the great state of Michigan and hearing stories of bygone eras, you may want to consider a job working as a Geriatric Social Worker in Lansing or a similar city. The full diversity of choices within the Human Services field in Michigan is laid at the feet of those who have earned a Master of Social Work degree (MSW).
Finding the Right School for MSW in Michigan

For those who see how important earning a MSW is in today's market, the next step is to begin to narrow down your list of potential schools and MSW programs in Michigan.. One way to really understand exactly what program you are looking for is to first determine what the end result of your education should be such as becoming a Psychiatric Social Worker (MSW) in the Adult Extended Care Unit as part of the Henry Ford Health System in Ferndale or a similar occupation in another city. By finding a career that sounds appealing, you will also be able to begin to see what kind of program would best fit your employment goals. For example, you might be interested in the Management of Human Services concentration at the University of Michigan if you want to enter a Social Services leadership team. Getting into the nitty-gritty details of the program can also help you to understand both what's out there and also what resonates with you.
Career Options with a MSW

Once you have earned your MSW you will be surprised by how many jobs are available to you. Taking the time to do some research on your potential career paths will pay dividends in terms of helping you clarify your educational goals and creating the best possible outcome from your choice. One such job possibility is becoming a Hospice Social Worker at the Henry Ford Health System Detroit campus. Here at humanservicesedu.org we have built a resource that can help you research this exact question. Below you will find a fairly short list of some of the many positions you will qualified for with an MSW in Michigan. For more in-depth research consult our section on job descriptions:
Child Welfare Case Manager
Social and Community Service Manager
Licensed Clinical Social Work
Aging and Disability Services Case manager
Social Service Screener
Marriage and Family Therapist
School Social Worker
Social Work Administrator
Social Service Permanency Worker
MSW Programs in Michigan
Finding the Right Program for You

The first thing you will want to decide is whether a "brick and mortar" physical campus or an online program works better for you. Some elements of your personal situation you will want to consider include: finances, need for flexibility, learning style, and what area you wish to live in. You can narrow your focus to potential schools depending on location if you decide a physical campus such as the Western Michigan University campus in Grand Rapids (Pop. 190,000) is a good fit for your lifestyle needs. Once you have chosen a campus type, you can concentrate on comparing and contrasting the key aspects of the schools and programs you are considering in Michigan:
The curriculum
Program accreditation (CSWE etc.)
Admissions requirements
Program prestige
The financial costs of the program
Keep in mind that while most MSW programs will have aspects of their curriculum that are common amongst all programs, there are some programs that have been tailor made to prepare one for certain specialties. For example, you might be drawn to a Interpersonal Practice degree concentration such as is offered at universities like the University of Michigan if becoming a Licensed Clinical Social Worker appeals to you.
If a career as a licensed clinical social worker is your goal you will want to narrow your search to only include programs that have are accredited by the Council on Social Work Education (CSWE). Choosing a program that is accredited by the CSWE is a choice that will give you greater flexibility. CSWE accredited schools will meet the requirements not only for licensure in Michigan but also most other states. More info on licensure in Michigan here:
Reviewing financial costs when evaluating schools and programs is important, you want to make sure that any program you choose fit your personal finances. For example, Western Michigan University can be used as a benchmark for comparison by seeing that they charge residents $479.57 per credit hour and non-residents $1,015.75 per credit hour which is not inclusive of additional fees, the cost of books, nor your room and board. It is really important to take the time to thoroughly evaluate the tuition and additional costs of several schools before making a final decision as this is a very significant choice financially speaking and you will want to be well informed as to the options available to you.
Online MSW Programs in Michigan
With the 100% online Master of Social Work at the University of Kentucky, you can earn a CSWE-accredited MSW that meets all the requirements for licensure in Michigan through a school that's been preparing social workers for more than 80 years.
There are many differences between online schools and traditional campuses and these elements are worth evaluating to find the better fit. Online Michigan schools present financial advantages in that they often have lower tuitions than traditional campuses. Online schools usually offer greater flexibility than more traditional campuses. With flexible class times and also course completion at varying rates, online programs have attributes that can be extremely beneficial to some students. This may be very appealing to non-traditional students such as: adults who are returning to education after an extended break, busy parents or others for whom flexibility is critical. Being able to take classes from the comfort of your own home is another compelling reason to look to online programs for some students. While there are pros and cons to both kinds of campuses you will have to make your own decision as to which method of education is best for you.