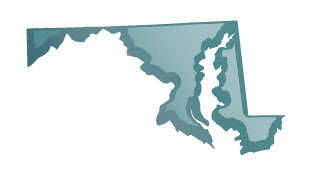 MSW in MD | Master of Social Work in Maryland
Located in the mid-Atlantic region Maryland is a state with a long and storied history. Maryland is also a state that has exceptional opportunity for well-educated social workers. As demographics and economic realities shift, the worker of the 21st century has to be nimble and respond to change. In the past 4 years the workforce in general has become more educated and well-trained than in the past. This is due to workers responding to the economic downturn by returning to school to attain advanced degrees at schools like Salisbury University and retrain to find employment. It is very important for those who are looking to become competitive to have a top shelf education. In the current employer's market a Master's degree is often required to even get an interview. This is very true in the social work sector. If you are considering a career in social work in Maryland, it is wise to consider getting your Master of Social Work (MSW) degree. A MSW is a degree that is well regarded by human services employers. An additional perk of your MSW is that few degrees in human services offer as many options for potential employment.

<!- mfunc feat_school ->
Featured Programs:
Sponsored School(s)
<!- /mfunc feat_school ->
One of the requirements for licensure in the state of Maryland is to have earned your Master of Social Work (MSW) degree. Once you have your MSW you will find that you are now eligible to begin the journey towards full licensure as a Licensed Social Work Associate (LSWA), Licensed Graduate Social Worker (LGSW), Licensed Certified Social Worker (LCSW) and a Licensed Certified Social Worker – Clinical (LCSW-C). All of these titles have individual requirements which you can learn more through
The Department of Health and Mental Hygiene
.
A MSW will offer you a broad spectrum of career options in human services. You will be able to choose a career as a school social worker helping children at one of Maryland's 24+ school districts who are having difficulties, if a career like that sounds good to you. If you prefer to work with the elderly there are options working for the department of human services with aging and disabled adults. If you feel more of an entrepreneurial spirit you can go through the process to become a licensed clinical social worker so you can open your own practice. Regardless of your career choice in human services, a MSW will open doors and also make you highly competitive for jobs in social work regardless of the level.
Maryland is a very complex state with a long history that has left a tremendous amount of legacies that continue to impact the living standards and lifestyles of its citizens today. There is a tremendous need throughout the state of Maryland for Social Workers who want to really give of themselves to help enliven and enrich the lives of its most vulnerable citizens through service. This can be achieved in many ways, but in order to be able to have the maximum flexibility, knowledge and skillsets to impact one's community as a Social Worker the best Master's degree to earn is a Master of Social Work degree (MSW). With your MSW degree in hand you will be able to choose which subset of the population you are most wanting to help from school children, to the homeless to the elderly population. An MSW degree will open the door to help organize your fellow Human Services professionals in a leadership capacity as well by becoming a Social Services Administrator in a city that has great need for them such as Baltimore. There are also vast opportunities to help those who previously worked as part of the dock worker system that has been shrinking the past few decades by becoming an Eligibility Worker helping families get the resources they need to find a new line of work as the economy changes. There is a large field of potential careers available to Human Services professionals in Maryland that have earned their Master of Social Work degree (MSW).
Finding the Right School
After you have decided that attaining your MSW is a wise educational and career choice you can begin the process of selecting a school in Maryland. In order to have the best possible outcome from your education and to get the skill set you will want in your future career you will want to thoroughly research schools and MSW programs to find one that is an ideal fit for you. There are many aspects of the program you will want to consider and we will go more deeply into each in the rest of the article. One way to bring some clarity to your decision making process is to take a step back and envision your goals in terms of what career you desire. For example, if you are interested in becoming a Licensed Clinical Social Worker you might want to look at the Clinical Concentration at Universities at Shady Grove. While you will have tremendous options in terms of career path with an MSW from any school, the curriculum and skills taught in various programs can vary from school to school. This is why it is so important to really get into the details of what a program might offer. With the lens of your ultimate career goals you can better understand what curriculum will be of the greatest benefit to you.
Career Options with a MSW

The career options in human services provided by a MSW will be many and varied. It is a good idea to be methodical and really spend the time required to research and discover which career truly resonates with you. You might be interested in a career such as being a Social Worker – MSW working with psychiatric patients at Franklin Square Hospital Center in Baltimore or a similar occupation in another city. Here at humanservicesedu.org we have built a resource that can help you research this exact question. Below you will find a fairly short list of some of the many positions you will qualified for in Maryland with an MSW. For more in-depth research consult our section on job descriptions:
Aging and Disability Services Case manager
Social Service Screener
Marriage and Family Therapist
School Social Worker
Child Welfare Case Manager
Social and Community Service Manager
Licensed Clinical Social Work
Social Work Administrator
Social Service Permanency Worker
MSW Programs in Maryland
Finding the Right Program for You

The first thing you will want to decide is whether a "brick and mortar" physical campus or an online program works better for you. It is important to consider a few elements when you are trying to decide between a physical or online program. Some things you will want to look at are: learning style, finances, need for flexibility and preferred living situation. If you find that a traditional campus such as the University of Maryland in Baltimore (Pop. 619,000) is more appealing to you, then you can base your selection of potential schools on location. Obviously there is a substantial contrast between the campus of the University of Maryland in Baltimore (Pop. 619,000) and the campus and lifestyle offered by the Universities at Shady Grove in Rockville (Pop. 61,209). After you have decided on your campus type, you can then concentrate on evaluating elements of the programs you are considering:
Program accreditation (CSWE etc.)
Admissions requirements
Program prestige
The curriculum
The financial costs of the program
All MSW programs will have some aspects of their curriculum that are universal; however some schools have their MSW track designed to prepare one for certain specialties. Having the curriculum of the MSW course you decide on closely match your career aspirations is extremely important. Some programs are designed to facilitate the training of managers in human services as is the case with the University of Maryland's degree concentration in Management and Community Organization for example. Other schools might focus on helping give a skillset that is beneficial to child welfare workers in Maryland.
If a career as a licensed clinical social worker resonates with you, then you will need to find programs that have are accredited by the Council on Social Work Education (CSWE). Selecting a program in Maryland that has been accredited by the CSWE will be very helpful as it not only meets MSW program requirements for licensure in Maryland; it is also an aspect that is required by most other states for licensure. If you want to learn more about licensure in Maryland click here:
Reviewing financial costs when evaluating schools and programs is important, you want to make sure that any program you choose fit your personal finances. One way to evaluate is to look at a school like the University of Salisbury and see that it has a per-credit tuition of $324.00 for residents and a Non-resident rate of $613.00 per credit-hour neither of which includes fees, room and board or book costs. By comparing several schools you will get a sense of what your options are financially and be able to make a wise decision knowing all the facts.
Online Programs

You will want to remember that online programs have some elements that are very different from physical campuses and make them very much worth considering. Often with lower tuitions than their physical campus counterparts, online schools present financial advantages. Online programs are able to offer much greater flexibility than more traditional schools in a variety of ways. They often have highly modular class times, and also offer course completion at varying rates which can be extremely beneficial to some students. This may be very appealing to non-traditional students such as: adults who are returning to education after an extended break, busy parents or others for whom flexibility is critical. It is also hard to overstate how helpful it is for many students to be able take a class from the comfort of their own. While there are pros and cons to both traditional campuses and online programs you will have to make your own determination as to which method of education is best for you.
Prerequisites
Most graduate programs in Social Work will require a bachelor's degree in a closely related discipline. Some of examples of degrees that will be seen as closely related are: Counseling, Psychology, Sociology, Human Services and Social Work. Often MSW programs will see candidates with a Bachelor of Social Work degree as an ideal candidate due to having already learned the baseline social work knowledge one gains from a BSW. Some ways to make your application to graduate school shine are gaining paid work experience in a social work institution or volunteering with one. Both types of experience are seen as very desirable background traits by many MSW programs.
Salary Increase with a MSW in Maryland
Per the National Study of Licensed Social Workers conducted by Workforce on behalf of the National Association of Social Workers you will see a marked increase in earning potential with a MSW vs. a BSW.1
With just 15% of BSW holder earning more than $39,000 vs. a full 50% of those who hold MSW the difference is clear. You are 3 times more likely to earn $40,000+ if you have your MSW vs. only having your BSW. The vast majority (83%) of BSW holders earns $39,000 or less while only 49% of MSW holders earn that amount. It is clear that your odds of having a higher salary improve dramatically with a MSW.2