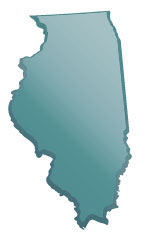 MSW in IL | Master of Social Work Degree, Illinois
Located in the great lakes region of the Midwest, Illinois is host to one of the greatest cities on earth, Chicago. Regardless of whether you want to be a licensed social worker in Chicago or a school social worker in Aurora, having at top shelf education will be the best way for you to prepare for the workforce. Over the past decade changing economic realities have caused workers to become a much better trained and educated group as a whole. The best way to respond to this new economic reality is by making sure you have a resume that is competitive and stands out from the crowd. If you are considering a career in social work in Illinois you will want to strongly consider a Master of Social Work (MSW) degree from a school like the University of Illinois at Chicago Jane Adams School of Social Work. The MSW is highly sought after in the human services sector and especially in the social work sub-sector where it is the key to unlock many of the higher paying careers.

<!- mfunc feat_school ->
Featured Programs:
Sponsored School(s)
<!- /mfunc feat_school ->
For those who want to attain a social work license in Illinois, a Master of Social Work (MSW) degree will be a critical first step. Once you have your MSW you will be eligible to become a Licensed Social Worker (LSW) or Licensed Clinical Social Worker (LCSW) depending on experience. The exact breakdown of licensure requirements can be found in our
Illinois Social Work licensure
here. You will also want to familiarize yourself with the laws and rules on licensure which are available on
Illinois IDFPR
website.
If you are interested in excellent pay and a variety of career paths in various occupations within Human Services, one of the best choices you can make is to earn your Master of Social Work degree (MSW). With an MSW degree you will have the flexibility to work throughout Illinois in a variety of contexts. For example, some are drawn towards using their organizational and leadership skills to the fullest in a management position as a Social Work Administrator in a city like Aurora. Other people enjoy Social Work in the context of helping children and for them becoming a School Social Worker or a Child Welfare Case Manager in a city such as Rockford might be an ideal fit. For those who prefer to help people with disabilities the option is available to become an Aging and Disabilities Case Manager facilitating government benefits as part of the Illinois Department of Human Services agency in Chicago. There is a vast array of potential careers and organizations that will be options for you to choose from as a Social Worker in Illinois once you have earned your Master of Social Work degree (MSW).
Finding the Right School for MSW in Illinois

Once you have determined that getting an MSW is a critical step towards realizing your career goals, you will want to begin the process of finding a school in Illinois that is a perfect fit for your unique situation. A great way to bring your educational goals into focus is by determining what career you want to have after graduation. For example, This will help bring clarity to your decision making process by letting you focus on schools that have programs that will best prepare you for your dream job. Many elements of the various Illinois MSW curriculums available will be similar from school to school. It is worth keeping in mind that some schools offer specially tailored programs to help prepare people for specific specialties. An example of this is the Community Health and Urban Development degree concentration through the University of Illinois at Chicago Jane Adams School of Social Work. By looking at the specific elements of various programs you will also learn what is available which will help you to better understand what you are looking for in a program.
Career Options with a MSW in Illinois

Once you have your MSW diploma you will find that a whole host of employment options have become available to you. You also will have a competitive edge if you apply for jobs that don't strictly require a Master's degree. Having a MSW degree will ensure that you have plenty of career options throughout your life. By taking the time to research and find a career that is a good fit, you will be able to refine your search for the ideal education. For example, you might find a career as a Hospice Social Worker for Cadence Health in Carol Stream to be an enticing one. Here at humanservicesedu.org we have built a resource that can help you research this decision. Below you will find a fairly short list of some of the many positions you will qualified for with an Illinois MSW. For more in-depth research consult our section on job descriptions:
Social Service Screener
Child Welfare Case Manager
Social and Community Service Manager
Licensed Clinical Social Work
Aging and Disability Services Case manager
Eligibility worker
Marriage and Family Therapist
School Social Worker
Social Work Administrator
Social Service Permanency Worker
MSW Programs in Illinois

Finding the Right Program for You

There are many important elements to evaluate as you work towards a final decision on the ideal MSW program for you. One of the choices to make is in determining whether an online program (more on this below) or a traditional physical campus is more to your liking. You will want to consider your learning style, need for flexibility, living situation preferences and finances as you make this decision. If you decide that for example, a physical campus in a small city such as the University of Illinois at Urbana-Champaign located in Urbana (Pop. 41,250) is a better fit for your personal situation than say the University of Illinois at Chicago Jane Adams School of Social Work in Chicago (Pop. 2.7 million) you will be able to immediately eliminate any program where the school is located in an area you do not wish to live. After choosing a campus type, you can shift your focus to comparing and contrasting the key elements of the schools and programs you are considering:
Program accreditation (CSWE etc.)
Admissions requirements
Program prestige
The curriculum
The financial costs of the program
Of the many aspects of a program you will need to compare and contrast, undoubtedly the most important is the curriculum. It is of paramount importance that you find a program that closely matches your desired career goals. Many MSW programs will have elements of their curriculum which are similar to one another; however some Illinois MSW programs have been designed with a specific occupational outcome in mind such as University of Illinois at Chicago Jane Adams School of Social Work degree concentration in School Social Work. You will want to make sure that you either take a generalized curriculum or if possible find a program that is tailor made to your personal career goals.
Your personal finances and educational background will come into play as you evaluate whether the admissions requirements and financial costs of the program mesh with your personal situation. For example, Dominican University has a flat rate of $1,974 per 3 hour course regardless of whether you are a resident or non-resident of Illinois which is fairly rare among schools. This does not include fees, books or room and boards which all have to be taken into consideration. You will want to research several schools to find out what a good tuition is for your situation.
Online MSW Degree Programs in Illinois

There are many pros and cons to both online programs and traditional "brick and mortar" campuses. Among the advantages an online program has is that many online programs offer significant financial advantages over their traditional counterparts. This can be particularly important to students who are on a tighter budget. Another advantage offered by many online programs is the relative flexibility and modular nature of the program. With flexible class schedules and program completion rates, online programs generally allow for a much greater degree of student customization. This can be particularly beneficial to certain "non-traditional" students such as: students who work full time for financial reasons, parents of young children, adults returning to academia after a long break and other students who see flexibility as critical to their education. For some, the ability to take classes from their office or the comfort of their own home in Illinois is a very compelling attribute of an online program. You will have to weigh and measure the differences between online programs and traditional campuses to determine which one is the best fit for your personal educational needs.
Illinois Colleges with MSW Prerequisite and Preparation Degree Programs
Augustana College-Rock Island
639 38th St
Rock Island, IL 61201-2296
(309) 794-7000
www.augustana.edu

Aurora University
347 S Gladstone Ave
Aurora, IL 60506-4892
(630) 892-6431
www.aurora.edu

Blackburn College
700 College Ave
Carlinville, IL 62626
www.blackburn.edu/

Bradley University
1501 W Bradley Ave
Peoria, IL 61625-0001
(309) 676-7611
admissions.bradley.edu

Chicago State University
9501 S. King Drive
Chicago, IL 60628-1598
(773) 995-2000
www.csu.edu/admissions

College of Lake County
19351 W Washington St.
Grayslake, IL 60030-1198
(847) 543-2000
www.clcillinois.edu/

Columbia College Chicago
600 South Michigan
Chicago, IL 60605-1996
(312) 663-1600

Concept College of Cosmetology-Danville
2500 Georgetown Rd
Danville, IL 61832
(217) 442-9329

Concept College of Cosmetology-Urbana
129 N Race St
Urbana, IL 61801
(217) 344-7550

Concordia University-River Forest
7400 Augusta
River Forest, IL 60305-1499
(708) 771-8300
www.cuchicago.edu/admission

Danville Area Community College
2000 E Main St
Danville, IL 61832-5118
(217) 443-3222

DePaul University
55 E Jackson
Chicago, IL 60604
(312) 362-8000

Dominican University
7900 W Division St
River Forest, IL 60305
(708) 366-2490
www.dom.edu/home/social-work-programs

Eastern Illinois University
600 Lincoln Avenue
Charleston, IL 61920
(217) 581-5000
www.eiu.edu/~admissions/

Elmhurst College
190 Prospect Ave
Elmhurst, IL 60126-3096
(630) 617-3500
public.elmhurst.edu/admission

Eureka College
300 E. College Ave.
Eureka, IL 61530
(309) 467-3721

Governors State University
1 University Pky
University Park, IL 60466-0975
(708) 534-5000
www.govst.edu

Greenville College
315 E. College Ave
Greenville, IL 62246-0159
(618) 664-2800
www.greenville.edu/

Hair Professionals School of Cosmetology
5460 Rte 34
Oswego, IL 60543
(630) 554-2266
www.hairpros.edu

Hebrew Theological College
7135 N Carpenter Rd
Skokie, IL 60077
(847) 982-2500

Illinois Eastern Community
305 N West Street
Olney, IL 62450
(618) 393-2982

Illinois Institute of Technology
3300 S Federal St
Chicago, IL 60616
(312) 567-3000
admission.iit.edu/index.php

Illinois State University
North and School Streets
Normal, IL 61790-1000
(309) 438-2111
www.admissions.ilstu.edu

Illinois Wesleyan University
1312 N Park St
Bloomington, IL 61702-2900
(309) 556-1000
www2.iwu.edu/admissions/

Joliet Junior College
1215 Houbolt Rd
Joliet, IL 60431-8938
(815) 729-9020
www.jjc.edu/

Judson University
1151 N State St
Elgin, IL 60123-1498
(847) 628-2500

Kankakee Community College
100 College Drive
Kankakee, IL 60901
(815) 802-8500
www.kcc.edu/

Lake Land College
5001 Lake Land Blvd
Mattoon, IL 61938
(217) 234-5253

Lewis University
One University Parkway
Romeoville, IL 60446-2200
(815) 838-0500
www.lewisu.edu

Loyola University Chicago
820 N. Michigan
Chicago, IL 60611-9810
(312) 915-6000
www.luc.edu/admission.shtml

MacMurray College
447 E. College Ave
Jacksonville, IL 62650-2590
(217) 479-7000
www.mac.edu

McKendree University
701 College Rd
Lebanon, IL 62254-1291
(618) 537-4481
www.mckendree.edu/

Millikin University
1184 W Main St
Decatur, IL 62522-2084
(217) 424-6211
www.millikin.edu

Moraine Valley Community College
9000 W. College Parkway
Palos Hills, IL 60465-0937
(708) 974-4300
www.morainevalley.edu/

National-Louis University
122 S Michigan Ave
Chicago, IL 60603
(800) 443-5522
www.nl.edu

North Central College
30 N Brainard St
Naperville, IL 60540
(630) 637-5100
www.northcentralcollege.edu/graduate/how-to-apply

North Park University
3225 W Foster Ave
Chicago, IL 60625-4895
(773) 244-6200

Northeastern Illinois University
5500 N Saint Louis Ave
Chicago,

IL

60625-4699
(773) 583-4050
www.neiu.edu/
Northern Illinois University
1425 W. Lincoln Hwy.
Dekalb,

IL

60115-2825
(800) 892-3050
www.admissions.niu.edu
Northwestern University
633 Clark St
Evanston,

IL

60208
(312) 491-3741
www.northwestern.edu/
Olivet Nazarene University
One University Avenue
Bourbonnais,

IL

60914-2271
(815) 939-5011
www.olivet.edu
Parkland College 2400 W Bradley Ave
Champaign,

IL

61821-1899
(217) 351-2200
www.parkland.edu
Prairie State College
202 South Halsted Street
Chicago Heights,

IL

60411-8226
(708) 709-3500
www.prairiestate.edu/
Quincy University
1800 College Ave
Quincy,

IL

62301-2699
(217) 228-5432
www.quincy.edu/
Rend Lake College
468 N Ken Gray Pky
Ina,

IL

62846
(618) 437-5321
Richland Community College
One College Pk
Decatur,

IL

62521-8512
(217) 875-7200
Rock Valley College
3301 N Mulford Rd
Rockford,

IL

61114-5699
(815) 921-7821
Rockford College
5050 E State St
Rockford,

IL

61108-2393
(815) 226-4000
www.rockford.edu/
Roosevelt University
430 S Michigan Ave
Chicago,

IL

60605-1394
(312) 341-3500
www.roosevelt.edu/
Saint Xavier University
3700 W 103rd St
Chicago,

IL

60655
(773) 298-3000
www.sxu.edu/admission
School of the Art Institute of Chicago
36 S Wabash
Chicago,

IL

60603
(312) 629-6100
South Suburban College
15800 South State Street
South Holland,

IL

60473-1200
(708) 596-2000
Southeastern Illinois College
3575 College Road
Harrisburg,

IL

62946
(618) 252-5400
www.sic.edu/
Southern Illinois University Edwardsville
Il State Rte 157
Edwardsville,

IL

62026-1001
(618) 650-2000
www.siue.edu/
Southwestern Illinois College
2500 Carlyle Ave
Belleville,

IL

62221-5899
(618) 235-2700
www.swic.edu
Springfield College in Illinois
1500 North Fifth Street
Springfield,

IL

62702-2694
(217) 525-1420
Trinity Christian College
6601 W College Dr
Palos Heights,

IL

60463-0929
(708) 597-3000
www.trnty.edu
Trinity International University-Deerfield
2065 Half Day Rd
Deerfield,

IL

60015-1283
(847) 945-8800
Triton College
2000 5th Ave
River Grove,

IL

60171-1995
(708) 456-0300
www.triton.edu
University of Illinois at Chicago
601 S Morgan
Chicago,

IL

60607
(312) 996-7000
www.uic.edu/
University of Illinois at Urbana-Champaign
601 E John Street
Champaign,

IL

61820-5711
(217) 333-1000
University of Spa & Cosmetology Arts
2913 W. White Oaks Dr.
Springfield,

IL

62704
(217) 753-8990
University of St Francis
500 N Wilcox St
Joliet,

IL

60435-6188
(815) 740-3360
VanderCook College of Music
3140 S. Federal St.
Chicago,

IL

60616-3731
(312) 225-6288
Western Illinois University
1 University Circle
Macomb,

IL

61455
(309) 295-1414
Wheaton College-Wheaton
501 College Ave
Wheaton,

IL

60187-5593
(630) 752-5000
www.wheaton.edu/