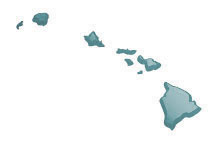 MSW in HI | Master of Social Work Degree, Hawaii
Hawaii is a state of tremendous natural beauty and also tremendous opportunity for social workers who put in the work to make wise educational choices. There are changes occurring in the job market that are important to consider as you evaluate your potential educational options. Perhaps the most critical is that in the past decade the degree of education among the work force has soared. After the stock market crash in 2008 and the resulting economic changes, many workers chose to go back to schools such as the University of Hawaii at Manoa in order to earn advanced degrees such as an MSW. This in turn means that potential workers will need to respond in kind and attain an advanced degree to remain competitive in an employer's market where a Master's degree is increasingly being seen as a minimum requirement instead of a luxury. If you are someone who is considering becoming a social worker in Hawaii, you will want to strongly consider getting your Master of Social Work (MSW) degree. A MSW is a degree that is highly sought after by human services employers such as the Hawaii Department of Human Services . In addition, few degrees in the human services field offer as many options for potential employment.

<!- mfunc feat_school ->
Featured Programs:
Sponsored School(s)
<!- /mfunc feat_school ->
There are multiple levels of licensure in Hawaii that you will become eligible to pursue once you have your MSW degree. They include the: Licensed Bachelor Social Worker (LBSW), Licensed Social Worker (LSW) and the Licensed Clinical Social Worker (LCSW). The specifics of the requirements for each level of licensure can be found in our article on
licensure in Hawaii
here.
Link to
Application Forms & Publication
.
Once you have attained your MSW you will have many different options for employment in human services. You may be interested in becoming a case manager with child welfare or perhaps you are interested in setting up an independent practice as a licensed clinical social worker. There are many career options available once you've attained your MSW. In addition to careers that require an MSW to even get an interview, you will want to keep in mind that in today's highly competitive economy, anything you can do to bolster your resume is definitely worth considering.
Hawaii is a tremendous state to live in, but it is also a state that has a high degree of competition for a limited number of jobs. Having something to make your resume stand out to a prospective employer is a must, and in the field of Human Services, few degrees are as desirable to employers the Master of Social Work degree (MSW). In addition to increasing your visibility in a saturated job market, the MSW degree opens doors in terms of career possibilities. If you want to work on the Big Island as a Medical Social Worker in one of the Hospitals you will want to have your MSW to even be considered. If you like working with elders you will want to consider a career as an Aging and Disability Case Manager on Oahu. For those who are interested in the Mental Health arena, the first step towards licensure as a Licensed Clinical Social Worker (LCSW) is to earn your MSW degree, this is true regardless of which island or city you want to work in. Being able to immediately have job opportunities and flexibility in the kinds of jobs you can take is a must in a state with as tight a job market as Hawaii and earning your Master of Social Work
Finding the Right School to earn an MSW in Hawaii
Once have determined that a MSW is a wise educational decision, you will want to begin to start analyzing potential schools and MSW programs such as the Child and Family concentration at the University of Hawaii to find one that fits your unique situation. Comparing and contrasting several schools and programs such as the MSW program at Hawaii Pacific University will also you to refine what it is you are looking for. As you begin to see what's out there in terms of programs and curriculum you will be able to better discern those programs that truly resonate with you such as Hawaii Pacific University's Advanced Generalist concentration.
It is a good idea to take a step back and visualize your end goal in terms of what career track you want to have after graduation. There are quite a few career options available to you once you have your MSW, however the curriculum and skills taught at each program can differ in important ways. Once you have determined your desired specialization, you will be able to find a program that is an excellent fit for your goals. For example, if you are interested in working with the Elderly the University of Hawaii at Manoa offers a degree concentration in Gerontology.
Career Options with a MSW
After you have been awarded your MSW you will find a whole world of careers open up for you. However, it is wise to spend the time to research and consider which career resonates with you. For example, if you are interested in working for the state government in Hawaii on O'ahu as a Social Worker III or similar position, you will want to have your MSW to make your resume stand out. Here at humanservicesedu.org we have built a resource that can help you research this exact question. Below you will find a fairly short list of some of the many positions you will qualified for with an MSW. For more in-depth research consult our section on job descriptions:
School Social Worker
Child Welfare Case Manager
Social and Community Service Manager
Licensed Clinical Social Work
Social Work Administrator
Social Service Permanency Worker
Social Service Screener
Marriage and Family Therapist
MSW Programs
Finding the Right Program for You

You will find that if you take the time to evaluate a number of elements of potential schools you are researching and the individual MSW programs themselves you will have a much better end result in terms of educational experience and workforce readiness. As a first step, you will want to consider whether an online program or a more traditional physical campus such as the University of Hawaii at Manoa which is located in Honolulu (Pop. 337,256), is a better fit for you. When making this determination you will want to consider things such as: your need for flexibility, learning style, finance and preferred living situation. If you are someone to whom a traditional "brick and mortar" campus is more appealing, you will be able to quickly narrow your selection of schools to those that are appealing based on which island they are located on. Once you've decided on physical vs. online campus, you will want to turn your attention to the following elements of the programs you are considering:
The curriculum
The financial costs of the program
Program accreditation (CSWE etc.)
Admissions requirements
Program prestige
It is critical that the curriculum of the MSW program you decide on closely matches your desired career. While all programs will offer certain similar elements, some programs will be tailored to specific career paths. For instance, some programs such as the Mental Health Concentration at the University of Hawaii at Manoa are designed to train Licensed Clinical Social Workers; others might focus on child welfare workers. If pursuing a career as a licensed clinical social worker in Hawaii sounds appealing to you, then you will want to look for programs that have been accredited by the Council on Social Work Education (CSWE), you can also find more specifics about licensure in Hawaii here: . Choosing a program that is CSWE accredited is a very wise decision as it not only meets MSW program requirements for licensure in Hawaii, it also will help you if you decide you want to pursue licensure in other states, as many states require CSWE accreditation for licensure.
Of course, you will want to consider financial costs when reviewing schools and programs as some may not fit your budget or financial desires. For example, the University of Hawaii has a tuition rate of $5,796 per term for residents and $14,076 per term for non-residents. While not as important as other elements we have discussed, it may be worth your time to research any programs you are considering to see how well regarded they are in the social work community.
Online Programs
When considering whether you prefer a traditional physical campus or an online program, keep in mind that online programs have unique features that make them worthy of consideration. Many online programs have considerably lower tuitions than their traditional counterparts for a number of reasons. Perhaps the most appealing feature of online programs is their much greater flexibility in terms of class times, and also the rate at which you can complete the program. This flexibility can be extremely important for many people in today's fast paced and hectic world. Some people who will really want to consider this aspect of online programs are people who are busy parents, adults who are returning to education after an extended break or others for whom flexibility is critical. Being able to take a class from the comfort of your own home is a huge advantage in the mind of many prospective students. While there are pros and cons to both traditional campuses and online programs you will have to make your own determination as to which method of education is best for you.