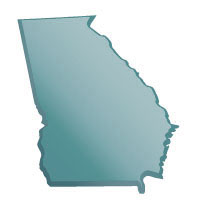 MSW in GA | Master of Social Work Degree, Georgia
Georgia is a state with a long and storied history and one of the greatest cities of the Southern United States, Atlanta. Whether you work in Atlanta or one of the other cities or towns of Georgia, there are myriad opportunities for the well-educated social worker. Having an advanced degree is more important than ever. In the past decade, the level of education among the general work force has sky rocketed. This is due in large part to the reaction of workers to the stock market crash in 2008 and the resulting economic changes. Many people who lost jobs in the economic downturn decided to go back to schools such as Georgia State University to earn advanced degrees like Masters of Social Work (MSW).This is why it is so important to attain an advanced degree and remain competitive in an employer's market where a Master's degree is increasingly being seen as a minimum requirement by employers like the Northside Hospital in Atlanta where they are looking for Clinical Social Workers to join their medical staff. Increasingly, even lower level social work jobs such as offered at the Department of Human Services in Georgia are difficult to get without a MSW. In today's highly competitive economy, anything you can do to make your resume stand out is definitely worth pursuing.
<!- mfunc search_btn ->
<!- /mfunc search_btn ->
<!- mfunc feat_school ->
Featured Programs:
Sponsored School(s)
<!- /mfunc feat_school ->
Once you have earned you Master of Social Work (MSW) degree you will be able to start the licensure process to become either a Licensed Master Social Worker (LMSW) or a Licensed Clinical Social Worker (LCSW). The precise details of this process can be learned by reading our article on
SW licensure in Georgia
here. You might also want to read some of the state regulations on the
Rules and Regulations webpage
For individuals who wish to have full access to the complete range of career choices available to Human Services workers in Georgia, the Master of Social Work degree (MSW) is potentially the best degree in terms of overall costs and usefulness. With your MSW degree you will be able to immediately join a leadership team at a Non-profit in Atlanta helping the homeless. You could also open your own private practice helping people with a diversity of mental and emotional health issues by becoming a Licensed Clinical Social Worker (LCSW) in Columbus or a similar city. If you are drawn to helping youth, you could consider a career at a High School in a city like Savannah as a School Social Worker helping troubled youth find the present caring attention they need to be successful in school and complete their education. If you are looking to make a difference in terms of legal and regulatory measures you can research a Public Policy Consulting position to impact Human Services related initiatives. There are a tremendous variety of potential occupations available in Georgia once you have completed your Master's program and have earned your Master of Social Work degree (MSW).
Finding the Right School for MSW in Georgia
After you have seen how important it is to have a MSW in today's marketplace in, you will want to begin analyzing potential schools and Georgia MSW programs like those offered at Georgia State University to find one that is a great match for you. There are quite a few career options available to you once you have your MSW in Georgia, however the curriculum and skills taught at each program can differ in important ways. For example, at Georgia State University you are offered two very different degree concentrations: Child Welfare Leadership & Forensic Social Work. The process of comparing and contrasting several schools and programs in Georgia will also you to refine what kind of degree concentration you are looking for. As you begin to see what's out there in terms of programs and curriculums you will be able to better discern those programs that truly resonate with you.
Career Options with a MSW

With a Master of Social Work degree you will be able to apply for virtually any position in social work. In order to make a decision that gives you the best possible outcome for your education, you will want to take the time to research careers until you find one that resonates with you. For example, if you enjoy working with the elderly a position working at an organization like GeriPsych with Community Health Systems in Augusta could be an excellent fit. If you prefer working with Children, then you might want to look at working for Children's Healthcare of Atlanta Pediatric Hospital as a Social Worker II or a similar position.
Here at humanservicesedu.org we have built a resource that can help you research this decision. Below you will find a fairly short list of some of the many positions you will qualified for with an MSW. For more in-depth research consult our section on job descriptions:
School Social Worker
Child Welfare Case Manager
Social and Community Service Manager
Licensed Clinical Social Work
Social Work Administrator
Social Service Permanency Worker
Social Service Screener
Marriage and Family Therapist
MSW Programs in Georgia

Finding the Right Program for You

Finding a program that leaves you prepared not only to be competitive in the current job market, but also with the tools to flourish in your new career will require you to carefully evaluate your options. Comparing and contrasting several schools and programs will help you to make this very important life decision. One of the first decisions you can make is to consider whether an online program (read more about online programs below) or a traditional physical campus such as the University of Georgia campus in Athens (Pop. 115,452) is a better match for you in terms of learning style, living situation and financial considerations. If you find that a traditional campus is more appealing you will be able to quickly narrow the field by only considering schools with campuses near areas you wish to live. Once you've decided on physical vs. online campus, you will want to turn your attention to the following elements of the programs you are considering:
The curriculum
The financial costs of the program
Program accreditation (CSWE etc.)
Admissions requirements
Program prestige
By far the most important element to evaluate as you consider different schools and programs is the course curriculum of each MSW program. While there will be a lot of crossover between most programs in terms of courses, there are some MSW programs in Georgia that have been designed with a specific career outcome in mind such as the Clinical Practice degree concentration at the University of Georgia which prepares you to work as a Licensed Clinical Social Worker. If you are considering a career in child welfare finding a program that gives you the specific tools to work in this field will be a real advantage once you enter the workforce. If you are unsure of what career you want to have after graduation you will want to look for a MSW program that has more generalized classes.
If pursuing a career as a licensed clinical social worker in Georgia sounds appealing to you, then you will want to look for programs that have been accredited by the Council on Social Work Education (CSWE). For more information on licensure in Georgia we have the full gamut of information here:
Admissions requirements are something you will need to evaluate based on your personal educational background. You will also need to consider your financial situation and whether you can meet the financial requirements of any program. For example, the University of Georgia School of Social work has a tuition cost of $336.00 per credit hour for residents and $1,200.00 per credit hour for non-residents this does not include fees, books or room and board for the year. This will give you a sense of what tuition rates are like, but you will want to evaluate each school's tuition as part of your analysis.
Online MSW Degree Programs in Georgia
With the 100% online Master of Social Work at the University of Kentucky, you can earn a CSWE-accredited MSW that meets all the requirements for licensure in Georgia through a school that's been preparing social workers for more than 80 years.
There are a few key differences between online programs and traditional physical campuses. One of the reasons some students find online programs compelling is that online programs often have consider financial savings compared to their more traditional physical campus counterparts. Perhaps the most important distinction in favor of online programs is the degree of flexibility the student has in regards to class schedules and program completion rates. This can be a very appealing attribute of an online program for many students such as: busy parents, adults returning to school after an extended hiatus, students working full-time for financial reasons and for other students to whom flexibility is extremely important. For some students, being able to take classes from the comfort of their own home in Georgia or office is a huge advantage. You will need to compare and contrast both campus types to find out which one is the best fit for your lifestyle and personal situation.
Georgia Colleges with MSW Prerequisite and Preparation Degree Programs
Agnes Scott College
141 E. College Ave
Decatur, Georgia 30030-3797
(404) 471-6000
www.agnesscott.edu

Albany State University
504 College Dr.
Albany, Georgia 31705
(229) 430-4600
www.asurams.edu

Armstrong Atlantic State University
11935 Abercorn St
Savannah, Georgia 31419-1997
(912) 344-2806
https://admissions.georgiasouthern.edu/

Atlanta Metropolitan College
1630 Metropolitan Parkway
Atlanta, Georgia 30310-4498
(404) 756-4000
www.atlm.edu

Augusta State University
2500 Walton Way
Augusta, Georgia 30904-2200
(706) 737-1400
www.augusta.edu/

Berry College
2277 Martha Berry Hwy NW
Mount Berry, Georgia 30149
(706) 232-5374
www.berry.edu/admissions

Brenau University 500 Washington Street SE
Gainesville, Georgia 30501-3668
www.brenau.edu/

Brewton-Parker College
201 David-Eliza Fountain Circle
Mount Vernon, Georgia 30445
(912) 583-2241
www.bpc.edu/

Columbus State University)
4225 University Ave
Columbus, Georgia 31907-5645
(706) 507-8800
www.columbusstate.edu

Covenant College
14049 Scenic Highway
Lookout Mountain, Georgia 30750-4164
(706) 820-1560
www.covenant.edu

Emmanuel College-Franklin Springs
181 Springs St
Franklin Springs, Georgia 30639
www.ec.edu/

Empire Beauty School-Gwinnett
1455 Pleasant Hill Road
Lawrenceville, Georgia 30044-3045
(800) 223-3271

Fort Valley State University
1005 State University Dr
Fort Valley, Georgia 31030-4313
www.fvsu.edu/

Georgia College & State University
231 W Hancock Street
Milledgeville, Georgia 31061
(478) 445-2770
www.gcsu.edu/admissions/

Georgia Southern University
Hwy 301 South
Statesboro, Georgia 30460
(912) 478-5391
admissions.georgiasouthern.edu/

Georgia Southwestern State University
800 Georgia Southwestern State University Dr.
Americus, Georgia 31709-4693
gsw.edu/

Georgia State University
33 gilmer st
Atlanta, Georgia 30303-3083
(404) 413-2000
www.gsu.edu/
Heart of Georgia Technical College
560 Pinehill Rd
Dublin, Georgia 31021
(478) 275-6589
www.oftc.edu/
Kennesaw State University
1000 Chastain Rd
Kennesaw, Georgia 30144-5591
(770) 423-6000
www.kennesaw.edu
LaGrange College
601 Broad St.
Lagrange, Georgia 30240-2999
(706) 880-8000
www.lagrange.edu/
Macon State College
100 College Station Dr
Macon, Georgia 31206-5145
(478) 471-2700
www.mga.edu/
Mercer University
1400 Coleman Avenue
Macon, Georgia 31207
(478) 301-2700
www.gomercer.com/
North Georgia College & State University
82 College Circle
Dahlonega, Georgia 30597-1001
(706) 864-1400
www.ung.edu
Paine College
1235 15th St
Augusta, Georgia 30901-3182
(706) 821-8200
www.paine.edu/
Piedmont College
165 Central Ave
Demorest, Georgia 30535-0010
(706) 778-3000
www.piedmont.edu
Reinhardt College
7300 Reinhardt College Circle
Waleska, Georgia 30183-2981
(770) 720-5600
https://www.reinhardt.edu
Savannah College of Art and Design
342 Bull St
Savannah, Georgia 31402-3146
(912) 525-5000
www.scad.edu
Shorter College
315 Shorter Ave
Rome, Georgia 30165
(706) 291-2121
admissions.shorter.edu/
South Georgia College
100 W College Pk Dr
Douglas, Georgia 31533-5098
(912) 260-4200
www.sgc.edu/
Toccoa Falls College
325 Chapel Drive
Toccoa Falls, Georgia 30598
(706) 886-6831
www.tfc.edu/
University of Georgia
Athens, Georgia 30602
(706) 542-3000
www.uga.edu/
University of West Georgia
1601 Maple St
Carrollton, Georgia 30118-0001
(678) 839-5000
www.westga.edu
Valdosta State University
1500 N Patterson
Valdosta, Georgia 31698
(229) 333-5800
www.valdosta.edu/
Wesleyan College
4760 Forsyth Rd
Macon, Georgia 31210-4462
(478) 477-1110
www.wesleyancollege.edu/