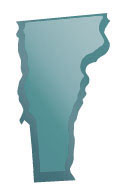 MSW in VT | Master of Social Work in Vermont
Vermont is known for its incredible natural beauty and famous independent streak. Vermont is also a state that has excellent opportunities for the well-educated social worker. As the economy turned south in 2008, many workers who had lost their jobs for various reasons, went back to school's such as the University of Vermont to attain higher educational degrees in their discipline and even retooling their careers. As a result, today's workforce today is far better educated than we had just a few years ago. As the labor pool has become better educated in general, it has become more important than ever to make sure you get an education that will make you competitive in the labor market.
For those interested in social work in Vermont, it is strongly advised that you thoroughly evaluate the benefits of attaining your Master of Social Work (MSW) degree. Few degrees in human services will offer such incredible flexibility in terms of occupational choices. By earning your MSW, you will not only increase your job opportunities for positions that require master's degrees, but you will also be highly qualified for positions that do not strictly require a MSW.

<!- mfunc feat_school ->
Featured Programs:
Sponsored School(s)
<!- /mfunc feat_school ->
There is only one level of social work licensure in Vermont, the Licensed Clinical Social Worker (LCSW), and it requires that you have your Master of Social Work (MSW) degree. You can find out the specifics of the additional requirements for licensure in our article
here
. You may also wish to visit the
Vermont Secretary of State
website.
There are many reasons why a Master of Social Work (MSW) degree will be extremely useful to advancing your Social Work career in Vermont. So, in order to get started on the road towards having a flourishing career in Social Work you will need to first take the time to sift through and evaluate several MSW schools in Vermont to ensure that you find one that is a perfect fit for you. After you find the kind of program that meets your needs and are awarded your Master of Social Work (MSW) degree you will find that the door has opened to a huge diversity of potential Social Work jobs in Vermont. If you like the idea of helping to ensure the safety of vulnerable children you may want to consider a career at the Department of Human Services in Montpelier as a Child Welfare Case Manager helping to make sure children have the safe home environment they need to be healthy and happy. If you prefer to work with the elderly, you may wish to look into a job as a Geriatric Social Worker in Burlington helping older people adjust to the realities of aging. Regardless of your eventual career goals you will definitely want to acquire you Master of Social Work (MSW) degree.
Finding the Right School for MSW in Vermont
Once you have seen that attaining your Master of Social Work degree is an extremely wise decision given the challenges of today's job market, you can begin the process of finding the ideal school and Vermont MSW program. A very intelligent way to evaluate potential schools and programs is by investigating your options until you find an occupation that resonates with you. Once you have found your ideal career you can use the qualifications required for that position as your standard for analyzing potential schools. To illustrate this consider that you might want to start a career as a Licensed Clinical Social Worker you might want to consider a program similar to the University of Vermont's degree concentration in Transformative Social Work. If you know your career goals, it will be clearer which choices to make in regards to your educational path. If you have not yet decided on a career arc then you will want to find an Advanced Generalist program that will give you a broad knowledge base and adaptable skillset that will help you to quickly integrate into any number of Social Work organizations. Closely examining the curriculum through the lens of your career goals will help you to be discerning in selecting the right school for you.
Career Options with a MSW

With an MSW you will be eligible to apply for and get almost any career in social work in Vermont, from becoming a licensed clinical social worker to becoming a higher education counselor. It is absolutely worth your time to carefully research a variety of potential jobs in human services to discover one that is the perfect fit for you. An example career to consider is becoming a Hospice Social Worker with an organization like Bayada Home Health Care in Rutland or an analogous career working for another corporation in a different city in Vermont. Here at humanservicesedu.org we have built a resource that can help you research this exact question. Below you will find a fairly short list of some of the many positions you will qualified for with an MSW. For more in-depth research consult our section on job descriptions:
School Social Worker
Social Work Administrator
Aging and Disability Services Case manager
Licensed Clinical Social Work
Eligibility Worker
Social Service Screener
Child Welfare Case Manager
Social and Community Service Manager
Marriage and Family Therapist
Social Service Permanency Worker
MSW Programs in Vermont
Finding the Right Program for You
There are quite a few different constituents of each program you will want to study in-depth so that you can make the most informed decision possible. One of the first choices you can ponder is if a traditional physical campus program fits your needs, or if you prefer the unique benefits of an online program (more on online programs below). Both have their advantages and disadvantages depending on your learning style, desire for flexibility and desired living situation. If you prefer a physical campus such as the University of Vermont's campus in Burlington (Pop. 44,217) you can quickly concentrate on only those schools that are located in a region that appeals to you. Once you have come to a conclusion on whether you prefer an online or traditional campus, you can start evaluating some of the aspects of schools and programs you are considering:
The curriculum
Admissions requirements
Program accreditation (CSWE etc.)
Program prestige
The financial costs of the program
Of all the elements you will want to weigh and measure, by far the most essential is to match the curriculum of each of the programs you are considering with the skillset required by your particular career. While there can be a lot of crossover among various Master of Social Work programs, some have been customized to help students gain specific knowledge and skillsets for specific careers. If you are uncertain what type of occupation you will want to hold after graduation, or you want to have flexibility in your career you may prefer to join an Advanced Generalist program as is offered by a number of online University programs. If on the other hand you do know what career you plan on embarking on, it might be the best route to find a program that was created to give you a specialized skillset. If you are interested in becoming a Licensed Clinical Social Worker you will want to review the Vermont regulations around licensure which you can find by clicking here:
Eligibility in the form of meeting the program's admissions requirements is of course critical if you want to join a particular program. It is important to speak with the admissions department of any school you are strongly considering attending. You will also need to determine if the costs of the program are affordable given your personal financial situation. For example, the University of Vermont has tuition rates of $556.00 per credit hour for residents of Vermont and $1403.00 per credit hour for non-residents which is not inclusive of student fees, books, supplies or room and board costs. You will need to add all of these into your final analysis of the financial costs of the schools and programs you are considering.
Online MSW Degree Programs in Vermont
You will want to research whether you prefer an online program, or a more traditional physical campus. Both have advantages and disadvantages depending on your specific situation and unique needs. One of the greatest advantages offered by many online programs is that they often offer considerably lower costs when compared to their physical campus counterparts in Vermont. This is an important attribute to reflect on and could be a huge consideration for students who find themselves on a tighter budget.
Perhaps the most compelling difference is that online programs will usually provide vastly superior flexibility. This can be seen in class scheduling and also adjustable program completion rates. Some online programs offer condensed programs in terms of time it takes to complete and receive your diploma. Some programs also offer slower completion rates for students who have busier lives, such as those working full time or raising small children. For some students the greater flexibility of online programs is very appealing. Another feature of online programs that will appeal to some students is the ability to take classes from the comfort of one's office or home. This is very helpful for some learning styles and also cuts down on time spent on the commute and many will find it to be considerably more comfortable than taking classes in a traditional setting. You will need to evaluate both types of campuses to find out which one is a better fit for your personal lifestyle and educational needs.