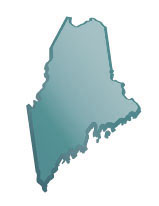 MSW in ME | Master of Social Work Degree, Maine
Maine has a long and rich history to go along with its rugged coastlines and natural beauty. Maine is also an excellent state to become a social worker in. Increasingly, prospective social workers will want to earn an advanced degree to be competitive in the job marketplace. Over the past decade the American economy has changed in many significant ways. Many workers have back to school or stayed in schools like the University of Southern Maine longer in response to the economic down turn that began in 2007/08. To be competitive in the current economy you will need to have an excellent educational background. Currently, many employers have seen that they now have the luxury of requiring, or at least greatly preferring those applicants who have Master's degrees in their field. This is true even of the Maine Department of Health and Human Services where jobs are going to MSW candidates over those holding Bachelor's due to fierce competition for jobs.
For a social worker who is looking to find their dream job in Maine, the best educational option is to attain a Master of Social Work (MSW) degree. Not only will this give you access to many advanced social work careers, it also will make you very desirable in positions that do not strictly require a Master's degree.

<!- mfunc feat_school ->
Featured Programs:
Sponsored School(s)
<!- /mfunc feat_school ->
A Master of Social Work (MSW) degree is an extremely useful and versatile degree. Among other things, the MSW gives you access to licensure protected titles such as the Licensed Social Worker (LSW), Licensed Master Social Worker (LMSW) and Licensed Clinical Social Worker (LCSW). We have authored an article that gives a complete breakdown of the licensure process which you can find here. You may also wish to visit the
Board of Social Work Licensure
webpage.
Maine has a unique environment and population that makes it incredibly enticing as a state to live in. For those who wish to live in Maine and enrich their communities, a career in Social Work backed with a Master of Social Work degree (MSW) is an excellent route to take. You may feel that you want to work as an Eligibility Worker helping families of fishermen in a coastal town like Camden to receive their Supplemental Nutritional Assistance Program (SNAP formerly Food Stamp) benefits. For others, the idea of helping youth at a High School in Bangor as a School Social Worker may sound deeply fulfilling. The desire to give back to one's community can take many forms such as working at a Non-profit whose agenda is closely aligned with one's personal ethics and morals. Others would like to influence the political process around Human Services issues by becoming a Public Policy Advisor in Portland. There are seemingly endless possibilities for Social Work professionals who hold a Master of Social Work degree (MSW) in the state of Maine.
Finding the Right School for MSW in Maine

If you feel that earning your MSW degree is a wise educational choice, you will want to begin the process of selecting a school and program that is an excellent fit for you in Maine. By comparing and contrasting several schools you will increase your chances of finding a program that meets your specific needs. For example, you might feel interested in joining a degree concentration like Clinical Practice degree concentration at the University of New England if you are interested in becoming a Licensed Clinical Social Worker (more information on licensure in Maine can be found here🙂
One of the best ways to bring clarity to your search for an ideal school is to first determine what career you want to have after graduation. This can help you to learn exactly what you are looking for in a Maine MSW program. While most MSW programs will have similar elements, some schools have created programs to help students gain skill sets for specific careers such as the Community Practice concentration at the University of New England which would be very helpful if you want to pursue a career in management. By discovering a career that matches your innate abilities and skills, you will bring clarity to your decision making.
Career Options with a MSW

After you have attained your Master of Social Work in Maine you will discover that a whole range of potential occupations in human services have become available for you to choose from. One example is becoming a MSW Care Manager at Mercy Hospital in Portland as part of a managed care team. Taking the time to thoroughly research and find the career of your dreams will help you not only find the best school for you, but make sure that you are fulfilled in your job for years to come. Here at humanservicesedu.org we have built a resource that can help you research this exact question. Below you will find a fairly short list of some of the many positions you will qualified for with an Maine MSW. For more in-depth research consult our section on job descriptions:
Marriage and Family Therapist
Eligibility Worker
Social Service Screener
Child Welfare Case Manager
Social and Community Service Manager
Licensed Clinical Social Work
Aging and Disability Services Case manager School Social Worker
Social Work Administrator
Social Service Permanency Worker
MSW Programs in Maine
Finding the Right Program for You

You will need to evaluate several elements of potential programs you are researching to ensure the best possible outcome. One of the first decisions you can make is whether a "brick and mortar" physical campus or an online program (more on this below) is a better fit for you considering your personal needs. Some things to consider when making this choice are: flexibility, living situation, learning style and finances. If you are someone to whom a traditional physical campus like the University of Southern Maine in Portland (Pop. 188,000) is more appealing, then you can quickly determine which schools are the most appealing based on what areas seem appealing for you to live in. After choosing a campus type, you can shift your focus to comparing and contrasting the key elements of the schools and programs you are considering:
Admissions requirements
Program prestige
The curriculum
Program accreditation (CSWE etc.)
The financial costs of the program
Remember, as you research various programs you will want to keep your end employment goals in mind. It is very important that the curriculum of the program you choose closely matches your desired career. One thing you will want to consider is that while most Maine MSW programs will have aspects of their curriculum that are common amongst all programs, there are some programs that have been tailor made to prepare one for certain specialties such as the Clinical Practice degree concentration offered by the University of New England for example. You will want to review the curriculum of any potential program closely to make sure it matches your desired employment goals. If you are uncertain as to your exact career goals you may wish to go for an Advanced Generalist degree concentration such as is offered at the University of Maine.
If pursuing a career as a licensed clinical social worker in Maine sounds appealing to you, then you will want to look for programs that have been accredited by the Council on Social Work Education (CSWE).
Financial considerations will of course be a key to making a decision on what school and program is ideally suited for you. One school you can see as an example of costs is the tuition at the University of Maine which has a yearly tuition of $7,524 for residents which does not include additional costs such as fees, books and room and board, for non-residents with the same price exclusions tuition is $22,662. This gives you a sense of what one school charges, but as always the more research you do into several schools the better your final decision will be in terms of being well informed.
Online MSW Degree Programs in Maine

You will want to take the time to compare and contrast the ways in which online campuses and traditional ones differ in order to find the better fit for you. There are several advantages to online programs that make them well worth the time to consider. Often online programs have far lower tuitions than their traditional counterparts for a variety of reasons. For many students the most appealing feature of online schools is that they offer greater flexibility. Often online programs have much greater flexibility in terms of class times and the rate at which you complete the program This kind of flexibility can be very appealing to non-traditional students such as: students who are working full time for financial reasons, adults who are returning to education after an extended break, busy parents or others for whom flexibility is critical. For some students, being able to attend class in the comfort of their own living space is another great reason to consider online programs from Maine. There are pros and cons to both traditional campuses and online programs you will have to discover for yourself which method of education is better for you.
Maine Colleges with MSW Prerequisite and Preparation Degree Programs
Central Maine Community College
1250 Turner Street
Auburn, ME 04210-6498
(207) 755-5100
www.cmcc.edu/
Eastern Maine Community College
354 Hogan Rd
Bangor, ME 4401
www.emcc.edu/
Husson University
One College Circle
Bangor, ME 04401-2999
www.husson.edu/
Kennebec Valley Community College
92 Western Ave
Fairfield, ME 04937-1367
(207) 453-5000
www.kvcc.me.edu
Maine College of Art
522 Congress St.
Portland, ME 04101-3494
(207) 775-3052
www.meca.edu
Thomas College
180 W River Rd
Waterville, ME 04901-5097
(207) 859-1111
www.thomas.edu
University of Maine
Orono, ME 4469
(207) 581-1110
www.umaine.edu
University of Maine at Farmington
224 Main St
Farmington, ME 04938-9978
www.umf.maine.edu/
University of Maine at Presque Isle
181 Main St
Presque Isle, ME 04769-2888
www.umpi.edu/
University of New England
11 Hills Beach Rd
Biddeford, ME 4005
(207) 283-0171
www.une.edu
University of Southern Maine
96 Falmouth St
Portland, ME 4103
(207) 780-4141
www.usm.maine.edu
Washington County Community College
One College Drive
Calais, ME 4619
(207) 454-1000
www.wccc.me.edu