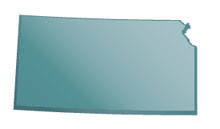 Kansas Psychology Education Overview
Psychology Licensure in Kansas
Kansas has a significant number of potential career paths available for those human services workers who have become licensed Psychologist. Many different kinds of agencies, institutions and corporations are in need of licensed Psychologists. Whether you want to work as a school Psychologist in Topeka, or a in a hospital in Wichita, Kansas has a diversity of options for those who wish to become licensed as Psychologists. Kansas boasts a population of over 2.8 million people, many of whom are in need of the services of licensed Psychologists. If you examine the data at the Bureau of Labor and Statistics website you will see that Psychologists in Kansas can expect a mean yearly wage of $55,9601. For people who feel drawn to work in a fast paced medical setting, it may be worth looking for work with one of Kansas's 58+ Major hospitals2. Some have chosen to earn a degree in child Psychology or imagine that they would greatly appreciate working with children, for these Psychologists seeking a career in one of Kansas's 293+ school districts3 might be a great fit. There is a great diversity of potential employers available and with your Psychology license. Below you will see that we have created a step-by-step guide for the licensure process in Kansas in order to stream line the process.
<!- mfunc feat_school ->
Featured Programs:
Sponsored School(s)
<!- /mfunc feat_school ->
<!- mfunc search_btn -> <!- /mfunc search_btn ->
Required educational background
Kansas requires at least a Master's of Psychology to attain limited licensure as a psychologist. You will first need to earn your Bachelor of Psychology degree. Having your Bachelor's will open doors for you, not only as a pre-requisite for later degrees, but also as an excellent asset on your resume for eligibility in a variety of human services jobs.
Master Level Licensure
Some states such as Kansas will allow limited practice with a Master of Psychology degree. You also will have access to a wide variety of human services careers with your master's degree if you prefer to work outside the field of licensed psychology. If you have your Master of Psychology you will be able to apply to become a Master's Level Psychologist in Kansas by performing the following steps:
You must provide proof of your educational background to the board
You must provide 4 references: one must be from your graduate program, one must be from a licensed psychologist or licensed psychological technician and one must be from your practicum supervisor.
You must provide proof of a board approved practicum as described here:
You will need to provide proof of supervised field experience of at least 100 hours of group supervised work and 50 hours of one-on-one supervised work from a board approved supervisor.
Apply to take, and pass the Examination for Professional Practice in Psychology (EPPP).
You can find some helpful information about your EPPP exam here:
Doctoral Level Licensure
To begin your path to licensure you will need your doctorate in psychology from a board approved school. Once you have your doctorate you will need to complete your field experience.
Field Experience and Examination
To continue towards your license you will need to do the following:
You will need to submit proof of your education
You will need to have fulfilled the requirement for at least two years of supervised experience of which one may occur during your doctoral studies. One year must be completed after receiving your doctorate.
Your field experience must be in the specialization that you intend to practice upon achieving licensure e.g. Child Psychology.
You should review the exact specifications of your field experience. They can be found here:
Once you have completed your field experience you can apply to take the Examination for Professional Practice in Psychology (EPPP). You can be granted a temporary license in the meantime.
1 http://www.bls.gov/oes/current/oes193031.htm
2 http://en.wikipedia.org/wiki/List_of_hospitals_in_Kansas
3 http://en.wikipedia.org/wiki/List_of_unified_school_districts_in_Kansas