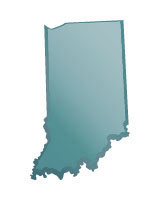 MSW in IN | Master of Social Work Degree Indiana
Indiana is a great state to live in and a great state to become a social worker in. If you are interested in becoming a social worker in Indiana, in virtually any capacity, you would be well advised to consider getting your Master of Social Work (MSW) degree. Few degrees offer such a tremendous diversity of choice in careers within the human services sector as the MSW. There are many routes you can take for your career such as: setting up a private practice as a licensed clinical social worker in Indianapolis, becoming a case manager with the department of human services in Fort Wayne or working at a non-profit in Evansville.
With the vast changes in the economy and workforce in the past ten years it is extremely wise to earn an advanced degree in your discipline. After the economic down turn in 2007/08 many workers decided to return to school to retool their careers and earn advanced degrees. In today's highly competitive marketplace, anything you can do to help your resume stand out is worth pursuing. You will often hear that in this "employer's job market" that "The Master's degree is the new Bachelor's degree". This reflects how educated and well-trained the modern workforce is. Having your MSW will really give you an edge in the job market in addition to giving you greater options in regards to career choices.

<!- mfunc feat_school ->
Featured Programs:
Sponsored School(s)
<!- /mfunc feat_school ->
One of the benefits of earning your MSW degree is your ability to become licensed in Indiana as a Licensed Social Worker (LSW) or a Licensed Clinical Social Worker (LCSW). You can learn about exactly what is required of you to attain these licenses in our article on licensure here. The specifics of the laws and regulations around
Indiana Social Work licensure
can be found on the state webpage which you can access by
PLA: Social Workers
.
The state of Indiana, like many states, has a population large enough to create significant demand for well-educated Social Workers with advanced degrees. Your chances of securing a job in Human Services increase dramatically with a Master of Social Work degree (MSW) both in terms of mid-level positions as well as opening the door to more advanced careers such as leadership or opening your own private practice. The first step to becoming a Licensed Clinical Social Worker (LCSW) and offering Mental Health services in your own private practice is to attain your Master of Social Work degree (MSW) as part of the licensure process. You also can enter very different types of careers in Human Services such as helping children who are having difficulties in school as a School Social Worker in a city like South Bend. Others might want to increase the hands on nature of improving children's lives by giving children a fresh start with a loving adoptive family as a Social Service Permanency Worker in the city of Indianapolis. Some might prefer to work in a Healthcare context as a Medical Social Worker at one of Fort Wayne's hospitals. The opportunities and options are vast for Human Services professionals in Indiana who have attained their Master of Social Work degree (MSW).
Finding the Right School for MSW in Indiana

It is very helpful to understand just how much earning your MSW will help you in terms of broadening your employment horizons and also making your resume standout. Once you have seen how important it is to take this educational step, you can begin the process of selecting your ideal school and program in Indiana. Remember, it is almost as important as the degree itself to find a program and school that meets your employment goals. This is why it is so important that you understand the career you are hopping to have after graduation. By first deciding on your future occupation you will begin to really see what your educational needs are. Then you can compare and contrast several schools and programs to understand what your options are and make an informed decision.
Career Options with a MSW

After earning your MSW in Indiana you will find that a great many career paths have become available to you. By doing some in-depth research on various different careers you will be able to understand what your choices are and bring clarity to what kind of career you want. Here at humanservicesedu.org we have built a resource that can help you research this decision. Below you will find a fairly short list of some of the many positions you will qualified for with an MSW. For more in-depth research consult our section on job descriptions:
Social and Community Service Manager
Licensed Clinical Social Work
Social Work Administrator
Social Service Permanency Worker
Social Service Screener
Marriage and Family Therapist
School Social Worker
Child Welfare Case Manager
MSW Programs

Finding the Right Program for You

You will want to carefully examine and evaluate several key aspects of each program you are considering in order to make an informed decision. One of the first considerations you will want to make is on whether you find that a physical campus or an online Indiana program (more on this below) is of greater appeal to you. Both have their advantages and disadvantages so this choice comes down to your personal preferences in regards to living situation, finance, learning style and need for flexibility. If you decide that a traditional "brick and mortar" campus is a better fit for you, then you will be able to narrow down your search based on schools located in areas you wish to live. Once you've decided on physical vs. online campus, you will want to turn your attention to the following aspects of any program you might be considering:
Program accreditation (CSWE etc.)
Admissions requirements
Program prestige
The financial costs of the program
The curriculum
After you have started to narrow your list of prospective schools you will want to turn your focus to analyzing their Indiana MSW program in detail. Always you will want to keep your end employment goals in mind. It is very important that the curriculum of the program you choose closely match your desired career. Some programs for instance will be tailored to helping train future child welfare workers. Other schools have programs that are custom designed to train licensed clinical social workers. A careful review of the curriculum along with a discussion with the school about your academic needs is highly recommended before you make a final decision.
Of course it is important to weigh your financial situation against the costs of any program you are considering. While not as important as other elements, it is worth researching the program you are considering to see how it is regarded in the Indiana social work community.
Online MSW Degree Programs in Indiana

There are advantages to online programs that make them well worth considering. For example, some online programs have far lower tuitions than their traditional counterparts which can make them very appealing to students who are on a budget. Another huge advantage offered by online programs is that they often have much greater flexibility in regards to both class schedules and also the rate at which one can complete the Indiana MSW program. This can be a key consideration for adults who are returning to education after a break, busy parents or others for whom flexibility is at a premium. You will find that quite a few online institutions offer streamlined or fast tracked programs that have a faster turnaround between entering school and joining the workforce. This can be very appealing for those who are looking to get their career started as quickly as possible. Being able to take classes from the office or one's own home is another compelling reason to consider online programs. There are pros and cons to both traditional campuses and online programs you will have to discover for yourself which method of education is better for you.
Indiana Colleges with MSW Prerequisite and Preparation Degree Programs
Anderson University-Anderson
1100 E 5th St
Anderson, IN 46012-3495
(765) 649-9071
www.anderson.edu/
Ball State University
2000 University Ave
Muncie, IN 47306
(765) 289-1241
www.bsu.edu/
Bethel University-Mishawaka
1001 W McKinley Ave
Mishawaka, IN 46545
www.betheluniversity.edu/
Butler University
4600 Sunset Ave
Indianapolis, IN 46208
(317) 940-8000
go.butler.edu/
DePauw University
313 S Locust St
Greencastle, IN 46135-1772
(765) 658-4800
www.depauw.edu
Franklin College
101 Branigin Blvd
Franklin, IN 46131-2623
www.franklincollege.edu/
Grace College and Theological Seminary
200 Seminary Dr
Winona Lake, IN 46590-1274
(574) 372-5100
www.grace.edu/
Huntington University
2303 College Ave
Huntington, IN 46750
(260) 356-6000
www.huntington.edu/
Indiana State University
210 N 7th St
Terre Haute, IN 47809
(812) 237-6311
www.indstate.edu/
Indiana University-Bloomington
107 South Indiana Ave.
Bloomington, IN 47405-7000
(812) 855-4848
www.iu.edu
Indiana University-Northwest
3400 Broadway
Gary, IN 46408-1197
(219) 980-6500
www.iu.edu
Indiana University-Purdue
University-Fort Wayne
2101 E Coliseum Blvd
Fort Wayne, IN 46805-1499
(260) 481-6100
www.pfw.edu
Indiana University-Purdue
425 University Blvd
Indianapolis, IN 46202-5143
(317) 274-5555
www.iupui.edu
Indiana University-South Bend
1700 Mishawaka Ave
South Bend, IN 46634-7111
(574) 520-4872
www.iusb.edu
Indiana University-Southeast
4201 Grant Line Rd
New Albany, IN 47150
(812) 941-2000
www.ius.edu
Indiana Wesleyan University
4201 S Washington St
Marion, IN 46953-4974
(765) 674-6901
cas.indwes.edu/
Manchester College 604 College Ave
North Manchester, IN 46962
(260) 982-5000
admissions.manchester.edu
Marian College
3200 Cold Spring Rd
Indianapolis, IN 46222-1997
(317) 955-6000
www.marian.edu/
Saint Josephs College
US Highway 231
Rensselaer, IN 47978
(219) 866-6000
Taylor University (
236 W Reade Ave
Upland, IN 46989-1001
(765) 998-2751
www.taylor.edu
Trine University
1 University Ave
Angola, IN 46703-1764
(260) 665-4100
www.trine.edu/
University of Evansville
1800 Lincoln Avenue
Evansville, IN 47722
(812) 488-2000
www.evansville.edu/
University of Indianapolis
1400 E Hanna Ave
Indianapolis, IN 46227-3697
(317) 788-3368
University of Notre Dame

Notre Dame, IN 46556
(574) 631-5000
admissions.nd.edu

University of Saint Francis-Ft Wayne
2701 Spring St
Fort Wayne, IN 46808-3994
(219) 434-3100
University of Southern Indiana
8600 University Blvd
Evansville, IN 47712
(812) 464-8600
www.usi.edu
Valparaiso University
US Highway 30 and Sturdy Road
Valparaiso, IN 46383
(219) 464-5000
www.valpo.edu
Vincennes University
1002 N First St
Vincennes, IN 47591
(812) 888-8888