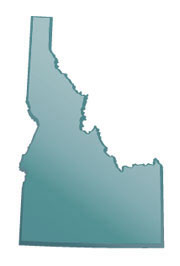 MSW in ID | Master of Social Work Degree, Idaho
Idaho is considered to be part of the Northwest region of the US and is home to tremendous natural beauty and a burgeoning high tech industry. Whether you want to work as a licensed social worker in Boise or a child welfare case manager in Coeur d'Alene, you will want to earn your Master of Social Work degree. In the past 5 years the workforce in the United States has become increasingly well-educated and trained. This dramatic shift in workforce education came as workers responded to the economic downturn by returning to schools such as Boise State University to attain advanced degrees in Social Work. In order to remain competitive in this new economic reality it is extremely important to earn an advanced degree. In the current marketplace a worker will often need a Master's degree to even get an interview let alone land a job. If you are considering a career in social work in Idaho, you would be wise to consider getting your Master of Social Work (MSW) degree. A MSW is a highly sought after degree in the human services sector. Few degrees in human services offer as many options for potential employment as the MSW. For example, you will find several career options through the Idaho Health and Welfare Department. Regardless of your career choice a MSW will open doors and also make you highly competitive for jobs in social work.

<!- mfunc feat_school ->
Featured Programs:
Sponsored School(s)
<!- /mfunc feat_school ->
Once you have your Master of Social Work (MSW) degree you will have a few levels of social work licensure that become open to you in Idaho. They include the Licensed Social Worker (LSW), Licensed Master Social Worker (LMSW) and the Licensed Clinical Social Worker (LCSW). You will want to read up on the specifics of the requirements of each level of
Idaho Social Work Licensure
. If you want to explore the state laws and regulations around licensure you will want to visit the Idaho
Board of Social Work Examiners
.
Idaho is a state that has a very stark difference between its rural and urban areas in many ways, but one thing they both have in common is a demand for Social Workers with advanced degrees. For those who love the great outdoors, few states offer the incredible unspoiled natural beauty of Idaho and working rurally as an Eligibility Worker is a great fit for the Social Worker who has earned their Master of Social Work degree (MSW) and wants to live close to nature. If you are planning on living in Idaho, but prefer an urban environment you will have plenty of options as a Licensed Clinical Social Worker (LCSW) in Boise. If the idea of a leadership position within a non-profit that works with college aged populations sounds appealing, you might want to look for work as an Administrator at a non-profit in Moscow, where the University of Idaho is located. There are many kinds of environments, agencies and occupations that are available for Human Services professionals in Idaho who have earned their Master of Social Work degree (MSW) it simply becomes a matter of finding a situation that resonates with your lifestyle and career goals.
Finding the Right School for MSW in Idaho
After you have determined that earning your MSW is a wise educational decision you can begin the process of selecting an ideal school from among Idaho's universities. If you want the best possible outcome for your future career you will want to thoroughly research schools and MSW programs like the Boise State School of Social Work degree which is a generalized knowledge base program, to find one gives you the training and skillset you need for your occupation. A great way to bring some clarity to your decision making process is to determine what career you wish to have after graduation. Many MSW programs are created with generalized curriculums such as is offered at Boise State to prepare you for any job in the social work sector. However, some MSW programs are tailored to help students enter specific careers after graduation for example some online programs offer degree concentrations in Social Work Leadership so you can go into a management position after school. This is why it is so important to really get into the details of what a program might offer. Examining schools through the lens of your ultimate career goal, you will better understand which curriculum will be the most beneficial in terms of skills taught.
Career Options with a MSW

An MSW is an excellent degree to earn for many reasons. One of which is the tremendous diversity of occupations you will be eligible for after graduation. In order to truly make an informed educational decision, you will want to spend some time investigating several career options to find one that is an ideal match for you. For example, you could become a Social Worker / Case Manager with Catch inc. a Non-profit that helps the homeless in a city like Caldwell. Here at humanservicesedu.org we have built a resource that can help you research this exact decision. Below you will find a fairly short list of some of the many positions you will qualified for with an MSW. For more in-depth research consult our section on job descriptions:
School Social Worker
Child Welfare Case Manager
Social and Community Service Manager
Licensed Clinical Social Work
Aging and Disability Services Case manager
Social Service Screener
Marriage and Family Therapist
Social Work Administrator
Social Service Permanency Worker
MSW Programs in Idaho

Finding the Right Program for You

There are many elements you will want to weigh and evaluate as you choose the perfect MSW program for you. One decision which can help you quickly narrow the field of possible contenders is to determine whether a traditional physical campus or an online program is a better match for you and your lifestyle. If you find that you prefer a physical campus such as Boise State's College of Southern Idaho campus in Twin Falls (Pop. 44,125), you will be able to quickly zero in on programs where the school is located near a desirable area to live in. Differing campus locations will bring about a very different experience, there is a large difference between Twin Falls and campuses located in larger areas such as Boise State's campus in Boise (Pop 210,000). After you have decided on your campus type, you can then concentrate on evaluating elements of the programs you are considering:
The curriculum
Program accreditation (CSWE etc.)
Admissions requirements
Program prestige
The financial costs of the program
Of the many aspects of a MSW program one should carefully analyze, the most important by far is the curriculum. While most MSW programs will have elements of the curriculum that are similar from program to program, some have been carefully crafted to give the graduate student certain skillsets for social work specialties. For instance, some MSW programs are geared towards giving students the tools to become child welfare case managers. An example of a more general program is the one at Boise State, which offers a more generalized program that will give you the skillset to adapt to virtually any Social Work career without boxing you into a specific career sub-set of skills. You will need to decide for yourself if a customized program or a more generalized MSW fits with your career goals.
Reviewing financial costs when evaluating schools and programs is important, you will want to make sure that any program you choose fits your personal financial situation. For example, Boise State offers a very interesting tuition that is the same for both residents and non-residents, highly unusual for a school and a huge boon for non-residents. Their tuition rate is $3,486 per term which does not include fees, books or room and board. However, it is worth repeating that their rate for residents and non-residents is identical. This is rare among most schools and you will want to compare several schools to have a good idea of what your options are financially. You also will need to meet any admission requirements for the program. A final element you may wish to take into account is program prestige in the social work community. A prestigious program could provide you with an edge on your resume.
Online Programs in Idaho

Your evaluation process should include a careful examination of the differences and advantages of both online and physical campuses. In many cases, online programs will offer considerable financial savings when compared to their traditional peers. This is a consideration that can really tip the scales for students who have tighter budgets. Another appealing trait of online programs is that they will often be extremely modular, allowing students great latitude in terms of class schedules and program completion timelines. This is extremely helpful for students for whom flexibility is at a premium such as students who work full time or are parents of small children. For some students the ability to take classes from the comfort of their own home or office is an attribute of online programs that makes them particularly appealing. You will have to weigh the various pros and cons of online and physical campuses and determine which one is a better fit for your learning style and personal preferences.
Idaho Colleges with MSW Prerequisite and Preparation Degree Programs
Boise State University
1910 University Dr
Boise, ID 83725
(208) 426-1011
admissions.boisestate.edu
Brigham Young University-Idaho
525 S Center
Rexburg, ID 83460
(208) 496-2411
www.byui.edu
College of Southern Idaho
315 Falls Ave.
Twin Falls, ID 83301-1238
(208) 733-9554
www.csi.edu
Idaho State University
921 S 7th Ave
Pocatello, ID 83209
(208) 282-3620
www.isu.edu
Lewis-Clark State College
500 8th Ave
Lewiston, ID 83501-2698
(208) 792-5272
www.lcsc.edu
Northwest Nazarene University 623 Holly St
Nampa, ID 83686-5897
(208) 467-8011
www.nnu.edu
The College of Idaho
2112 Cleveland Blvd
Caldwell, ID 83605-4432
(208) 459-5011
www.collegeofidaho.edu
University of Idaho
875 Perimeter Drive
Moscow, ID 83844-2282
(888) 884-3246
www.uidaho.edu