Licensed Master Social Worker (LMSW)
July 1, 2021 | By Scott Wilson
Licensed Master Social Workers (LMSW) hold a Master of Social Work (MSW) and prove their skills in psychology, interpersonal communication, community organizing, and sociology through state licensing exams. In some states, they are licensed at this level temporarily while getting the clinical experience they need to earn an independent-practice license, while in others LMSWs can build a complete career in macro or mezzo level social work.
<!- mfunc feat_school ->
Featured Programs:
Sponsored School(s)
<!- /mfunc feat_school ->
Untangling The Meaning of The LMSW: Different States Define the Credential In Different Ways
How To Earn The Licensed Master Social Worker Credential
What Do Licensed Master Social Workers Do?
What Are The Specializations For Licensed Master Social Workers?
Getting The Right Education To Become a Licensed Master Social Worker
Earning a Master of Social Work Degree
The Cost of a Master's Degree in Social Work
How Much Do Licensed Master Social Workers Make?
---
For most MSW graduates, the LMSW license is just one stop on the path to becoming a licensed clinical social worker (LCSW).
As part of the requirements for licensing clinical social workers, many states require an interim level of licensure like the LMSW, meaning that you will only be a licensed master social worker for a relatively short period of time.
Even if it's only for a short time, though, it's an important part of your training. The two years that you will spend working under the supervision of a fully independent clinical social worker will mold your skills in the field. You'll spend that time learning, just as you did during your master's program, but with real clients in front of you and a real focus on making a difference.
In states that recognize it as a permanent license, the LMSW isn't just a two-year detour on your way to a job in clinical social work. Instead, it can serve as one of the highest levels of licensing and permit you to practice as an independent social worker. In these states, you can make a full career as an LMSW specializing in any of the many types of non-clinical social work.
Untangling The Meaning of The LMSW: Different States Define the Credential In Different Ways
The Licensed Master Social Work credential may be the most confusing license category in the entire field of human services. Don't be embarrassed if it takes you a little while to sort out what it is and is not.
Before we drill into the question of what LMSW means, we have one piece of advice to help you out: Remember that the LMSW isn't the same thing in every state. If you get confused, refer to your state social work licensing board for the definitive answer.
The LMSW can be hard to understand because it can describe different kinds of licensure in different states. And not every state even issues an LMSW license.
The LMSW is Usually a Precursor License To a More Advanced Social Work Role
In most states that offer it, LMSW licensure is a steppingstone to a more advanced kind of license. That's usually the LCSW, Licensed Clinical Social Worker credential, or whatever the state equivalent of that license is.
In those states, the LMSW is primarily an interim clinical practice license, designed to allow recent graduates to legally perform the supervised clinical work—typically over 3,000 hours, or two years—that is required for an LCSW license.
Not every state uses the same title for the same role as the LMSW. For example, Alabama and Maryland use the term LGSW, or Licensed Graduate Social Worker.
And in other states, there may be a path to LCSW that doesn't run through an LMSW at all. Colorado and Hawaii consider a basic Licensed Social Worker (LSW) as being acceptable for pre-LCSW clinical practice, while Florida uses a Certified Master Social Worker (CMSW) certificate instead of a full license.
LMSW Credentials Sometimes Describe Advanced Practice Non-Clinical Social Work
In other states, the LMSW may have nothing to do with the LCSW or the path to get there. In Connecticut, for example, the LMSW exists as a stand-alone license that allows advanced, but non-clinical, social work practice.
In Idaho the LMSW can be a stand-alone license for advanced macro practice, but it also uses a special category of LMSW, the LMSW-I (Licensed Master Social Worker-Independent) to offer a clinical path to the LCSW.
That's an example of a sort of third way, which exists in states that may treat the LMSW not just as a temporary credential, but a permanent license for some types of social work, but also require clinical practitioners to hold it during their supervised experience.
How To Earn The Licensed Master Social Worker Credential
One thing that is common to the LMSW in nearly every state is that it is relatively easy to get for anyone who has just graduated from a Master of Social Work (MSW) degree program.
Some states might require that you have a certain type of employment arrangement. For instance, you might be required to be employed through a recognized state agency or non-profit while working under the LMSW license.
Earning that master's degree will always be your first step on the path to the LMSW. But you will have to meet some additional requirements to become licensed.
Every State Requires Passing an Examination to Become a Master Social Worker
One key thing you will have to do is take and pass the Association of Social Work Boards (ASWB) exam that corresponds with the LMSW license.
ASWB offers five different exams. Every state relies on some or all of these exams for different social work licensing levels. The only major question is which test you will have to take.
In most cases, the test you will have to take is the obvious one, the Masters exam, which is designed to verify the level of knowledge and skills that you should have picked up in the course of your master's program.
But because the LMSW is so often a part of the path to a more advanced clinical license, some states will have you take the ASWB Clinical exam instead.
The differences are somewhat subtle. The ASWB describes the objective of those tests as:
Masters – Practice of master's social work including the application of specialized knowledge and advanced practice skills
Clinical – Practice of clinical social work requiring the application of specialized clinical knowledge and advanced clinical skills
The requirements for taking the Clinical test also include two years of experience in clinical settings. The Clinical also costs slightly more to take, at $260 versus $230 for the Masters.
Experiential Requirements Are Rare for LMSW Licensing
Because the LMSW is usually itself designed as a kind of interim license to allow social workers without experience to legally get that experience, very few states have any sort of separate experiential requirement for earning an LMSW.
Those that do often treat the LMSW as a clinical type of license, also requiring that you pass the Clinical test for licensure. In some cases, there are two tracks to the LMSW, one that is clinical and the other that is not, such as in Michigan with the LMSW-M (Licensed Masters Social Worker-Macro) and LMSW-C (Licensed Masters Social Worker-Clinical). That's on top of their regular LMSW, which does in fact work like the sort of interim license you need in other states as you are accumulating experience for your full independent practice license.
What Do Licensed Master Social Workers Do?
With all the different ways that different states treat the LMSW, there's a few different ways to explain what the LMSW means in professional practice.
Clinical LMSWs Offer Social Services Plus Therapy
For the most part, in states where the license is used as an interim qualification while you stack up the hours you need to qualify for an LCSW, LMSWs perform the same type of hands-on clinical services that LCSWs do. That means counseling and therapy work.
Clients might come in with depression, PTSD, or any other sort of mental illness that needs treatment. LMSWs have all the required skills to diagnose and treat those patients with traditional psychotherapy, behavioral interventions, or almost any kind of recognized psychological treatment.
But LMSWs are even more useful when the problems aren't quite so clear-cut. Someone who is homeless may be experiencing a wide range of both mental and social issues that need to be addressed:
Medical issues that may have resulted in the loss of their job and home in the first place
Substance abuse problems rising from addiction coming from the pain and treatment for the medical issues
Depression resulting from their current situation
Lack of housing
Food insecurity
Being a clinical LMSW is basically the same as working as a full-fledged Licensed Clinical Social Worker— the big difference is that someone will be there to supervise and provide back-up when you need it.
A psychologist or counselor is really only the only type of professional equipped to handle depression and addiction issues through traditional therapy approaches. But an LMSW can both treat those problems with therapy while coordinating with medical providers and insurers to resolve the healthcare problems, arranging for interim housing through a local social services agency, and referring the client to a food bank to shore up their nutrition.
As an interim license holder, the clinical components of those treatments are required to be supervised by existing LCSWs or whatever the state's full independent clinical license authority might be. In some states, it's possible to get supervision for clinical elements from a licensed psychologist or other clinical therapy professional.
Getting Supervised Experience Hours as a Licensed Master Social Worker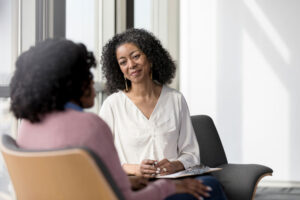 For LMSWs on track to a more advanced clinical license, finding a place to build-up those hours of supervised practice is crucial.
Every MSW graduate has a healthy helping of direct field experience under their belt. The CSWE standards for Master of Social Work programs includes practicum requirements, so the reality of hands-on clinical social work isn't entirely new.
But every state requires way more than what you completed during field work rotations in your master's program before turning you loose to treat clients independently.
That's where supervised field experience under your LMSW comes in.
Typically, states require about 3,000 hours, or at least two years, of supervised clinical field experience before you're eligible for advanced independent licensure.
A currently licensed LCSW usually handles that supervision, although other mental health professionals are allowed to provide it in some states. The level of supervision and exact number of hours vary from state to state. Missouri, for example, requires 3,000 hours with 100 of those hours under the direct observation of the supervisor, but has no stated minimum number of hours that must involve direct client contact.
In Colorado, on the other hand, 3,360 total hours are required, half of which must consist of a direct patient relationship with professional treatment and diagnosis. Only 96 of those hours need to be directly supervised, however.
The work is all identical to what is expected of fully-licensed and independent clinical social workers. The only real difference is you have an experienced, reliable mentor to discuss difficult cases with, allowing you to get your own experience while making sure clients get what they need from the meetings.
Non-Clinical LMSWs Stay Busy with Traditional Social Services Work
For LMSW licenses that are not interim or clinical in nature, the work revolves around all the same sorts of general human services tasks that social workers are known for. That can range from handling case management for ex-cons on work release to doing intake and assessment on hospital admissions in low-income neighborhoods to supervising other social workers in a community organization that runs after-school programs.
These are often referred to as mezzo social work jobs, with a focus on making the human services system run smoothly by helping people get the assistance they need. Mezzo social workers also unsnarl the inevitable bureaucratic goofs that come with any kind of large-scale program. They put a human perspective into the system, delivering both professional assistance and offering empathy and understanding.
Another option in traditional social work for non-clinical LMSWs is at the so-called macro level. These roles don't always require a license because they have minimal direct contact with clients, but the laws vary from state-to-state.
Macro jobs include big picture advocacy for human services needs, program development, policy input, and running major organizations and agencies involved in social work.
What Are The Specializations For Licensed Master Social Workers?
The National Association of Social Workers (NASW) recognizes nine different areas of specialization and offers advanced practice credentials in each one. Because LMSWs can be either clinical or non-clinical in scope, it's possible to specialize in any of these areas:
Addictions – According to the National Center for Drug Abuse Statistics, over 19 percent of Americans abuse drugs each year, with 70,000 dying from overdoses. Many more suffer from other addictions, everything from tobacco to alcohol to gambling, making this a major area of need for master social workers. LMSWs do everything from managing outpatient treatment programs to delivering group therapy sessions for addicts, working for non-profits and government agencies alike.
Case Management – Case management is a special social work skill that turns up in just about every practice area. Social worker case managers handle the paperwork and oversight that ensures that patients are getting the kind of care and attention they need. That can be in any human services area, from housing to medical treatment to employment services.
Clinical Gerontology – LMSWs in clinical gerontology work with the increasing elderly population in the United States to help them work through the common mental health and services issues that come with age. Dealing with difficult healthcare issues, dealing mental and physical faculties, and the psychological challenges of losing friends and spouses are all areas that LMSWs in clinical practice are well-equipped to address.
Advanced Gerontology – There are many practical matters that come with advanced age that LMSWs can help with entirely apart from clinical needs. Senior housing, home health care, and routine nutritional checkups are just a few of the areas of responsibility that LMSWs take on in non-clinical gerontology practice.
Health Care – Healthcare, of course, brings many issues of both physical and mental health into the spotlight for patients and their families. LMSWs might offer counseling services to both groups, or help arrange for long-term care facility placement or home health services when needed. Social workers often help with patient discharge services and follow-up to prevent relapses or a cascade of problems arising from health issues.
Hospice and Palliative Care – At the extreme end of healthcare services lies another critical area of need for both clinical and non-clinical LMSWs. End-of-life care helps ease the passing of terminal patients and helps their families adjust to the trauma and sadness of losing a loved one. The practical aspects of end-of-life care can be just as important as the counseling. LMSWs can discuss options for funding for palliative care and funeral arrangements that many families are entirely unfamiliar with.
Advanced Military Service Members, Veterans, and Families – Being in the military is among the most stressful of jobs. Yet it's also a unique and self-contained culture, one that can make it difficult for regular human services professionals to understand or work with. LMSWs that specialize in this area help service members and families deal with all the regular challenges of a stressful life plus the unique difficulties that come with deployments, frequent moves, family stress, and other issues that come with service.
Clinical Military Service Members, Veterans, and Families – Of course, all those unique stresses and challenges lead to unique mental health needs for military members, veterans, and their families. Some LMSWs specialize in offering clinical services alongside other social work offerings to help deal with PTSD, depression, anxiety, and other common hazards.
Children, Youth, and Family – Protecting the most vulnerable populations is a large part of the reason that many LMSWs get into social services in the first place. Specialists in children, youth, and family services work to ensure food security, family stability, meet housing needs, and offer counseling services to both kids and their caregivers. LMSWs might work with groups of kids and develop programs like after-school sports and hobby groups. They also engage in advocacy for the needs of those who are too young to do so themselves.
Clinical military social workers have a unique practice area and the skills to match. Here, U.S. Army Sgt. 1st Class Tracy Jordan, right, the U.S. Division-South sexual assault advisor, and Capt. Naomi Flowers, a clinical social worker, practice self-defense techniques taught at the Society Against Sexual Assault conference. – U.S. Army Photo by Spc. Chastity R. Boykin
If you are on the path to an LCSW, then your specialization as an LMSW will usually reflect the area you want to concentrate on for your independent practice. But there is nothing preventing you from shifting specializations over the course of your career. Maybe you find you prefer a different type of patient than you imagined when you first started, or you decide to take on new challenges.
Getting The Right Education To Become a Licensed Master Social Worker
To master social work, you clearly need to go further than earning a bachelor's degree. But a bachelor's degree is still where most people start, even though it doesn't need to be in social work specifically.
Although a Bachelor of Social Work (BSW) degree is always solid preparation for a career in the field, you can also gain admission to a master's program quite easily with degrees in:
Psychology
Sociology
Human Services
Therapy
Counseling
Social work touches on many different fields so there is no one right way to prepare as an undergrad.
You have a lot of options open at the bachelor-degree level on your path to becoming and LMSW. Even people with nursing or accounting degrees can find their way into social work master's degree programs.
Earning a Master of Social Work Degree
Of course, to become a licensed master social worker, you have to master social work by earning an MSW degree.
These are two-year advanced degree programs that offer extensive preparation for any kind of in-depth social work license. The subjects covered include:
Basic research and quantitative analysis skills
Principles of psychology
Social services structure and policy considerations
The practices and processes of both clinical and macro social work
The MSW is considered the terminal degree in the field of social work, meaning it is the highest required credential you will need to practice. It's possible to go on to the doctoral level, but apart from teaching or leadership roles, there's little value to doing so.
Master of Social Work programs are commonly organized into a foundation year and a concentration year.
The first year, your foundation year, covers all the basic background knowledge and theory that you need to base your future training in any social work practice area on. This covers subject areas that are fundamental to understanding the psychological and sociological basis of injustice, inequality, and insecurity. Classes can include:
Sociology and sociological research
The history of social services and public assistance
Basic psychology assessment and treatment techniques
Public policy and advocacy
These all serve as the groundwork for the more advanced studies you will take on in your second year.
Master of Social Work students are going on to a tremendous variety of different practice areas in the field, everything from delivering clinical therapy services to working as program managers at organizations that specialize in prison rehabilitation and reintegration.
That makes the concentration year of your MSW key, since it will deliver the kind of specific training you'll need to be successful in your niche.
Not every MSW program offers the same kinds of concentrations, but in general you will find study areas that match the kind of specialties you find in real world professional practice. Many programs also have a more generic course of study, which doesn't rule out the possibility of becoming specialized through experience in the future.
A Capstone or Thesis Project Puts The Icing on Your Master's-level Social Work Studies
Whether you decide to specialize or not, every master's program in social work will require you to complete a big-time project before you graduate. That's your capstone project or master's thesis.
A master's thesis has always been the traditional final touch to an advanced degree. With between 40 and 80 pages of carefully-researched, well-reasoned, tightly-written investigation and analysis of a scholarly topic of your choice, the paper should reflect the sum of your studies and skills. You'll pick the topic with the input of an advisor. Writing the paper itself can take six months or more. Then you defend it in front of a committee of professors and professionals, who challenge the quality of the work and the reasoning until they are satisfied.
In recent years, however, practical fields like social work have started to move toward offering capstone projects instead of or as an alternative to a traditional thesis. The capstone project involves just as much work and should incorporate research and analysis. But it's more oriented toward practical innovation and actual demonstration of your skills than a scholarly paper. Examples might include things like designing and creating a manual for collaboration at a child welfare agency, or pioneering a system to screen for alcohol use at a local inpatient medical center.
You demonstrate your skill and knowledge through action in a capstone project, but either approach will shape the type of social worker you will become after graduation.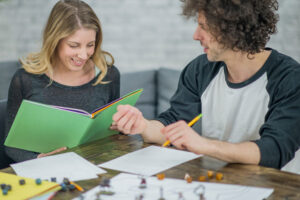 Capstone projects are an opportunity for education, assistance, and self-expression all wrapped up in one. Few MSW capstones illustrate that as well as Riley Murdock's Hero's Leap Project at Arizona State University.
An MSW candidate (and tabletop role-playing games enthusiast), Murdock put the two together to create an experimental group at the counseling center where he was conducting his second internship. Using the fantasy world of Dungeons and Dragons as an interventional technique for developing motivation, confidence, and social support, Murdock met with four patients per group each week.
The session consisted of real-world updates on their progress and goals as well as a session playing the game itself. Murdock designed the game's quest objectives and the game personas to act as representations of the real-life obstacles patients face.
Role-playing is often used as a tool in clinical therapy, but this is something else entirely. Yet new generations bring new social constructs and comfort levels to therapy. A capstone intervention using some of those constructs gave Murdock an opportunity not only to make patients more comfortable and empowered, but to build a valuable new tool in the arsenal of clinical social workers everywhere.
Why You Need To Consider Specialty Accreditation For Your Master of Social Work Program
Not just any social work degree is accepted for LMSW licensing. In every state, licensing boards require that you graduate from a program that meets the strict standards set down by the Council on Social Work Accreditation (CSWE).
Founded in 1952 to develop national educational guidelines for social work at the master's level, CSWE has since branched out to Bachelor of Social Work programs too. It's currently the only recognized specialty accreditor for social work education in the U.S.
Working with schools, professional social workers, researchers, and others in the human services community, CSWE outlines what kind of knowledge and practical skills social work students should have by the time they graduate.
Schools that get this stamp of approval are a pretty exclusive bunch. Only 261 programs hold CSWE accreditation at the master's level. Picking any of them ensures your application for an LMSW license will go smoothly.
The Cost of a Master's Degree in Social Work
You get a substantial amount of training in those two years in a Master of Social Work program, but it comes with a hefty price tag.
According to the National Center for Education Statistics (NCES), the average cost of a master's degree in 2020 was $39,000.
Social work is a wonderful and fulfilling profession, but not many people go into it expecting to get rich. Shelling out $40,000 for the privilege may be the single largest expenditure you make in your life outside of buying a house. Unless you are lucky enough to have a rich uncle who is willing to pick up the tab, you'll want to spend some time thinking about how you are going to pay for your education to become an LMSW.
Getting Grant and Scholarship Funding To Pay for Your MSW Education
The first step is looking for grants and scholarship money to help cover the costs. This is money that you may be awarded without any expectation that it will be paid back as long as you attend classes.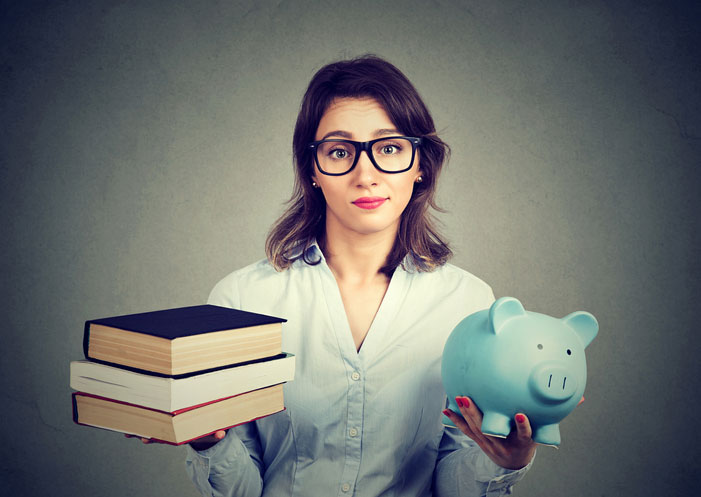 The most popular and well-known grant program in the United States is run by the federal government. Pell grants are available to any student whose family meets the financial requirements. According to NCES, the average amount awarded in 2016 was $3,700.
That's not much of a dent in a $40,000 education, so you'll probably want to continue looking for other sources of funding, too.
There are many government and college-run grant programs you may be eligible for. It's always a good idea to talk to a counselor or the financial aid office at the college you plan to attend for more details.
But there are also many other private organizations that may be willing to cut a check to help you become a social worker in the form of scholarships.
Scholarships are offered by a wide range of organizations with a wide range of motivations. You can find them coming from dedicated scholarship funds like the Harry S. Truman Scholarship Foundation, which offers $30,000 in grants annually to students bound for public service roles. Or you can get them from practice-oriented organizations like NASW, which has been underwriting scholarships and fellowships for worthy social work students for more than 20 years.
Every organization has qualifications for the grants that line up with their motivations and ideals. Some encourage minority participation, and so only accept minority applications. Others encourage service in parts of the country that are under-served in social work, picking students from those areas or those who commit to serve there.
Loans Cover The Gap in Education Funding for MSW Students
Even with an aggressive scholarship search, you're unlikely to cover all your costs of college with grants. If you are like most students, that means you will turn to loans to make up the difference.
According to a CSWE survey, 80 percent of social work graduates had loan debts of between $31,000 and $42,000 by the time they graduated. That survey came out several years back, so it's not a stretch to think those numbers may have gone up since then. That's a hefty amount, particularly on the average social worker's salary, but there are ways to help pay it down without taking it out of your wages.
As with student grants, the federal government is one of the largest providers of student loans. For social workers, that offers some great opportunities to have part of your loans forgiven. Several different programs exist to encourage students to pursue critical human services jobs by writing off loan debt.
The two that are most applicable to LMSWs are:
Federal Public Service Loan Forgiveness Program – This program is one of the easiest for social workers to qualify for, since it can be used by nearly any federal, state, local, or tribal government employee, or by anyone working at an eligible non-profit. If you are providing public services, are in good standing on your current loan payments, and have made at least 120 of them, you can have the entire remainder of your balance written off.
National Health Service Corps Loan Repayment Program – The Health Resources and Services Administration has a similar program that is designed to get professionals in healthcare services to take jobs in critical shortage areas and underserved communities. That can include social workers under some aspects of the program. Most notable are the Substance Use Disorder Workforce and the Rural Community programs, which can offer repayment based on your location or specialization.
How Much Do Licensed Master Social Workers Make?
Because of the wide range of different positions that the LMSW license can describe, depending on the state, it's impossible to offer any kind of national picture of the typical salary for the job.
According to the Bureau of Labor Statistics, the median annual wage for all types of social workers in the United States for 2020 was $51,760.
But BLS also groups social workers by general category of work. Each of those categories has its own average salary level:
Social workers, all other (includes most clinical social workers) – $64,210
Healthcare social workers – $57,630
Mental health and substance abuse social workers – $48,720
Child, family, and school social workers – $48,430
As noted earlier, an LMSW can end up in any of these kinds of jobs, depending on the state and your choice of specialization.
While clinical social work tends to pay higher salaries overall, keep in mind the fact that LMSWs are almost always on the lowest rungs of that ladder. In the states where the LMSW is just an interim license, you can expect to make entry-level pay at best while you are still going through supervision. By the time you are making anywhere near the median level in clinical social work, you'll have moved on to an LCSW or equivalent.
But social work isn't something that anyone does exclusively for the money. It's about helping communities and individuals. You use your skills to get payoffs in social justice, racial equity, and better healthcare. That brings a kind of day-to-day satisfaction with your job that people making ten times as much at their 9-to-5 will never understand.
Whether you are picking up an LMSW on your way to a license that allows independent clinical practice, or settling in for a full career as a master social worker, you can have every confidence that you are in for a fulfilling, exciting career that will make a difference in your community and in the world.
May 2020 Bureau of Labor Statistics salary and job growth figures for Social Workers represents national data, not school-specific information. Conditions in your area may vary.
Tuition data provided by the National Center for Education Statistics, services of the U.S. Department of Education, using data collected for the 2019 school year. NCES loan and scholarship data comes from an April 2017 report published by the Department of Education.
Data Accessed July 2021.
<!- mfunc feat_school ->
Featured Programs:
Sponsored School(s)
<!- /mfunc feat_school ->