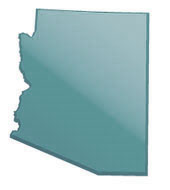 Arizona Education Programs and Licensure Requirements
Arizona offers psychology degree programs that prepare graduates for licensure as psychologists. To be employed as a licensed psychologist and qualified to offer therapeutic mental/behavioral health services, you must first earn a doctoral degree. A shortage of qualified behavioral health professionals has been an ongoing issue in Arizona. The state's Department of Health Services is working on increasing the mental health workforce, especially in the area of community-based services. In Arizona, an important priority is to provide education and training for Arizona American Indians who want to be licensed psychologists and mental health providers within their communities. Cultural training is also essential for other practitioners who want to help improve healthcare access for the over 250,000 American Indians in Arizona. Other specialized groups who require more psychological services are the aging population, whose numbers in Arizona increased by 40 percent between 1990 and 2000, and veterans whose numbers and needs continue to grow.
<!- mfunc feat_school ->
Featured Programs:
Sponsored School(s)
<!- /mfunc feat_school ->
<!- mfunc search_btn -> <!- /mfunc search_btn ->
Psychologists can qualify for a variety of professions, depending on their graduate coursework and areas of specialization. According to the U.S. Bureau of Labor Statistics, psychologists' average yearly wages in 2011 ranged from $60,000 to about $95,000. Overall employment of psychologists is expected to increase by 22 percent from 2010 to 2020, faster than the average for other occupations. Psychologists who have a Ph.D. degree and those with research and technology skills are likely to have the best chance of finding employment in this field.
U.S. Bureau of Labor Statistics: Occupational Employment and Wages, May 2011: Clinical, Counseling, and School Psychologist Careers
https://www.bls.gov/oes/current/oes193031.htm
Education Overview
The education you must commit to in order to become a psychologist can be lengthy and challenging, as well as inspiring and fulfilling. From the time you complete undergraduate studies and enter a graduate clinical psychology program, until you receive a doctoral degree you will have devoted approximately five to seven years to your career preparation. Graduates without a Ph.D. are not psychologists, but they are qualified for employment in the field of psychology and may find jobs as mental health practitioners or as research assistants.
Education Requirements
Associate Degree
To satisfy admission requirements for entering an Associate degree program at a community college, you will need a high school diploma or a GED certificate. Applicants who want to enroll in an academic program at some colleges must present evidence of English language proficiency. You will also be expected to submit the tuition fee, an official application and your high school transcripts, although two-year colleges do not usually require a minimum GPA.
Associate degrees in psychology are typically two-year programs that combine a general studies curriculum with coursework in psychology and related subjects. Some community colleges also offer certification for entry-level or paraprofessional jobs working in mental or behavioral health settings.
Bachelor's Degree
Qualifications for high school students entering psychology bachelor degree programs include graduation from high school or GED certification; a minimum GPA; and acceptable scores on the SAT, ACT or a college- or state-specific entrance exam. You must submit official transcripts and test scores, plus a completed Undergraduate Admission Application, including the fee. Admission is based on a combination of high school courses and grades, exams and performance in psychology-related classes. Some four-year colleges in Arizona expect freshman applicants to meet Competency Requirements in basic academic subjects.
Arizona Community Colleges provide an affordable way for students to earn a bachelor's degree, by allowing individuals who complete the first two years at a community college to transfer into a four-year university. Arizona community college graduates who earn an A.A. degree in Liberal Arts with a Psychology concentration can take follow Arizona's Transfer Admissions Pathway for Bachelor of Arts. This program allows qualified students to transfer with Junior status into a Psychology degree program at one of Arizona's public universities.
An undergraduate psychology degree is a significant achievement, which may qualify you for admission into graduate school or for employment in a variety of human services or mental health psychology positions.
Master's Degree
Whether you choose to pursue a career in clinical psychology, counseling or school psychology, a master's (M.A. or M.S.) degree is a major step toward reaching your goals. Entry into psychology graduate programs can be competitive. Many master's degree programs do not require an undergraduate major in psychology, but they do look for coursework in introductory and experimental psychology and statistics.
Admissions requirements for acceptance by a graduate psychology program vary from one university or college to another. Most graduate schools that offer these degrees require applicants to have:
A Bachelor's degree in Psychology or in a related field.
A minimum cumulative GPA (grade point average).
Successful completion of the Graduate Record Exam (GRE)
A passing score on any additional departmental entrance exams
Completion of courses specific to the program to which you are applying
An official application containing all requested information
The application fee
Official transcripts
Letters of recommendation
Other supporting materials
Your next step might be to apply for a doctoral degree in psychology; however, you do not need a Ph.D. to become a counselor or psychotherapist. A variety of clinical psychology master's programs may qualify you for a career in psychology.
Doctoral Degree
If you decide to get a Ph.D. after earning a master's degree, be sure the doctoral program you want to attend accepts graduate students with an M.A. from another university. Some doctoral degree programs prefer applicants who have a bachelor's degree, so they can train students from the beginning of their psychology education.
Applicants are often asked to submit one application to the university and another to the psychology doctoral program. The application packets should include:
Official application and application fee
GRE scores
Statement of purpose.
Letters of reference
Transcripts showing an acceptable GPA and completion of prerequisite courses
Licensing Requirements
Licensing laws vary from state to state, but all states require you to be licensed before you provide psychotherapy as a psychologist. Most state licensing boards require approximately two years of supervised post-doctoral clinical experience and evidence of previous related work experience. All applicants must complete an internship of at least 1,500 supervised hours before graduation. The remaining 1,500 supervised hours may be obtained through either predoctoral or postdoctoral supervised experience.
http://www.psychboard.az.gov/agency/formDoc.asp?theType=0&section=2&Go=Go
Arizona Board Of Psychologist Examiners:
Application For Licensure General Instructions And Information
http://www.azleg.state.az.us/FormatDocument.asp?inDoc=/ars/32/02071.htm&Title=32&DocType=ARS
Arizona Board of Psychologist Examiners: Licensure Statutes and Rules
Exam
All psychologists in the United States must pass a national exam – The Examination for Professional Practice in Psychology. In some states, licensure applicants must also present a case study to, or undergo an interview by, a panel of psychologists. An additional examination may be required that covers state law and professional ethics and practice in the practice of psychology.